WASHINGTON -- Federal authorities on Tuesday arrested a man from Washington state for allegedly threatening to kill Darren Wilson, the former police officer who killed 18-year-old Michael Brown on Aug. 9 in Ferguson, Missouri.
Jaleel Tariq Abdul-Jabbaar, a 48-year-old from Kirkland, Washington, is charged with three counts of making interstate threats because of threats he allegedly posted on Facebook against Wilson and his family. Authorities said he was taken into custody on Tuesday morning without incident.
It is unclear how exactly authorities focused in on Abdul-Jabbaar, but the key FBI agent on the case is currently assigned to an international terrorism squad, part of the Joint Terrorism Task Force out of the the FBI's Seattle Field Division. In addition to regular posts about the Ferguson shooting, Abdul-Jabbaar's Facebook page includes many posts about the Islamic State (also known as ISIL or ISIS), and his cover photo is the Islamic State's black flag.
The complaint against Abdul-Jabbaar runs through a number of threats that he seems to have made on his Facebook page. The complaint also states that "additional Facebook records" -- most likely private messages -- revealed that Abdul-Jabbaar was attempting to obtain a weapon even though he had a felony record. Abdul-Jabbaar had a prior drug charge in Philadelphia in 1992, as well as a federal charge from 2009 of unlawful possession of a firearm that stemmed from a "shoot-out arising out of a domestic violence incident involving his friend's sister," according the complaint.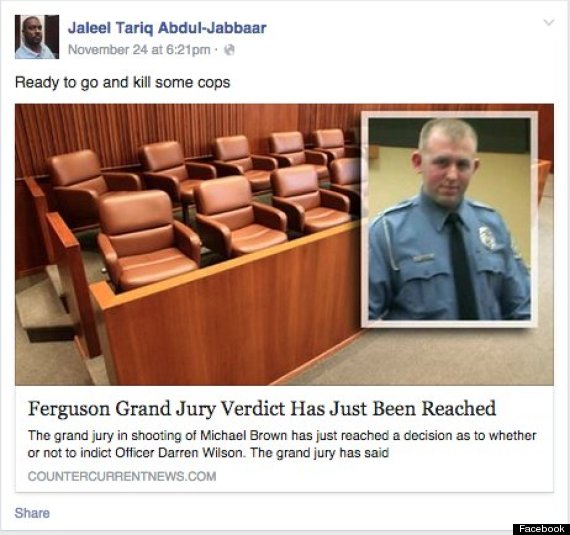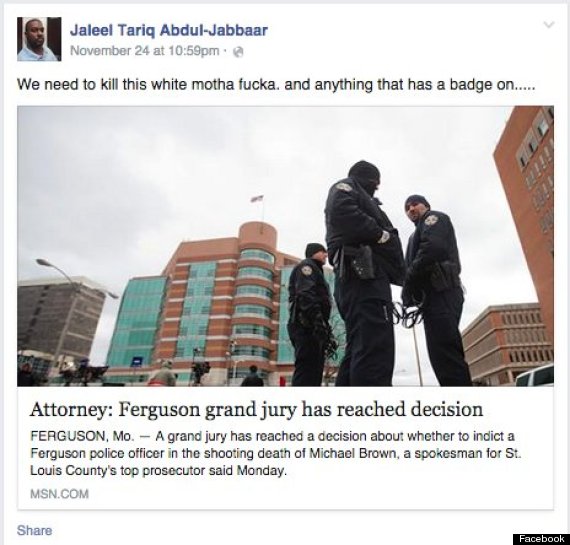 The federal complaint against Abdul-Jabbar lists threats made on Facebook that led to his arrest. Those threats can be seen in posts still on his profile, which was public as of Tuesday night.
The top federal prosecutor in the Western District of Washington said in a statement that people had the right to speak out against the grand jury's decision last week not to indict Wilson in Brown's death, but that threats to kill or injure members of law enforcement would not be tolerated.
"Although we each have the right to express our views about the decision reached by the state grand jury in Ferguson, Missouri, we cannot tolerate violence or threats of violence that are intended to intimidate, and ultimately silence debate,"
Acting United States Attorney Annette L. Hayes said in a statement. "Such threats are crimes, and the individuals who make them must be held to account."
Calling all HuffPost superfans!
Sign up for membership to become a founding member and help shape HuffPost's next chapter
BEFORE YOU GO