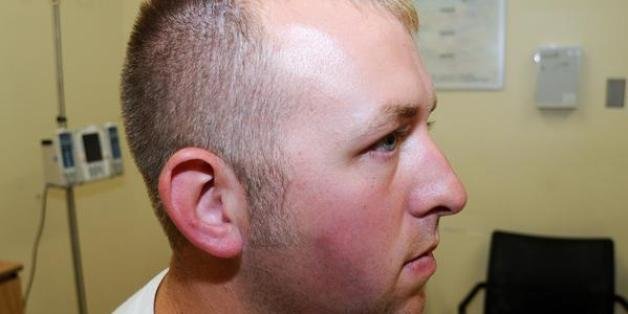 The interview, which marked the first time Wilson has spoken or been seen publicly since the shooting, was taped Tuesday, and ABC first aired some clips Tuesday evening.
In the interview portions that aired Wednesday morning, Wilson told Stephanopoulos that his wife, Barbara Spradling, is pregnant -- and that the two of them hope to move on and live a "normal" life.
"I just want to live a new life but that's not possible," he said. "Things will be different. There'll be a new normal, but we'll find it somehow."
As Wilson and his wife prepare to welcome a new life sometime next year, the parents of Brown continue to grieve and mourn the loss of their son.
Wilson claimed that Brown's death and the reactions from the community will not haunt him, saying instead that "it was just something that happened."
When asked if there was anything he would have done differently, Wilson said no.
Earlier reports suggested that Wilson would resign from the police force, but he explained in the interview that he is still considering whether to take that action.
"We don't know that yet," he said.
"That was the job of my life," he said. "I pictured being there -- my only goal was being promoted to sergeant. I love being on the road as a police officer."
Wilson also described his dream goals and said his future aspirations are to teach police officers about the practice.
"I would love to teach people and give people more insight on uses of force and anything, anything that I can get out of this career I've had thus far and of the incident," he said. "More insight, more knowledge, whatever the cause is for."
As for the ongoing protests in Ferguson and beyond that have activated more than 2,000 National Guard troops, Wilson says his thoughts are with the officers.
"I pray for safety of the officers and everyone else," he said. "Those officers have an incredible task ahead of them, and I just don't want to see them get hurt."
When asked if he felt remorse over Brown's death, Wilson said, "Everyone feels remorse when there's a life lost."
However, he claims to have a clear conscience over it all: "The reason I have a clean conscience is because I know I did my job."
"When you have people of color be killed they try to demonize and play on the stereotypes, and they try to put the police officer who killed our children on a pedestal,'' family attorney Benjamin Crump told host Savannah Guthrie. "It's just not right, and we have to fix this system."
See other parts of Wilson's interview here.
More On Ferguson From HuffPost:
See our liveblog on Ferguson events below: