(Story continues below.)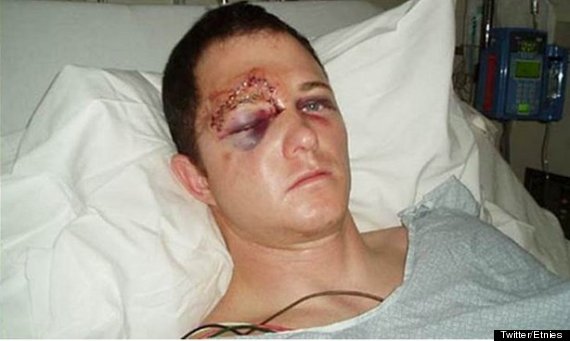 For the record, this is what the real Wilson looks like:


Despite the fact that these two men share barely a passing resemblance to one another, the bogus image posted by Kevin O'Grady had racked up nearly 50,000 shares by Thursday evening and had been circulated on Twitter and parts of the blogosphere. Some who re-shared the image seemed to take it as proof that Brown had attacked Wilson, thereby justifying the six shots that Wilson fired into Brown's body.
This isn't even the first photo misidentification to come out of the Ferguson incident.
In August, Kansas City Police Department Officer Marc Catron posted an image on Facebook of a young man he claimed was Michael Brown. The man in the picture was pointing a gun at the camera and biting down on a wad of cash. Catron's caption for the image read, "I'm sure young Michael Brown is innocent and just misunderstood. I'm sure he is a pillar of the Ferguson community."
That image ended up being of Joda Cain, a young Oregon man who is currently facing charges for killing his great-grandmother.
Popular in the Community