A poll conducted before Monday's grand jury announcement finds racial division over whether Darren Wilson should be charged with a crime but agreement that non-violent protest is justified. Americans are split on President Obama's executive action on immigration. And two organizations steeped in traditional methods are testing non-probability surveys. This is HuffPollster for Tuesday, November 25, 2014.
BROWN KILLING: POLL FINDS RACIAL DIVISION BEFORE GRAND JURY ANNOUNCEMENT - A new CNN national poll conducted and released on Monday before the announcement that a grand jury had decided not to indict Darren Wilson for killing Michael Brown found racial division over whether the Ferguson police officer should be charged. Eric Bradner: "Fifty-four percent of nonwhites -- including blacks, Latinos and Asians -- say Wilson should be charged with murder, while just 23% of whites agree. And 38% of whites say Wilson should be charged with no crime at all, while just 15% of nonwhites hold that position....Most Americans agree that Wilson should at least face some form of criminal charges, the poll finds. A combined total of 32% say a Missouri grand jury should charge Wilson with murder, while 25% say he should face lesser criminal charges and 21% say he should be charged with no crime at all." [CNN]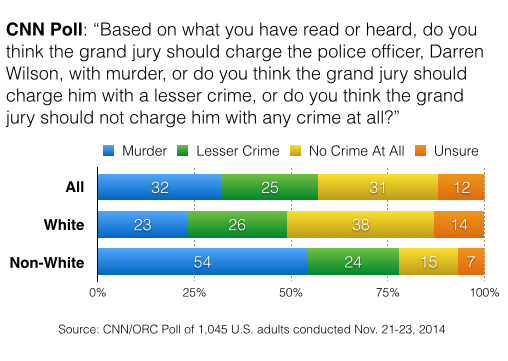 But agreement on peaceful protest - Bradner: "There is broad 63% agreement that peaceful protests are justified if a grand jury doesn't indict Wilson for murder. But a racial divide exists over whether violent protests are justified in that case, with 22% of nonwhites saying yes while 10% of whites agree."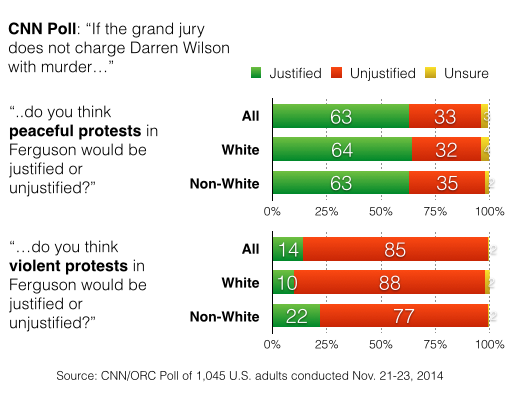 Racial gap persists in attention paid to story - Meredith Dost on the latest Pew Research news interest survey: "Amid anticipation over a grand jury ruling in the police shooting of an unarmed black teenager in Ferguson, Mo., 25% [of Americans] say they are following developments in the shooting death of Michael Brown very closely. That is on par with interest in the weeks following Brown's death in August....About four-in-ten blacks (44%) tracked developments in the Michael Brown case very closely compared with 25% of whites" [Pew]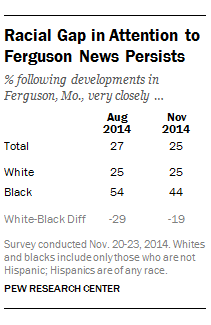 FiveThirtyEight: Non-indictments rare in federal courts - Ben Casselman: "Former New York state Chief Judge Sol Wachtler famously remarked that a prosecutor could persuade a grand jury to 'indict a ham sandwich.; The data suggests he was barely exaggerating: According to the Bureau of Justice Statistics, U.S. attorneys prosecuted 162,000 federal cases in 2010, the most recent year for which we have data. Grand juries declined to return an indictment in 11 of them. Wilson's case was heard in state court, not federal, so the numbers aren't directly comparable. ...Still, legal experts agree that, at any level, it is extremely rare for prosecutors to fail to win an indictment." [538]
U.S. VOTERS DIVIDED ON OBAMA'S IMMIGRATION ACTION - Quinnipiac University: "American voters are divided on whether President Barack Obama should take action to address the immigration issue if Congress fails to act, as 45 percent say the president should issue an executive order while 48 percent say he should not...At the same time, support for immigrants is at its lowest level ever measured by the independent Quinnipiac University Poll. Offered three choices on what to do about illegal immigrants:
48 percent of American voters say they should be allowed to stay, with a path to citizenship, down from 57 percent November 13, 2013, and the lowest this number ever has been;
11 percent say immigrants should be allowed to stay, but not be allowed to apply for citizenship, consistent with previous surveys;
35 percent say illegal immigrants should be required to leave the U.S., up from 26 percent 12 months ago and higher than this number ever has been.
American voters oppose 68 – 25 percent Congress shutting down "major activities of the federal government" as a way to block Obama's immigration move. " [Quinnipiac]
Action closely followed - More from the Pew Research news interest survey: "President Obama's executive action on immigration, expanding deportation relief to millions of undocumented immigrants, attracted strong public interest last week. Overall, 39% of the public say they paid very close attention to news about Obama's policy allowing certain immigrants living in the U.S. illegally to remain in the country....News interest in Obama's new immigration policy is nearly as high among whites (37% following very closely) as among Hispanics (45%) and blacks (44%)." [Pew]
-A Latino Decisions poll sponsored by NALACC and Mi Familia Vota finds overwhelming support for President Obama's executive action among Latino voters nationwide. [Latino Decisions]
ISIS SEEN AS SERIOUS THREAT - Jeremy Diamond: "Most Americans now believe ISIS poses at least a somewhat serious threat to the United States and Americans are growing slightly more hawkish on the U.S. strategy to combat the militant group, according to a CNN/ORC poll released Monday....About half of the public believes ISIS poses a very serious threat to the U.S. and a majority, about 6 in 10, are confident the U.S. will "degrade and destroy" ISIS forces, the mission President Barack Obama outlined in the fight against the organization that now controls broad swaths of land in Syria and Iraq. Only 10% of those surveyed said the ISIS threat is not serious.….About 54 percent disapprove of Obama's handling of foreign affairs and Americans split 50% to 47% on his handling of terrorism, with more disapproving." [CNN]
SURVEY MONKEY TO TEAM WITH PEW RESEARCH AND WESTAT TO EVALUATE NON-PROBABILITY SURVEYS - Scott Keeter, director of survey research for the Pew Research Center, explains how his organization is testing "non-probability" samples - those gathered without using random sampling: "We're working with a range of research organizations in the survey community to experiment with new kinds of methods and data that can augment our work. The biggest effort currently underway is a collaboration with SurveyMonkey and Westat....SurveyMonkey is the world's most widely used online survey software, with more than 2.7 million surveys taken each day. At the end of selected surveys, respondents are invited to take additional surveys. Their respondent pool is well suited to our initial experimentation because of the diversity of people who take surveys on their platform. Participants drawn from that pool aren't paid to take these surveys; instead they are offered the opportunity to donate a small amount of money to a charity they choose from a list...In our collaboration, each of the three organizations involved in this work has conducted a survey drawing on a common core of measures. SurveyMonkey conducted a survey of its non-probability panel, Westat conducted a survey with a probability sample of U.S. households selected using address-based sampling and the Pew Research Center conducted a survey with its probability-based American Trends Panel. Additional comparisons are available from Pew Research Center telephone surveys...We don't yet have a timetable, but I expect the first reports to be issued this winter or early spring, and we hope to present some of the findings at the American Association for Public Opinion Research conference in May 2015." [Pew, see also SurveyMonkey release]
HUFFPOLLSTER VIA EMAIL! - You can receive this daily update every weekday morning via email! Just click here, enter your email address, and and click "sign up." That's all there is to it (and you can unsubscribe anytime).
TUESDAY'S 'OUTLIERS' - Links to the best of news at the intersection of polling, politics and political data:
-44 percent of Americans say Democrats were being dishonest when they tried to win support for the ACA in 2010. [YouGov]
-43 percent of early ACA related insurer television advertising have been positive about the law, up from 11 percent last year. [@CMAGAdFacts]
-Derek Willis says the midterms were especially tough for West Virginia Democrats. [NYT]
-The Census Bureau is working to better count Arab Americans. [538]
-Justin Wolfers shares evidence that charts make statistical arguments more persuasive. [NYT]
-Martin Boon contemplates the challenges the 'spiral of silence" poses to polling. [Research Love]
-Politifact finds Gov. Scott Walker (R-Wisc.) overstated his dismissal of past early presidential trial heat polls. [Politifact]
-Republicans Bill McInturff and Martin Shull find President Obama overstated the percentage of "voters" who did not cast ballots in 2014. [POS]
-Chuck Hagel's length of service as Secretary of Defense was about average. [538]
REAL LIFE. REAL NEWS. REAL VOICES.
Help us tell more of the stories that matter from voices that too often remain unheard.
BEFORE YOU GO
PHOTO GALLERY
Ferguson Erupts