This article was made possible in part by HuffPost readers through their support of the Ferguson Fellowship. Here's how you can back more reporting like this from Ferguson and St. Louis over the next year.
O'FALLON, Mo. -- The young woman in aviator sunglasses had her hair in a ponytail under her trucker hat and eye black smeared under her eyes when she stepped up to the microphone during a rally outside KT's Sports Bar and Grill on Saturday afternoon.
"Many people here today know who I am, what I stand for and why I'm here," the unnamed woman -- who has previously gone by the name "E" -- said before a crowd and a couple of local news cameras. "I do not need to release my identity publicly to be held accountable. This is my family here today, at home, across the country and around the world. Family holds each other accountable. As an individual I am Darren Wilson, and as a family we are Darren Wilson."
Thirty minutes west of Ferguson, Missouri, people gathered once again in support of Darren Wilson, the police officer who shot and killed unarmed 18-year-old Michael Brown on Aug. 9.
Watch a video of the rally above.
The woman said concerns about the safety and security of Wilson and his family have "created some bumps in the road" in getting hundreds of thousands of dollars raised in his support to him.
"But we'll just keep on trucking," she said.
Supporters have launched two large Facebook groups and two main GoFundMe pages (which have raised more than $400,000 combined) to support Wilson and his family and cover anticipated legal fees for his defense. Given the anonymity of many of the people administering the pages, questions have been raised about whether the money is truly going to Wilson.
It wasn't just "E" -- who has she is an organizer of one of the largest Facebook support pages for Wilson -- who was worried about giving her name. A woman who called herself Tammy Messer and said she was the wife of a police officer in Town and Country, Missouri, said she had to change her name and profile picture on Facebook after her house was posted as a target on Twitter.
"I was called a racist simply because I said I support Darren Wilson. I'm just here to support law enforcement and give a voice to Darren Wilson, since he doesn't have one right now," she said.
Wilson hasn't been heard from publicly since he fatally shot Brown. He has been on paid leave since Brown's death, as both St. Louis County Police and the FBI investigate the shooting.
Even the owner of KT's Sports Bar and Grill has asked to be identified only by his first name, Kevin, even though his full name already appears online. "They needed a venue and I just provided it," he said, adding that he feared what would happen to his business for being associated with the event.
Several other attendees declined to give their names or comment, but many of those who declined to be interviewed directed HuffPost instead to Robin Clearmountain, the only black woman attending the rally.
Clearmountain, who has appeared on Fox News to discuss her support of Wilson, proved very popular with the crowd, with many waiting to shake her hand and thank her for her support.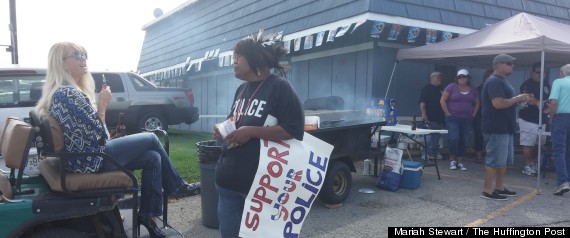 Clearmountain, the daughter of a police officer herself, is a retired English professor and former "civic officer" with the Florissant Police Department. That position was created especially for Clearmountain, who was tasked with helping diversify and improve racial relations within the Florissant Police Department. Today, at the age of 59, Clearmountain calls herself an "educated community activist." She said she has dealt with an abundance of negative feedback for supporting Wilson.
"I didn't know being black in America meant that I was in a country club" where everyone has to think alike, Clearmountain said.
"That uniform trumps everything. That uniform says, 'I will die for you.' I adopted all of these police officers a long time ago," she added. "I believe in them 100 percent. They are my family."
As the crowd feasted on BBQ, drank beer and listened to music, support for all law enforcement officers was a common theme in the conversations among attendees. "This is a family and we must protect and stand by our family," another protester said.
Occasionally, a twenty-something white male driver would ride by and yell, "Fuck the police." James Drettwan, who said he in training to join the police department in Kenyon, Minnesota, chuckled and took the insults in stride. Drettwan traveled to the Missouri rally to show his support for Wilson.
"Majority of the time when people are negative like that, they don't understand half of what's going on. The only other people that understand what it's like to be a police officer are other police officers," said Drettwan, who said he was "95 percent in the force" and just completing some officer training with the Kenyon police. "That department supports Officer Darren Wilson. Officers are a family. You mess with one of us, you mess with us all."
Ferguson resident Kris Marshall agreed. He applied to join the Ferguson Police Department just a week before Brown was killed.
"I'm hoping I hear something from them soon. I'd like to start in Ferguson and I'm anxious to get on there," said Marshall, who would be one of just a handful of black officers in Ferguson if he does end up joining the police force.
Ryan J. Reilly contributed to this story.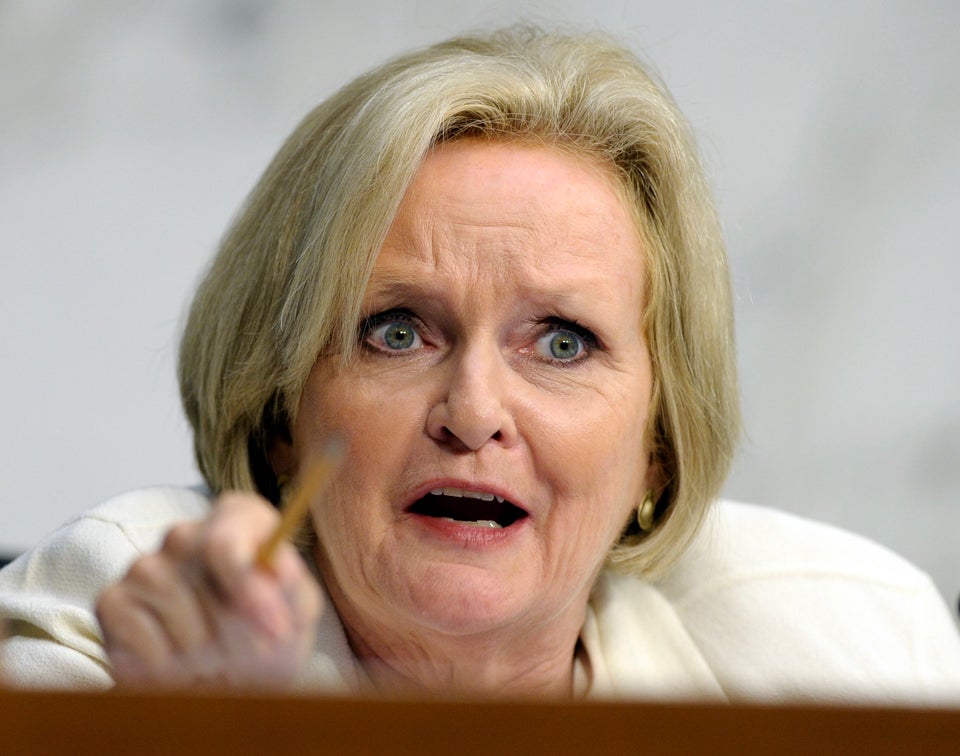 Politicians React To Ferguson