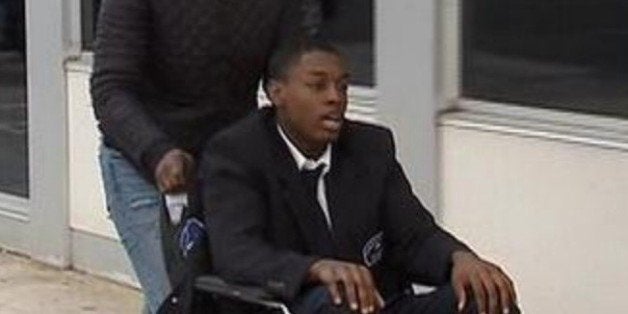 District Attorney Seth Williams confirmed that his office and police are looking into what happened on Jan. 7 to 16-year-old Darrin Manning. The teen had emergency surgery to fix a ruptured testicle after he was frisked by a woman officer. Manning says the cop, who has not been identified, grabbed and pulled his scrotum during two pat downs.
"We don't normally confirm on-going investigations," said Williams in a statement released after a midday press conference Thursday. "But given the nature of this case we felt it was important to let the public know that we have been vigorously investigating this case since it occurred. Both the Police Commissioner and I have worked extensively to combat the perception that justice is not dispensed equally in Philadelphia, and that is why we are joined together today.
"We are using all the tools available at our disposal to bring this to a fair and just conclusion."
Philadelphia Police Commissioner Charles Ramsey appeared at the press conference, too, and said his department's investigation has been hindered because Manning and his mother refused to talk with the department's Internal Affairs officers, according to Philly.com.
"I have not taken these accusations or this investigation lightly," Ramsey said. "If something inappropriate or illegal happened in this case we will get to the bottom of it, and make sure that the appropriate punishment is administered."
Manning's attorney told HuffPost he instructed his client not to meet with Internal Affairs. "Is Internal Affairs going to get any statement from these police officers? You worry about police investigating police," said attorney Lewis Smalls. "I don't feel Internal Affairs was the appropriate party to handle this case.
"We're supportive of the fact that it's been elevated to the Philadelphia district attorney," he said.
Manning will meet with authorities on Feb. 12 for his first interview about the dispute, Smalls told HuffPost.
Manning, who is black, has said that he and his teammates were walking to an after-school basketball game on a cold day when they encountered Officer Thomas Purcell, who is white.
According to police reports, Purcell has said that the basketball players were wearing ski masks and ran away from him. One teammate might have uttered something disrespectful to Purcell, Manning said to the Philadelphia Daily News.
The basketball players deny that they wore ski masks, which might arouse suspicion. Instead, they've said they wore hats and gloves given to them by an administrator at their Mathematics, Civics & Sciences Charter School to protect them against frigid air.
A police report says that Purcell stopped Manning, who then struck Purcell three times and ripped off his radio. Additional officers were called and Manning was handcuffed. Manning denies that he fought with Purcell and claims that after he was cuffed, a female officer pulled roughly on his genitals.
"She grabbed and squeezed and pulled my private parts and I felt something pop," Manning told the Philadelphia Daily News.
It's too soon to determine if Manning will be sterile, Smalls said, and the family hasn't decided about suing the city.
Related
Popular in the Community