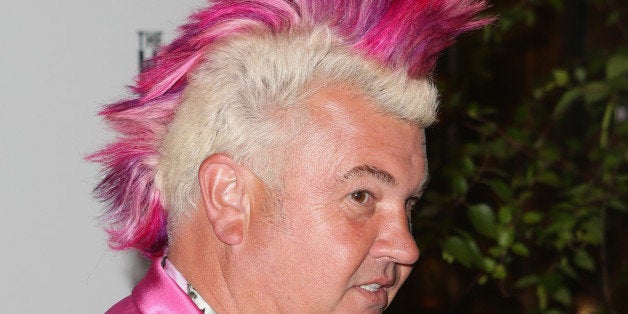 GEELONG, Australia (Reuters) - Darryn Lyons has been called many things - heroic war photographer, parasitic paparazzo, reality TV star - but his latest title may be the most shocking yet: Mr. Mayor.
The 48-year-old Australian, whose Big Pictures photo agency in London helped to usher in the modern paparazzi era with its ruthless pursuit of celebrity pictures, was recently elected mayor of his hometown of Geelong, just south of Melbourne.
Sporting his signature mohawk haircut and fur-lined mayoral robes when Reuters visited his home for a photo shoot, Lyons believes his penchant for flair is just what the city needs.
"At the end of the day, if you want to sell Wilson tennis balls, who would you want to have doing it? Roger Federer. If you want to sell a restaurant, you want Gordon Ramsey," he told Reuters in an interview at City Hall.
Whether or not Lyons is on a par with that kind of company, Geelong needs all the help it can get.
The city of 180,000 people is struggling with the flight of thousands of manufacturing jobs, placing Lyons improbably at the centre of efforts to save one of Australia's major centers.
Although his reputation has dark spots - he admits to cocaine abuse at the height of his celebrity but denies reports that his formidable abdominal muscles are implants - there is much to recommend his business savvy.
Born the youngest of three children to a middle-class family in Geelong, Lyons began working as a photographer for local newspapers straight out of school.
In 1988, Lyons says, he arrived in London with just A$500 in his pocket - about $400 at the time. A chance meeting with media baron Rupert Murdoch landed him a job with The Daily Mail, a British tabloid for whom he photographed the Balkan wars.
In 1992, Lyons founded Big Pictures and turned from stalking snipers to celebrities. At its height, the company had dozens of staff photographers around the world and made him very rich.
Among his treasures - in addition to the private jet and yacht - are the last photographs of Britain's Princess Diana as she was dying, which he keeps locked away in a safe.
His success led to a star turn in 2005 when the BBC aired "Paparazzi", a behind-the-scenes look at his company. That led to further slots on reality TV shows like "Celebrity Big Brother" and "Dragons' Den".
Although Lyons was one of Britain's most recognizable faces, his business was battered by the global financial crisis and collapsed in 2012, leaving him at a crossroads.
Early last year he decided he'd had enough of the celebrity lifestyle and, together with fiancée Elissa Friday, returned triumphantly to Geelong.
Friday, a former contestant on the "Beauty and the Geek" reality TV show - a lascivious portrait in the mayor's home makes it clear which role she played - is referred to by Lyons as the "mayoress".
His campaign for the election held last November was attacked by the business community, whose members went so far as to take out negative ads in Geelong's main newspaper.
Lyons won easily with almost 30 percent of the ballot and, after his first 100 days in office, is genuinely popular. He was just nominated for the quirky World Mayor Competition.
Even the business community seems to appreciate the attention he is drawing to the embattled city.
"I see the mayor's role as a marketing tool," Lyons said with a broad grin. "The people of Geelong, mostly, love it as a marketing tool."
(Editing by John O'Callaghan)

Popular in the Community