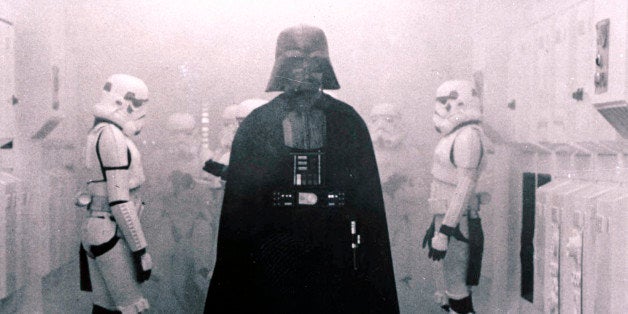 Lord Vader enters the presidential race as a Republican making him the 18th entry and front-runner. After a crushing defeat due to an intern's oversight of failing to cover a thermal exhaust port, he quickly rebuilt the dark side into an evil empire. However, rumors of a relationship between Luke and Leia may derail Vader's only hope of becoming the first Sith Lord President.
Excerpts from the first GOP Debate:
Welcome to the first debate night of the 2016 presidential campaign, live from Quicken Loans Arena in Cleveland, Ohio.
Megyn Kelly: Mr. Vader, one of the things people love about you is you speak your mind and you don't use a politician's filter. However, that is not without its downsides, in particular, when it comes to women.
Darth Vader: You may dispense with the pleasantries, Megyn.
Megyn Kelly: You've called women you don't like "fat pigs, dogs, slobs, and disgusting animals."
Darth Vader: Impressive. Most impressive. Fox News has taught you well. You have controlled your fear. Now, release your anger. Only your hatred can destroy me.
Megyn Kelly: In one of his first acts as commander in chief, President Obama signed an executive order banning enhanced interrogation techniques in fighting terror. As president, would you bring back water boarding?
Darth Vader: Perhaps I can find new ways to motivate them.
Megyn Kelly: Your Twitter account has several disparaging comments about women's looks. You once told a contestant on Celebrity Apprentice it would be a pretty picture to see her on her knees. Does that sound to you like the temperament of a man we should elect as president, and how will you answer the charge from Hillary Clinton, who was likely to be the Democratic nominee, that you are part of the war on women?
Darth Vader: Megyn, you do not yet realize a woman's importance. You have only begun to discover your power. Join me, and I will complete your training. With our combined strength, we can end this destructive conflict and bring order to the galaxy.
Megyn Kelly: Why should Republican voters, who generally want to shrink government, believe that you won't use your Saint Peter rationale to expand every government program?
Darth Vader: I am altering the deal. Pray I don't alter it any further.
Megyn Kelly: How would the candidates stop the treacherous actions of ISIS -- ISIL and its growing influence in the U.S., if they were to become president?
Darth Vader: We'll have to destroy them ship to ship. Get the crews to their fighters.
Megyn Kelly: Mr. Vader, I want to ask you, on the subject of name calling of your fellow candidates, a story appeared today quoting an anonymous GOP donor who said you called Mr. Trump a clown, a buffoon, something else that cannot be repeated on television.
Darth Vader: He is as clumsy as he is stupid. General, prepare your troops for a surface attack.
Facebook Question: Please describe one action you would do to make the economic environment more favorable for small businesses and entrepreneurs and anyone dreaming of opening their own business.
Darth Vader: I find your Facebook contributors lack of faith disturbing.
Thank you all very much, and that will do it for the first Republican primary debate night of the 2016 presidential race.
Calling all HuffPost superfans!
Sign up for membership to become a founding member and help shape HuffPost's next chapter