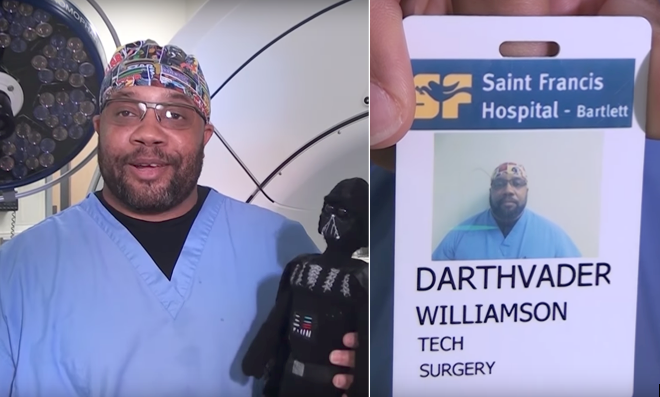 In a galaxy far, far away, Darth Vader rules as one of the most feared villains of all time. But here, in a Tennessee hospital, he's known as a force for good, and not evil.
Darthvader Williamson, a 39-year-old surgery tech who was named after the famous "Star Wars" character, is being celebrated on behalf of this week's geeky "holiday" May the Fourth — a pun based on the phrase "may the force be with you."
In a video interview released by St. Francis Hospital-Bartlett, where he's worked for the last 10 years, Williamson revealed that it was his father's decision to name him after the famous Sith Lord, perhaps against his mother's better judgment.
"When I was born, my mother wanted me to be named junior, which was after my father, Anthony Lee Williamson," he said. "But with him being a 'Star Wars' buff, he was enamored by the character Darth Vader, he was like, 'this would be one bad name for our son.'"
Williamson said his father convinced his mother, likely with the help of her general anesthesia. When she came around and realized the name they selected for his birth certificate, "she was like, 'what have I done?'"
Though the name had its ups and downs growing up as a kid, today he says he loves it ― and later changed it to one word, instead of two, according to WCVB.
"I used to get in fights because my name was Darth Vader. I use to be made fun of, 'hey space boy, come here!'" he told the Tennessean.
That all changed, he said, when he entered middle and high school and it attracted the attention of girls. It also became "a conversation piece in itself."
"I just grew to love it from there," he said.
Today, Williamson said that his name has some other advantages.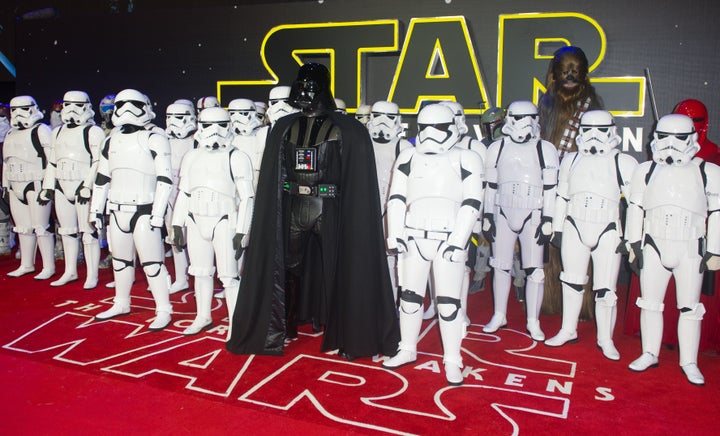 He told the Tennessean that it's gotten him out of traffic tickets, given him a four-percent reduction on a credit card rate, and led to invites to "Star Wars" events. He's even received requests for autographs and pictures, which he thinks is a bit much.
That's not to say that Williamson is a big fan of the "Star Wars" franchise. In fact, if you invite him to see one of the movies, he likely won't go.
"I have not seen 'Star Wars' past 'Return of the Jedi,' all the new ones that have come out, never seen them," he said.
Also, if he had to pick a favorite "Star Wars" character, it wouldn't be his namesake. It'd be the deadly bounty hunter Boba Fett.
"Darth Vader is always talking," Williamson told WCVB News. "Boba doesn't do much talking. When you see him, you know it's going down."
Popular in the Community