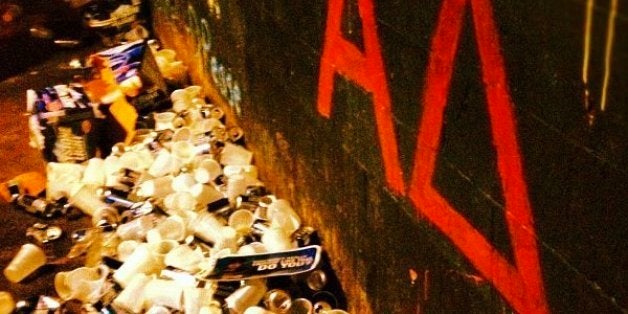 Dartmouth College is taking steps to boot the Alpha Delta fraternity from campus after brothers branded the skin of 11 new members.
A Dartmouth judicial affairs committee determined last week that Alpha Delta members branded the new members over two nights in November. The school moved to impose a harsher than usual sanction because the fraternity was under suspension at the time for hosting an unregistered party in October -- while it was already on probation for an earlier violation. The college dean "is considering whether it is in the best interest of the Dartmouth College community to withdraw recognition of Alpha Delta, regardless of the outcome of any appeal," a college spokesperson told The Huffington Post.
Dartmouth's move to de-recognize a high-profile fraternity -- college President Philip J. Hanlon belonged as an undergraduate and the book and movie "Animal House" is largely based on Alpha Delta -- comes as the Hanover, New Hampshire, school vows to crack down on unruly behavior among Greek organizations. Loss of recognition means the fraternity would no longer be considered a "college approved" residential facility. The fraternity owns its house, but zoning laws limit how many people could legally reside there.
An attorney for Alpha Delta has defended the branding as a form of "self-expression" similar to tattoos or body piercings. The frat said the branding was "not organizational" and neither caused harm nor violated the terms of the previous suspension. The college said it did not find the frat's arguments compelling.
"Brothers and new members acknowledged understanding the health risks involved and described the advice that they shared with one another about self-care of their burns," the college said in its letter to the fraternity.
Alpha Delta has until April 20 to appeal. An attorney for the fraternity said Alpha Delta had no comment at this time.
Alumni plan to petition Dartmouth to keep Alpha Delta on campus. According to an email from Dartmouth alum Larry W. Weidner, posted on Dartblog, members of at least one previous class got AD brands in the past, and it was completely voluntary.
U.S. colleges and universities have shut down roughly 30 fraternities in the past month for hazing, alcohol violations and other misconduct.
Alpha Delta is the third-oldest Greek house at Dartmouth, which branched off from Alpha Delta Phi in 1969 and became a local fraternity.
The fraternity violated school policies at least three times in the past three years, according to Dartmouth's latest annual report on student conduct.
CORRECTION: A previous version of this article said Dartmouth found Alpha Delta responsible for violating the hazing policy. It found the fraternity "engaged in behavior which causes or threatens physical harm to another person."
REAL LIFE. REAL NEWS. REAL VOICES.
Help us tell more of the stories that matter from voices that too often remain unheard.