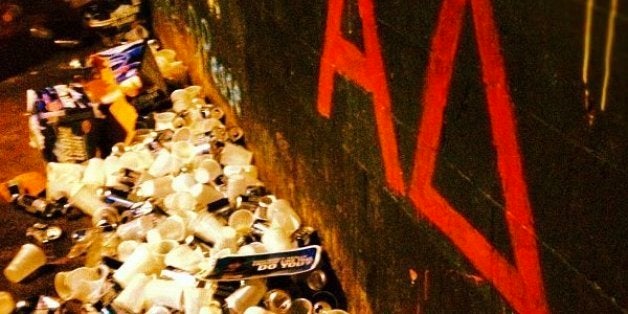 During her freshman year at Dartmouth College, Heidi Illanes Meyers spent the night of Oct. 30, 2009 in the college health services center known as Dick's House with a blood alcohol level of .3. Her blood alcohol content, or BAC, was nearly four times the legal limit -- and she wasn't legally of age.
The next day, after being admitted to the campus medical center with a near life-threatening BAC, Illanes Meyers was offered water and yogurt and sent on her way.
The college never followed up with her.
Illanes Meyers is sober today, and she attributes her sobriety to her decision to enter rehab and join Alcoholics Anonymous, an organization co-founded by a Dartmouth graduate a century ago. She doesn't credit her Ivy League school.
Over the past weekend, during an annual celebration called Green Key that's known for heavy partying, 11 students were brought to Dick's House, and 10 went to Dartmouth-Hitchcock Medical Center, according to Dartmouth Safety & Security. During last year's Green Key, at least 11 people were taken to medical centers for intoxication that weekend at the school. Dartmouth, located in Hanover, New Hampshire, is the smallest school in the Ivy League, with 4,276 undergraduates and a little over 2,000 graduate and professional students.
Between Sept. 14, 2013, and April 27, 2014, Dartmouth Safety & Security and Hanover police responded to reports of intoxicated students at least 64 times, according to a review of the campus police blotter. In those cases, 47 students spent a night at Dick's House for their intoxication and 13 made it to the Dartmouth-Hitchcock Medical Center.
Despite a longstanding legacy as a beer-guzzling campus that inspired the film "Animal House," for years, Dartmouth has refuted claims that it is different from other colleges. That is, until Dartmouth President Phil Hanlon declared last month the campus had been "hijacked by extreme behavior" and vowed the administration would finally sanitize student activity.
Binge drinking has to stop, Hanlon told a select group of faculty and students, acknowledging the college has a problem and that excessive alcohol consumption "has become the rule and not the exception." His comments marked a significant reversal from what the administration touted in response to media inquiries during the early months of 2014.
"In his call to action at the student summit, President Hanlon said that we must not confuse progress for success," Dartmouth spokesman Justin Anderson said. "We are making progress, but there is more work that needs to be done."
The college previously noted there were 82 students who received some sort of medical attention for intoxication during the fall 2013 term, which was a drop from 120 in fall 2010. The number of medical encounters for students with a blood alcohol level of .25 or higher -- three times the legal limit of .08 in New Hampshire -- fell from 80 in 2011 to 61 in 2012, and again to 31 last year.
Dartmouth's administration believes this drop is due to its work with the Greek system through an alcohol intervention program called BASICs, providing counseling to members to help get their drinking under control, and banning first-year students from going to frat parties during the first six weeks of fall term.
"Congrats, I guess, for having less people admitted," Illanes Meyers said, adding, "Four years I've been here and two years I've been sober; I haven't seen any ground-breaking development."
The problem, she noted, is that the numbers can skew what's really happening or who's really the source of the alcohol. Students are skilled at avoiding this issue as well. "The first thing I learned in my sorority was how to not be liable," Illanes Meyers said. If someone is way too drunk, she learned, "You throw them out on the lawn." From there, Safety & Security officers can pick them up from a Good Samaritan call and place the drunkard in Dick's House before he or she is seriously injured.
Still, the numbers aren't pretty: Dartmouth leads the Ivy League in alcohol and drug violations, with five times as many booze busts per capita as Yale University. Other schools have higher numbers overall, but Dartmouth is the smallest of the Ivy League in enrollment.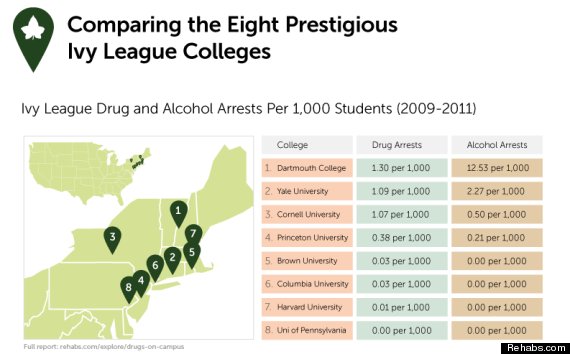 Worshipping At The Altar Of Beer Pong
Dartmouth, located in the small northeastern town of Hanover, is a little different than the rest of the Ivy League. Whereas other Ivies like Columbia, Harvard and Penn are nestled within major metropolitan areas, Dartmouth is a two-hour drive away from the nearest city.
"Hanover might as well be an island," Dartmouth professor Russell Rickford told The Huffington Post. "There's nothing to do in town and the only thing going on in town is the basement of the fraternities."
If students at Dartmouth want to go out on a Friday night, they're probably going to a fraternity basement. The basements are typically described as sticky, dirty and reeking of stale beer and bodily fluids. Not the cleanest places to party, but then again, neither are bars in most college towns where students gather for fishbowls and $6 pitchers. But in these basements, the Keystone Light is overflowing. They're a source of "free beer in walking distance" from classrooms, said Abbeye Miller, a 2002 graduate.
In one email leaked from the Beta Alpha Omega mailing list, a brother lamented how they went through 25 cases of beer at a Monday night party before 1 a.m.
"Without the fraternities spending $100,000 a year on free beer for everybody, there would be a lot more drinking hard liquor in dorms," said Kathleen Mayer, a 2011 graduate who was social chair at Sigma Delta. Her sentiment was repeated in multiple interviews with students. Off-campus gatherings certainly do exist, but tend to be more "cliquey," according to Mayer, while fraternity parties are open to all students and paid for by the house's own dues. Depending on the house and how much money it has, a single house spends around $25,000 in each of the four terms on alcohol alone, several students noted.
Every evening in a fraternity includes brothers either playing or watching people play beer pong, an obsession members say cannot be exaggerated. Not only is the game of beer pong considered to have been invented by a Dartmouth fraternity, but the alumni magazine rated it the No. 1 college tradition.
Dartmouth students play a version of the drinking game with ping-pong paddles, as opposed to the Beirut-style of tossing pong balls by hand.
By some accounts, pong might be the unofficial religion of Dartmouth. It takes over as the center of the parties, with guys asking girls to play with them in the same manner as -- in another time -- men may have asked women to dance at a more formal gathering.
So it may be no surprise that when a large chalkboard cube was placed on campus this past weekend, asking students to finish the sentence "To end high-risk drinking," it was finished with comments like "Dartmouth should keep drinking" and "boot n' rally." According to DartBeat, someone also scrawled "I am blacked out" on it.
"I think Hanlon realizes that it's gotten out of control," said longtime Dartmouth professor Ivy Schweitzer. She credits Hanlon as a "true Dartmouth patriot," a former Alpha Delta brother and '77 graduate who is more concerned about the institution than his own image.
If the college does want to change the culture, it needs to be in conjunction with what students want, said sophomore Michelle Gil.
"We don't like when the administration tries to force change on us without considering our views and opinions," Gil said. "We know the administration wants what is best for all of us, especially our health and safety, but sometimes it seems like they are so far removed from the student experience and don't quite hit the intended mark with their policies."
The college just began its "engagement" phase of a presidential steering committee on "how to end extreme and harmful behaviors on campus through small group discussions and forums." This work will continue into the summer.
From the outside, West Virginia University sociology professor Karen Weis observed that Dartmouth may be doing the best it could hope to do managing the party scene, unless the school aims to eradicate drinking altogether. Weis, the author of Party School: Crime, Campus and Community, noted Dartmouth's social life is contained, and offers medical amnesty policies.
"People who want to drink are going to drink," Weis said. "The only hope is it to make sure they're doing it responsibly."
Like Us On Facebook |
Follow Us On Twitter |
Contact The Author
Related
Popular in the Community