 Hundreds of Dartmouth College students and alumni are proposing that the Ivy League school implement dramatic changes to, or even eliminate, the Greek system on campus.
As part of its ongoing effort to address concerns about the social climate on campus, Dartmouth has enlisted a committee of faculty, students and staff essentially to crowdsource reform, soliciting input online and in person from various stakeholders to find out what they would like to see changed.
The college received more feedback focused on the Greek system than on any other subject, including hundreds of suggestions that Dartmouth abolish fraternities and sororities. More than four times as many people suggested the Greek system was a problem than those who said it was not. In addition to the roughly 260 who said it should be abolished, dozens of others called on the college to increase regulation or to require all houses to go coed.
The college received feedback online from more than 1,600 members of the Dartmouth community, close to 1,300 of whom were alumni. Dartmouth has also conducted 53 meetings with alumni, and another 35 with students, to discuss ways in which the Ivy League school should reform its social scene.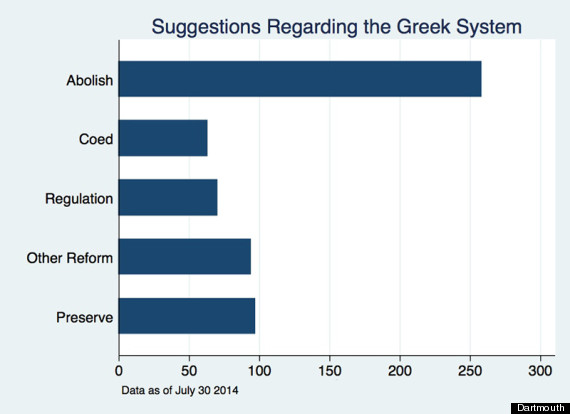 Additional analysis from those in-person conversations is not available, Dartmouth media relations director Diana Lawrence said. The college, she said, is posting some of the early email feedback "in the interest of transparency," and more information will be shared "when and if that is possible."
"I'm not at all surprised this is the response the committee got," said Dartmouth Philosophy Chair Susan Brison, who's been at the college for 28 years. "I'm surprised and pleased that they're making it very public."
Brison said the current effort reflects well on Dartmouth President Phil Hanlon, an Alpha Delta alum who took office last year and has kept all options on the table. However, Brison added, implementing changes could be a different story.
Approximately two-thirds of current Dartmouth students belong to a Greek house on campus, making the system the dominant force among the college's social scene.
When Hanlon made his April 2014 speech outlining the current effort, he said Dartmouth's social scene was often "at odds with the practices of inclusion that students are right to expect."
The school is trying to avoid repeating the missteps of the previous reform effort of 1999, when then-President James Wright launched the Student Life Initiative, which sought to force all Greeks to go co­educational, with a promise to end hazing and ban kegs.
Students overwhelmingly objected, with 83 percent of students polled by the student newspaper saying they preferred to retain the single-­sex system. Students marched on campus in protest and compared Wright to Benedict Arnold and Judas.
Alumni of Greek organizations met with trustees and administrators and successfully lobbied to stop some of the major reforms, like forcing houses to go coed.
"I remember [Wright] saying to me at one point, 'None of the unaffiliated came out -- they're not organized,'" said longtime Dartmouth English professor Ivy Schweitzer. "They don't get marched out in their hats and their sweatshirts by their organization."
Wright isn't the only Dartmouth president to suggest Greeks should go away: David McLaughlin made the argument in 1997 after leaving office.
"I really came to the conclusion that probably the fraternities needed to be eliminated and that the whole system should be redesigned ... We should have gotten rid of the fraternities -- that's a reluctant conclusion," McLaughlin said in an interview with Jane Carroll, who's now Assistant Dean of the Faculty.
McLaughlin said that getting rid of fraternities would've required money while alienating a number of stakeholders, so the trustees moved on to other agenda items, focusing instead on improving behavior among the fraternity members. McLaughlin said he believed they only slowed the "deterioration of the system."
Alumni have opposed interference with Greeks in the past.
In 2010, according to alumni council documents, Greek organizations, working with the college and alumni, pressured the Hanover Police Department against conducting sting operations to bust fraternities for alcohol violations.
However, it's not to say the college hasn't punished Greek houses when it deemed necessary.
Zeta Psi was "permanently" booted off campus in 2001 for distributing newsletters that included "patented date­rape techniques" and detailed sexual activities between brothers and female students. In 2009 the fraternity was officially reinstated after lobbying by alumni, Alumni Council documents indicate.
From 2010 to 2013, college documents show that 33 student organizations -- 87 percent of them Greek -- were found responsible for community standards violations. A majority of the cases involved alcohol, and typically led to college or social probation. Ten houses were found responsible in four or more separate hearings, but none were suspended during that period.
The only specific change the administration has discussed so far is the creation of more residential communities for new students, not unlike Harvard College's residential houses, that could serve as an alternative to the Greek system for some students.
"It's important to keep in mind that the committee is not polling or holding a vote on recommendations, nor can it speculate on what will be considered feasible," Lawrence said. "Their final suggestions will be generated in light of expert opinion, best practices, and the committee's collective judgment. Their charge is to recommend ideas that have genuine promise for implementation and impact."
The committee is scheduled to present its findings and recommendations to Hanlon by October.
Lou Spelios, president of the Dartmouth Alumni Council, said his group does not have a position with respect to "general or specific changes" to the Greek system.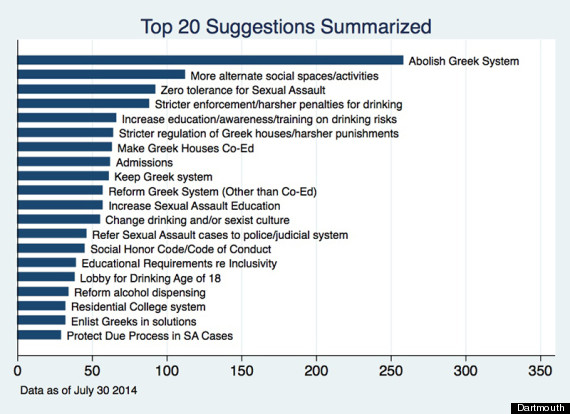 Calling all HuffPost superfans!
Sign up for membership to become a founding member and help shape HuffPost's next chapter