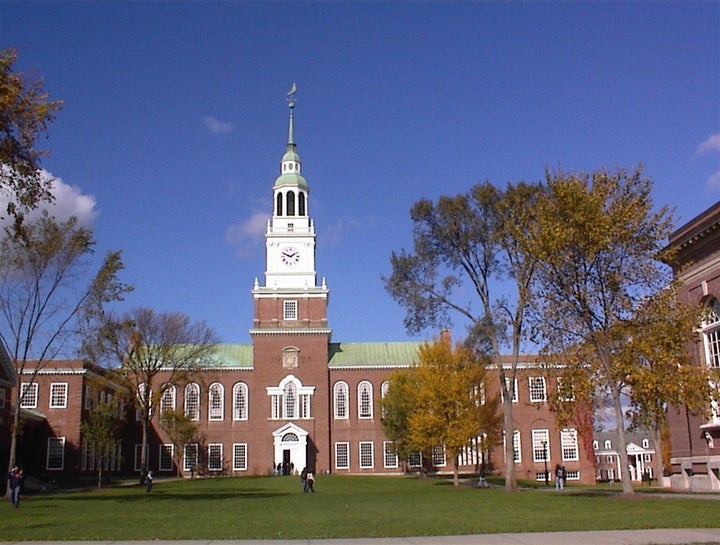 The Dartmouth hazing scandal has now prompted a strongly worded letter from the Ivy League school's faculty, condemning the practice as "moral thuggery."
The letter, which was signed by more than 100 Dartmouth professors, notes that hazing at the New Hampshire college "has been an open secret for decades," and asks how the "physically, emotionally, and psychologically damaging" ritual fits in "with our mission, our core values, and our principle of community?"
Hazing "infantilizes and brutalizes students," reads their response. "It degrades their ability to learn and our ability to teach. It breaks down their understanding of right and wrong, of decency and indecency, and the lines between healthy sexuality and sexual assault."
The faculty letter was drafted in response to an op-ed written by Dartmouth student Andrew Lohse in The Dartmouth. In that piece, Lohse noted the horrors of hazing, and how student pledges in Dartmouth's fraternity system -- himself included -- were humiliated, and made to, among other horrors, swim through kiddie pools of human filth and bodily excretions and to eat omeletes made of vomit.
Lohse also pointed a finger at the school's president, noting that "Jim Yong Kim's sterling credentials in public health are fundamentally at odds with the pervasive hazing, substance abuse and sexual assault culture that dominates campus social life" at Dartmouth.
The outraged faculty agreed, noting in their letter that "the Kim administration...has not insisted these [Greek] organizations accept Dartmouth's core values of mutual respect, non-discrimination, inclusivity, and openness. We challenge the Kim administration to require these organizations" to do so.
REAL LIFE. REAL NEWS. REAL VOICES.
Help us tell more of the stories that matter from voices that too often remain unheard.
BEFORE YOU GO