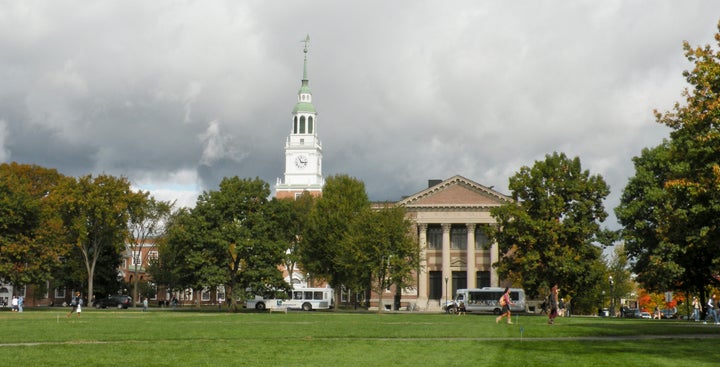 Dartmouth College Provost Carolyn Dever and Dean of the College Rebecca Biron issued a campuswide email Tuesday that called people who anonymously distributed flyers on the Hanover, New Hampshire, campus "cowardly and disrespectful."
The flyers advertised apparel and accessories featuring Dartmouth's old, unofficial "Indian" logo. The "Indian" nickname was never official, but the school administration decided to officially distance itself from it decades ago.
Coinciding with Columbus Day and Indigenous Peoples Day, the flyers "[contradict] our institutional commitment to supporting and maintaining an inclusive and respectful community," Dever and Biron wrote. 
The flyers, pictured below, claimed the merchandise was perfect for people who are "Native American and proud" and "hate political correctness."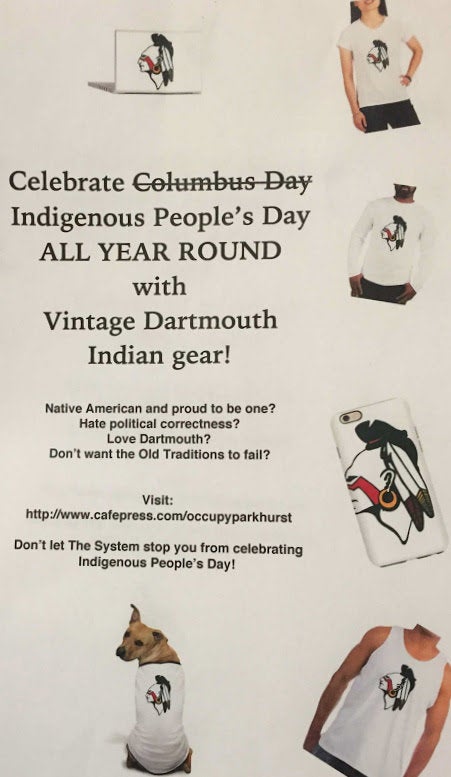 Dartblog, run largely by a handful of alumni, suggested the flyers were the work of The Dartmouth Review, a conservative student publication. The URL listed on the flyers directs people to a website that has the same host as the Review.
The Review's editor-in-chief did not immediately respond to request for comment from The Huffington Post. 
On Tuesday night, Interfraternity President Sam Macomber sent an email to various Greek organization leaders saying he hoped rumors that fraternity members were responsible for the flyers were not true.
"I want to share that this is entirely unacceptable and violates IFC bi-laws concerning conduct/respect, hazing, and cultural appropriation," Macomber wrote.
Macomber added that the Greek Leadership Council is considering a new rule that "any house promoting or prominently displaying the Dartmouth Indian will be ineligible for funding, disassociated from the GLC, and fined." This includes beer pong tables displaying the old logo, he noted.
Native American communities across the country have pushed for local celebrations of Indigenous Peoples Day, rather than Columbus Day. This week, Native American students at Dartmouth demonstrated against Columbus Day, pointing out that Christopher Columbus brought a wave of genocide to North America. They also carried signs stating, "We are people, not a mascot."
Dartmouth officially distanced itself from the "Indian" mascot in the 1970s. While the school has never had an official mascot -- and still doesn't -- it's nicknamed, "the Big Green." The school does not observe Columbus Day, the Dartmouth student newspaper notes.
Dartmouth founder Eleazar Wheelock was a Puritan minister who sought to educate Native Americans youth and turn them into preachers. Today, more Native American students have graduated from Darthmouth than from all other Ivy League universities combined, the school says.
CORRECTION: This article previously suggested the "Indian" mascot, nickname and logo were at one time officially recognized at Dartmouth. The school has actually never had an official mascot, and the "Indian" nickname had been unofficially created by sports journalists. Dartmouth's Board of Trustees voted in 1974 to call for an end to its use.
REAL LIFE. REAL NEWS. REAL VOICES.
Help us tell more of the stories that matter from voices that too often remain unheard.