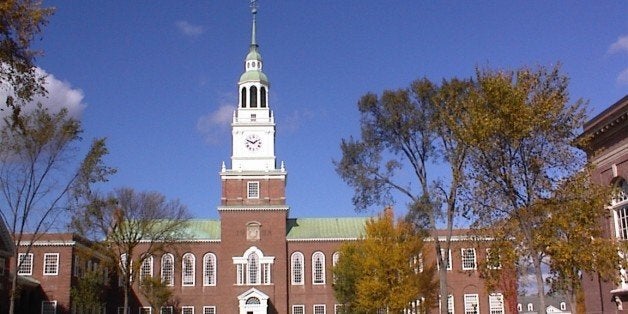 Dartmouth College President Phil Hanlon got candid about the issues facing the Ivy League school Wednesday, saying the institution was being "hijacked by extreme behavior."
"Dangerous drinking has become the rule and not the exception," Hanlon said in a speech to a group of faculty, students and staff, before going on to cite sexual violence and a "general disregard for human dignity, as exemplified by hazing, parties with racist and sexist undertones, [and] disgusting and sometimes threatening insults hurled on the Internet."
Before Wednesday, Dartmouth had always insisted these issues could be found at every college, and that it was a leader in addressing such concerns. However, Dartmouth currently faces a federal investigation for its alleged mishandling of sexual misconduct complaints, the university's applications have dropped 14 percent, and in an apparent reference to critical articles in the media, Hanlon declared that "external scrutiny of our campus life has never been higher."
In what was also likely a swipe at the Greek system, Hanlon said Dartmouth's social scene was often "at odds with the practices of inclusion that students are right to expect on a college campus in 2014."
"The actions I have detailed are antithetical to everything that we stand for and hope for our students to be," Hanlon said. "There is a grave disconnect between our culture in the classroom and the behaviors outside of it -- behaviors which too often seek not to elevate the human spirit, but debase it."
Hanlon announced the formation of a presidential steering committee consisting of students, faculty, administration and alumni who will be tasked with researching possible reforms and presenting them to the Board of Trustees in the fall.
Hanlon's speech came less than two weeks after a group of students staged a two-day protest in his office, demanding a point-by-point response to a 72-item "Freedom Budget." The student-written document called upon the university to make detailed reforms to become more inclusive, and to address problems like sexual violence.
The school has been at the center of a number of controversies in recent years. Then-student Andrew Lohse's revelations about Greek hazing in 2012 gave way, a year later, to a student group calling itself Real Talk Dartmouth demonstrating during an event for prospective students. The Real Talk members later received rape and death threats online, prompting the college to cancel classes for a day. In the past year, sorority leaders have boycotted rush, citing concerns about Greek system costs and sexual violence as a student was targeted in a "rape guide" at a popular Dartmouth website.
Yet as Hanlon acknowledged, many of these concerns are not new at Dartmouth.
Authors of the Freedom Budget claimed Hispanics, Native Americans and the black community are not adequately represented on campus. The same concerns led the college to cancel classes in 1979. At the time, James deFrantz, then president of the school's Afro-American Association, declared: "Racism is woven into the fabric of the Dartmouth community. It is a living hell for black students and minority students. A strong message is conveyed to all black students: You are not wanted here."
The Freedom Budget demanded swift and strict punishment for Greeks holding offensive, racially-themed parties, something that happened in both 2013 and 1998.
The biggest effort to reform the Greek system, which ultimately failed, came in 1999, when then-President James Wright launched the Student Life Initiative. Wright's reforms would have forced all Greeks to go coeducational and to end hazing. For good measure, the initiative also called for a ban on kegs.
Students overwhelmingly objected, and alumni of Greek organizations met with trustees and administrators, successfully lobbying to stop some of the major reforms -- like forcing houses to go co-ed -- dead in their tracks.
After Wright left in 2008, his successor, Jim Yong Kim, declared he wouldn't even try to change the culture at Dartmouth. Kim promised to let alumni have a say in how the college was run, and said of the Greek system, "If you're against it, you're against two-thirds of your students."
"Given Dartmouth's history of failure to address campus issues through internal committees, we have hope but little faith," read a statement issued by Dartmouth Change, a group of alumni and faculty working to improve the campus climate, in response to Hanlon's comments this week. "Committees have been formed many times before, and recommendations are made and ignored."
Between 2009 and 2013 -- during Kim's tenure, and through Carol Folt's time as an interim president -- the college created several committees that produced recommendations, but no dramatic overhaul.
"Much has changed since I left in the spring of 1977," Hanlon said Wednesday night, referring to the year he graduated from Dartmouth. "But more has remained the same."
A Timeline Of Aggressions At Dartmouth:
Support HuffPost
The Stakes Have Never Been Higher
Related
Popular in the Community