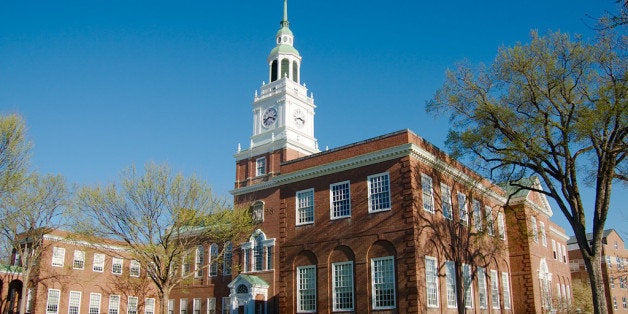 Dartmouth College strengthened its policies on sexual violence this week by officially implementing a proposal to make expulsion the mandatory sanction for students responsible for certain sexual assault cases.
The new policy went into place at the New Hampshire school on Thursday, the first day of the summer quarter term. In addition to expelling students for sexual assault and rape, the college will appoint an independent investigator to look into these complaints.
Dartmouth general counsel Robert Donin said the school chose the "single-investigator model in an effort to encourage reporting and streamline the investigation process."
The changes come after years of pressure from students, activists and faculty to crack down on sexual assault at the school. Dartmouth President Phil Hanlon vowed in April to make a concerted effort to address student-life issues, including sexual violence, binge drinking and hazing.
The new policy will apply to any reports the college receives of "sexual assault; aiding, abetting, or inciting sexual assault; and retaliation for reporting or participating in an investigation of sexual assault." Cases of domestic violence, dating violence, harassment and stalking, as well as incidents not involving physical assault, will continue under the existing policies for adjudication.
Dartmouth's policy notes that under a memorandum of understanding with the Hanover, New Hampshire police, the school will report all cases of sexual assault to local law enforcement. If the victim wishes to remain anonymous, their name can be withheld from the report sent to the police.
However, the changes will only apply to cases concerning events that happened on or after June 19, 2014. Anyone who files a complaint with the college in July about an incident that occurred in February, for example, would still use the previous misconduct adjudication policy.
The reformed policy follows new requirements under the Campus SaVE portion of the Violence Against Women Act, which was reauthorized in 2013. Colleges must identify potential sanctions for rape, acquaintance rape, domestic violence, dating violence, sexual assault and stalking, though federal rules do not stipulate what kind of punishment a school should use. Investigators of sexual assault claims are also required to be well-trained in misconduct proceedings in a way that "protects the safety of victims" and "promotes accountability."
REAL LIFE. REAL NEWS. REAL VOICES.
Help us tell more of the stories that matter from voices that too often remain unheard.