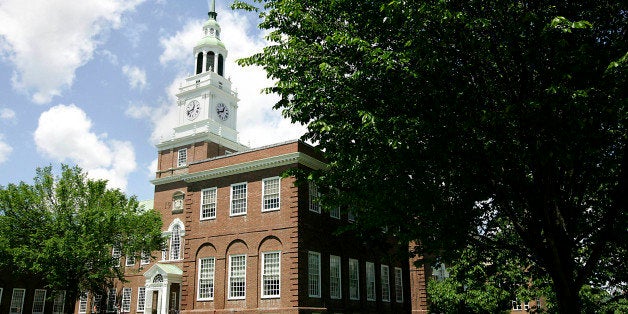 A women's group is pressuring Dartmouth College to take stronger action to combat rape on campus, even after the Ivy League school's recent proposal to toughen sexual violence policies.
Calling the Hanover, N.H., school a "chronic-offender," activist group UltraViolet gathered 50,000 signatures on a petition launched Monday demanding Dartmouth "take sexual assault seriously."
The petition came just days after Dartmouth President Phil Hanlon unveiled a new disciplinary policy for sexual assault. The proposal, posted online Friday, would make expulsion the most likely sanction for students found responsible for sexual assault penetration using the "preponderance of evidence" standard. It also establishes investigation procedures, including interviewing witnesses and keeping the victim and the accused separated.
Nita Chaudhary, co-founder of UltraViolet, said the group is skeptical the school will actually make reforms, given the long history of students and faculty demanding better response to sexual assault.
"Until they follow up with concrete action, it's nothing more than words," added Anna Zuccaro, a representative of UltraViolet.
The petition follows a report by The Huffington Post about a student who said she was sexually assaulted at a fraternity party after she was named in what activists have called a "rape guide" on the anonymous message board Bored@Baker.
Dartmouth's handling of sexual assault is under investigation by the U.S. Department of Education's Office for Civil Rights. A 2013 complaint filed by students and recent alumni claimed the school violated the Clery Act, a campus security law.
Dartmouth spokesman Justin Anderson dismissed accusations the college isn't addressing sexual violence, noting it spent $1.1 million on initiatives devoted to sexual assault, high-risk drinking and the campus social climate in the last three years.
"The most recent example of how seriously Dartmouth considers this problem occurred this past weekend when our Board of Trustees unanimously endorsed a proposal to strengthen sanctions in cases of sexual assault to include mandatory expulsion," Anderson added in a statement.

Members of the Panhellenic Council, now boycotting sorority rush while demanding reforms to sexual misconduct policies, have said they're pleased with the administration's announcement about harsher punishments.
"I am concerned and frustrated, however, that it required so many sexual assault cases and so much negative journalism in order for the school to finally take a stance," said Michelle Khare, a senior and Panhellenic Council boycott member. "This is a positive step in the right direction, but much needs to be done to revise the school's internal process for sexual assault cases."
Dartmouth announced earlier this year it would open the Center for Community Action and Prevention, which it billed as a "hub" for sexual violence prevention that would host the Dartmouth Bystander Initiative. The initiative aims to teach students how to recognize high-risk situations and intervene.
Establishing a violence prevention center was the top recommendation from the Student Presidential Committee on Sexual Assault in winter 2012.
Members of Dartmouth Change, a group of alumni and faculty pushing for better handling of sexual assault, met with administrators throughout the year, advocating the center and other reforms, and offering to help provide staff and fundraising to get it started. According to Bob Wetzel, a 1976 graduate who was in those meetings, the school brushed aside the offers.
"We made it very clear we were prepared to put boots on the ground," Wetzel said.
"Does it take the feds coming to your campus and this Bored@Baker thing being posted to take action on something that is not groundbreaking?" theater professor Peter Hackett asked rhetorically. Hackett, a college alum, is a member of Dartmouth Change who met with administrators about the violence prevention center.
Even critics, however, said they are giving Hanlon, Dartmouth's fourth president in five years, the benefit of the doubt.
"I'm optimistic," Wetzel said. "I've met Phil Hanlon, he's an honorable guy who's been handed a real mess and is trying to figure out how to deal with that mess."
Related
Popular in the Community