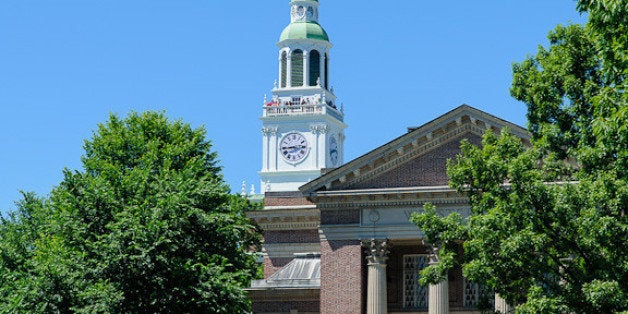 Dartmouth College has proposed sexual assault policy changes, including stricter punishments for offenders that may lead to more student expulsions.
Students found responsible for sexual assault will face "mandatory expulsion in cases involving penetration accomplished by force, threat, or purposeful incapacitation," says the proposal the school made on Saturday. In other assault cases involving penetration, there will be "a strong presumption in favor of expulsion." Any student found responsible for sexual assault more than once will be expelled.
The college administration will unveil its full proposal this week and will allow until April 14 for comments. The Dartmouth Board of Trustees voiced unanimous support for the changes at Saturday's meeting.
The policy change comes as new provisions of the federal Clery Act, which mandates campus crime reporting, begin requiring colleges to disclose in annual security reports the possible sanctions in institutional disciplinary procedures. The Clery changes were included in the Violence Against Women Act reauthorization in 2013.
Dartmouth, in Hanover, N.H., also proposed using a "trained external investigator to investigate and determine responsibility for sexual assault," another requirement under the new law.
"The devil is certainly in the details on this new policy, but it does represent a strong step forward for Dartmouth," said Susy Struble, a 1993 graduate involved in Dartmouth Change, a group of alumni advocating policy reforms around student life issues.
Struble said she believes the policy proposal reflects "continuous problems with campus violence and harassment," and a 14 percent drop in admission applications -- the largest in 21 years. "But it's also the result of decisive action from and alignment between President [Phil] Hanlon and the Board of Trustees," she added.
Five of the nine members on the Panhellenic Council, a student body overseeing sororities, said they would boycott sorority rush in the winter term, issuing demands that include reforms to sexual assault policies. One item on their list was a demand all students guilty of sexual assault be expelled.
Dartmouth had signaled tougher punishments for sexual assault. At a recent conference on campus sexual violence at the University of Virginia, Amanda Childress, the Dartmouth Sexual Assault Awareness Program coordinator, asked rhetorically, "Why could we not expel a student based on an allegation?" Childress was trying to make the point that most assaults are committed by serial offenders and very few rape reports are false.
"All universities need to begin to reckon with is the reality that on each campus there are a small number of serial offenders who are actually responsible for a disproportionate number of the sexual assaults that occur on their campuses," said David Lisak, a national expert on the issue from the University of Massachusetts-Boston.
A policy that passed Dartmouth's IntraFraternity Council unanimously in the 2012-13 academic year required fraternities impose penalties on any brother found responsible for sexual assault ranging from kicking the brother out of the fraternity house to expelling the member from the fraternity.
"Before this policy, the Greek organizations were kind of required to have something like that," said Duncan Hall, a 2013 graduate who moderated the Greek Leadership Council. "But more often than not, they didn't have it or didn't follow it."
The Panhellenic Council agreed that if a fraternity does not have some internal procedure to respond to sexual violence, every sorority would boycott that fraternity. Prior to that policy, sorority members said they used informal social pressures against fraternities that didn't discipline brothers who had committed assaults.
Dani Levin, a 2012 graduate who was president of Sigma Delta, said she and other sorority presidents would communicate names of male students banned from their houses because of previous trouble. More often than not, the trouble involved sexual violence, Levin said.
"It's just the reality of operating where you're responsible for 120 girls and sometimes the system fails and you need to inform yourself," Levin said. On multiple occasions, she added, "I asked men to leave if they've raped a member and they're at the house."
The efforts in the Greek system were meant to augment college adjudication -- not replace it.
Related
Popular in the Community