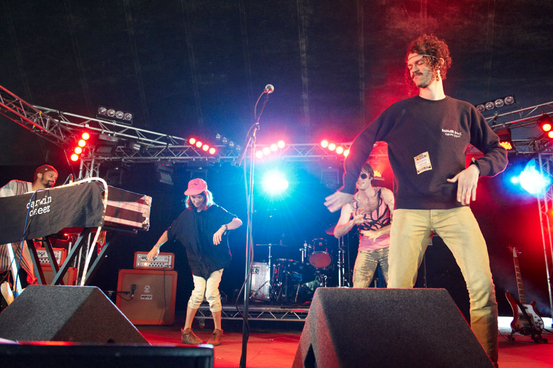 Darwin Deez, I love you! Whilst I'm already a massive fan, this was my first time seeing the New York-based, minimal pop/rocker in the flesh -- and what a show. It's obvious from the music videos alone that frontman Deez (Darwin Smith) is alternative and wonderfully kooky, and I'm so glad he bagged some outré in his suitcase before he missioned to Glastonbury. The set: crazy, entertaining, theatrical and incredible.
Those who've seen Deez will agree he has a completely unique and signature image. With medium-length ringlets bound with a forehead band, and donning a Clark Gable-esque mustache, he's known for sporting over-sized jumpers that look as though they've been zip-wired right out of the '80s (clad with ridiculous but marvelous designs that mirror those magical pull-overs your granny used to make you wear at Christmas time).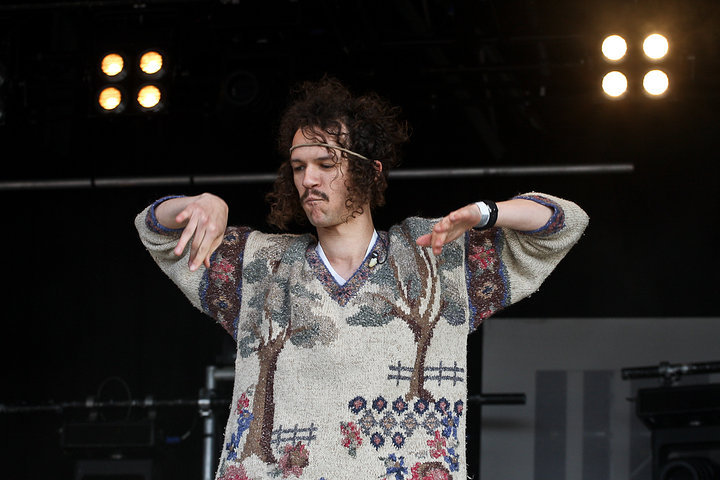 Having been desperate to see him for a while, my expectations were high. And he didn't disappoint. Listening to the whole crowd belt out the lyrics in unison with him at the John Peel stage left me with goosies, and his interaction with the crowd was inspiring. For starters, the audience's attention was tea-leafed by Deez and Co. fashioning some eccentrically dotty dancing. And during the intermission it was most superlative. At one point, they looked like budding tulips that suddenly morphed into children pretending to be airplanes as they danced to Enya's 'Sail Away,' amongst other choice tracks. This, along with getting their legion of fans to join in, kept the whole crowd engrossed. Their range of moves resembled Fat Boy Slim's 'Praise You' video, Michael Jackson's 'Thriller' routine, as well as some sort of African Healing Dance. And watching back the video coverage I couldn't help but feel like crying a little; it was fantastic.
What can be said for Deez is that whilst his music was golden -- and meritoriously executed -- he was never too far away from quips and capers. His dance moves were something that could be likened to the sketchy routines you would make up in front of the mirror when you were a kid. And whilst they're probably somewhat more sophisticated than I'm making out (although probably only marginally), he appeared to mock those highly organized and commercial performers in the industry who are obsessed with image, demeanor and finesse - which was hilarious and thoroughly entertaining.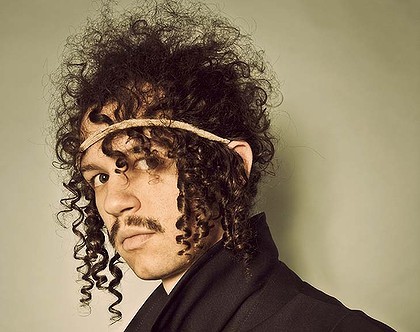 It's obvious that making music is Deez's passion -- he's been doing it since he was 11 -- but during his set he never made out that he was too concerned about getting it perfect. I got the impression that having fun with his pals on stage was king. As I marveled at them, I felt like a voyeur, surreptitiously peering through a looking glass jealously wishing I could be up there with them all.
My favorite tracks of the night -- rather predictably -- were 'Bad Day' and 'Radar Detector.' Everything about them, including their execution, the combination of dance moves, as well as the reception and participation from the crowd, made my chest want to burst into 642 bubbles of excitement. The live performance didn't lose any of its seduction compared to Deez's iconic music videos either, but if anything did suffer loss it was certainly made up for by esprit de corps and wantonness.
When I arrived home (carrying the weight of Glastonbury woes on my shoulders), I introduced my mum to the world of Darwin Deez. Her response: 'Yeah, his videos are better than his music, and he's certainly different -- weird and way too skinny, but extremely good looking.' Lets just say she took the sting out of my blue funk. Roll on 2013: the next Glastonbury.
Popular in the Community