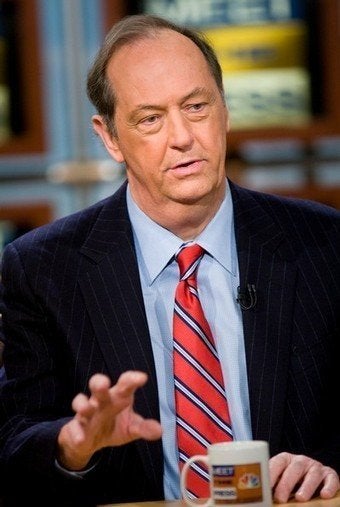 With Tom Daschle removed from his planned role as chief architect of President Obama's health care policy, the search has already begun for his replacement. Governor Howard Dean, no longer heading the DNC, is the hot name on the list, having been in the early discussion for head of the Department of Health and Human Services.
The fit seems logical -- Dean is a former doctor and has implemented health care reform, and it would go a long way to pleasing rank-and-file Democrats. But the choice is not without frictions: he reportedly has a cool relationship with some White House officials, most notably chief of staff Rahm Emanuel. Either way, don't expect to hear much from Dean or his allies, who declined to comment for this article. The surest way to spoil a nomination is to talk about it, the Governor told the Huffington Post back in November.
Some other names are floating to the surface, including Democratic governors Ed Rendell of Pennsylvania, Phil Bredesen of Tennessee and Kathleen Sebelius of Kansas.
But the name that seems to make the most sense, at least on the surface, is former Senator Bill Bradley.
The New Jersey Democrat is, as one close friend describes him, "Daschle without the tax issues." A veteran of the Senate, he knows how congressional sausage is made. And he is not too far removed from Washington to have connections to some of the key players. Bradley is an Obama ally, having campaigned hard for the president (and often taking the most personal shots at the Clintons). He is committed to health care reform, has experience in business and government, and is known to be passionate, sometimes preening, about ethics issues.
His office, the boutique investment bank Allen & Company, did not immediately return a request for comment. But others praised the idea on his behalf.
"The only difference between he and Daschle, beside the tax issue is that Bill was never the inside politician," said former New Jersey Gov. Richard Codey. "He was more cerebral and not part of that breed of politician. But, listen, he is good at anything he does, his people skills are good, he is always doing the right thing, and I think it would be a nice way to top off his career."
Noting that Bradley would never take a job in government that would require him to fundraise, Codey called the HHS spot a good fit for his friend. "When I say Bill's an outsider, I say it in a good way. People all respected him in the Senate and there are still some of those people there -- and who doesn't know Bill Bradley? he is an American icon. He has been on Main Street, Wall Street and the Capitol as well. And he is strongly committed to pushing health care reform. He thinks it should be a right and not a privilege."
UPDATE: Doug White, the editor of The American Journal of Emergency Medicine, writes in to push a name for HHS that seems to be getting more and more air time: Oregon's former governor, John Kitzhaber.
John Kitzhaber has been living and breathing the health reform almost three decades. There is no one in the country that has a more thoughtful and more experienced approach to pragmatic health care reform and expanded coverage than Kitz. At a time when everyone is concerned about conflicts of interest, it's especially noteworthy that John has spent the last decade at grass roots organization rather than cashing in on his political success in state legislature leadership and as Governor of Oregon. The events of this week present a remarkable opportunity for the President Obama to appoint someone who has clinical, executive, legislative, political and consensus building experience and talent to transform health care in this country in a bipartisan, sustainable way.
Kitzhaber advised Obama's team on natural resource policy during the transition period. But, as it was reported locally, he did not fill out "a formal seven-page application for a cabinet position in the new administration."


Popular in the Community