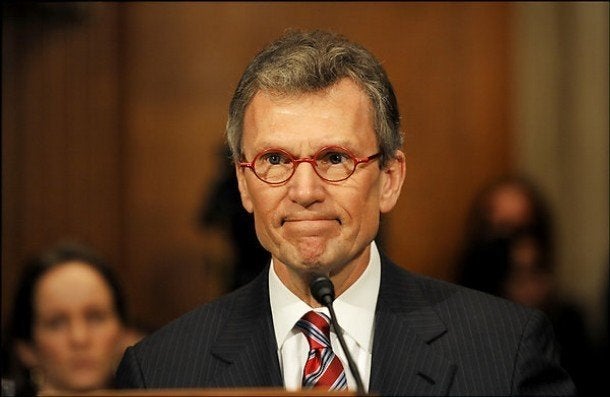 The firm that houses two of the three former Senate majority leaders who proposed a comprehensive health care compromise plan on Wednesday has been paid hundreds of thousands of dollars to lobby on behalf of key players in the health care industry. In addition, the company that presented those findings, the Bipartisan Policy Center, counts as a major fundraiser one of the country's largest pharmaceutical companies.
Former Sens. Tom Daschle, Bob Dole and Howard Baker joined forces this week to put out a health care plan 15 months in the making. The three political gray beards, who co-founded the Bipartisan Policy Center, called for an approach to reform that included state-operated public insurance options as well as individual and employer mandates for coverage. Their proposal was pitched as a bi-partisan effort at solving one of the most complex legislative issue facing the nation.

Not everyone was ready to take out the anointing oils. Opponents of the proposal and good government groups are questioning the ties the plan's authors and organizations have to groups with direct financial interests in the health care debate.
The Bipartisan Policy Center, for instance, lists the pharmaceutical company Schering-Plough as a "substantial contributor" on its 990 form. How much money the company contributed is not listed.
A spokesperson for BPC, Eileen McMenamin, dismissed the notion that Schering-Plough -- which is a member of the anti-public-option Pharmaceutical Research and Manufacturers Association -- played any role in crafting the group's health care proposal.
The company did not have "unique access to or influence over any of our projects" McMenamim said. They were "one of 16 members of our Leaders' Council, which provides 10% of the total organization's funding."
"The entire funding for the Leaders' Project on the State of American Health Care (which is our health care project that released the report yesterday)," she added, "came from the Robert Wood Johnson Foundation."
The ties between BPC and the health care industry, however, don't end there. For its health care project, BPC employed former Clinton administration official Chris Jennings as a co-director. Jennings is listed on BPC's site as being "a health policy veteran of the White House, Congress and the private sector." His resume also includes his role as president of Jennings Policy Strategies (JPS), a firm that, among other things, has earned millions of dollars in lobbying fees from companies with interests in the health care debate. Clients have included the Generic Pharmaceutical Association (which, since 2001, has paid at least $2 million), The Pharmaceutical Care Management Association ($450,000), and Actelion Pharmaceuticals ($320,000).
The ties connecting BPC to private industry influence extend to the group's figureheads as well. Both Daschle and Dole are employed (though not as lobbyists) by the firm Alston + Bird, a Washington D.C. powerhouse with substantial influence inside government and numerous clients in the private health care industry.
According to the Center for Responsive Politics, Alston + Bird filed 60 lobbying reports in 2008 on issues pertaining to Medicare and Medicaid. An additional eight were filed on matters relating to "health issues" and three on pharmaceutical matters. That same year, the firm lobbied Centers for Medicare and Medicaid Services 35 times, and the Department of Health and Human Services ten.
The clients it represented included the American Hospital Association (which paid the firm $80,000), Bayer AG ($120,000), Fresenius Medical Care ($160,000), Generic Pharmaceutical Association ($190,000), the Health Management Association ($120,000), HealthSouth Corp ($440,000), the National Association for Home Care ($210,000) and Roche Group ($120,000), a company that is "systematically pursuing personalized medicine."
Neither Dole nor Daschle lobbied on these or any matters. The two former majority leaders have steered away from the lobbying title, with Daschle holding the post of "Special Policy Adviser," and Dole going by "Special Counsel." But the two -- Daschle in particular -- are reportedly used by the firm in a way that resembles lobbying: drawing in clients and helping them chart ways to get their legislative priorities achieved.
A spokesman for Alston + Bird did not return request for comment, only noting that the senators do not play lobbying roles with the firm. In an article on Daschle's continued involvement in the health care debate, following his withdrawal from the nomination for HHS Secretary, he noted that he does not change his "analysis or my message based on the audience."
"That's my strength," he said, "that I can share this analysis ... with whomever is interested."
Melanie Sloan, executive director of Citizens for Responsibility and Ethics in Washington, said in that same article that Daschle's position at Alston + Bird raised questions about the policies he advocated to elected officials in Washington. "It's like being a senator or being in the administration without having any of the restrictions," she said.
Calling all HuffPost superfans!
Sign up for membership to become a founding member and help shape HuffPost's next chapter