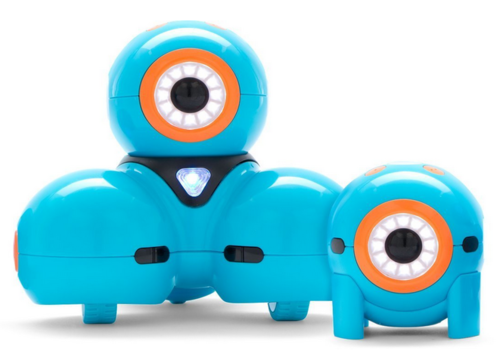 What was the most engaging toy of the holiday season? From my personal research as a long time educator and a grandmother of nine, I would say that Wonder Workshop programmable robots for kids---Dash and Dot---- was one of the best toys of the season. They not only SUPER FUN, but also teach kids computational thinking and promote collaboration between siblings and between parent and child. My grandkids got them as gifts and loved them. They make great birthday gifts.
So what motivates me as an educator to write about toys? As teacher of media and tech, I have been interested in ways to teach students computational thinking. This year was the first time I found a toy that helps do just that. Dot and Dash are little robots that use Blockly, a programming language for kids, created by Google. It is similar to Scratch, another programming language for kids invented by MIT Professor Mitch Resnick. WonderWorkShop was founded by three parents (all programmers) who wanted to make learning to code fun and exciting.
They are super cute and come fully assembled, but not fully charged. First you need to charge them with the orange cable that comes with them, and then go to the website https://www.makewonder.com/ and get the instructions and download the four apps to your IOS or Android device: Go, Path, Blockly, and Xylo There is a list online of devices they work with. Then they are ready for action with your child age 5-12.
Fortunately, the apps are described on the website and easy to use. These toys are pretty amazing because they interact using sensors which means that they can hear sounds, detect objects and tell if you have moved them. My grandson age 9 composed his own music on Dash using the xylophone (an optional accessory). They can also deliver a message and navigate an obstacle course. Exciting to think of how this toy will motivate kids.
So, if you are looking for an engaging and educational gift for a child from 5-12, Dash and Dot are a great choice. Parents will also have fun and the kids will be ahead of the game in computational thinking.