Data are the foundation of marketing in a digital world. Digital transformation of business processes provides CMOs with the ability to measure results and business outcomes, providing the credibility and proof that's needed for marketing to become a strategic business function. Data-driven processes empower marketers with the necessary business and customer insights to drive tighter lines-of-business alignment, accelerate the sales cycle, improve customer advocacy, and drive continuous refinement of products and services to accelerate growth. IDC predicts that digital marketing investment will exceed 50% of total program budget by 2016. "Buyers are evolving their purchase practices faster than vendors are changing their marketing practices. It's not a matter of doing the same things better. The Chief Marketing Officer cannot avoid broader responsibility as the digital customer experience bursts traditional boundaries," says Kathleen Schaub, Vice President of the IDC CMO Advisory Service. "IDC predicts that by 2020, marketing organizations will be radically reshaped. The core fabric of marketing execution will be ripped up and rewoven by data and marketing technology," said Schaub.
Tobias Lee, CMO for the Tax & Accounting division of Thomson Reuters and one of the smartest digital marketers we have had on CXOTalk, says that the way they market has been dramatically different in the past six months. His worldwide marketing team of 100 is focused on being more agile and doing things differently and the regular monitoring of data has been a critical component. "Our digitally-savvy customers are smarter and the digital data helps us to be smarter marketers," says Lee, who emphasizes that all of this "digital stuff" is done with the all-important goal of understanding what will produce a positive impact on customers. "Making sure we have happy customers is the top line, that is it," said Lee.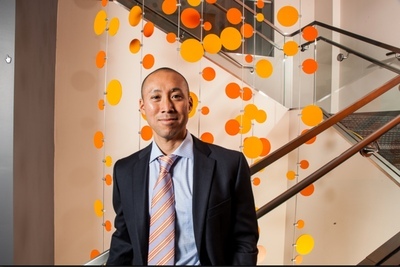 Tobias Lee (Twitter: @CMOTobias), CMO - Tax & Accounting, Thomson Reuters
6 Ways Data-Driven Marketing Leads to Customer Advocacy

1. Digital marketers adopt a data-driven mindset to drive business outcomes - Lee believes that to be effective in marketing today you have to be data driven. Data can help marketers understand who the customer is and help them become more intelligent to understand what the optimal mix might look like to market to that customer. With customers tending to be on different systems and multiple channels, over time data is the trail. Lee says, "For me marketing is art and science. You can't take data for what it is; there is context around the data that you have to apply to make it actionable." Numbers don't tell the full story, but without them it's harder to engage with customers. You need to embrace data to help understand where to hit because instinct cannot be right across all the identified use cases. Data is the foundation to marketing in a digital world. Lee has provided 5 ways for marketers to manage the data deluge.
Digital marketers must understand and be comfortable with using data to drive rapid decisions and actions that lead customers forward from a marketing context. Lee is partnering with companies that develop marketing analytics to improve the contextual understanding of marketing campaigns and at the same time developing internal data-driven capabilities within his organization. It is clear to many digital savvy marketers that building analytics capabilities within marketing is a critical success factor. I have stated in the past that the most important next hire in marketing is a data scientist.
2. Customer journey mapping and persona development - Data for the sake of data will just be overwhelming. Lee advises not to measure something you are not going to do anything with. Rather, only chose metrics that you are willing to change and which will incent the right behavior. "You have to be very mindful about what you pick," he says. The same goes for degrees of focus around the digital footprints you want to track and how to rally around that. "We spend a lot of time with persona developments and customer journey mapping around use cases. We look at the posture a customer might be at during the buyer's journey and we put together a recipe of success that we think will take them from research to evaluation," says Lee. Lee's team is doing hyper segmentation across the board using data to lead them to an understanding of the right digital marketing mix that they believe will provide the positive intent to move a customer forward. Lee admits that it is very complicated.
"You have to prioritize and establish focus, but be smart enough to know when you need to modify and do something different. We can't assume we know it all, which comes back to being an agile marketing organization. We are continuously building intelligence around how we learn about the market," says Lee.
3. Content development is a team sport - The problem with content, explains Lee, is that it is painful to create, time consuming and the content experts don't consider it their job. After trying many things that didn't work, Lee came up with a more efficient model for content creation. The business owns the creation of raw content, and then they pass it over to central marketing to smooth it out and create the tone, then creative formats it correctly with the intention of how it will be delivered. Next, is the dynamic intelligent layer where different pieces are pulled out to be used for Twitter, blog posts, etc. All the different uses of the content are mapped out over a time period, and if Lee's team finds that people didn't bite, they assume their interest wasn't piqued by the email, so they go back and change the wording and then try it again. "This model allows us to be more agile and we are starting to see better engagement as a result," says Lee.
When it comes to deciding which type of content to create, Lee says they focus on picking the best use cases that they think will produce the best benefit for them. Their approach is to pick content topics that are pretty broad, and then to create an eBook level of content with chapters that can be chopped up and repackaged in a way that addresses a customer's pain points. "Marketers have to weigh the economic benefit of the time spent in developing content that is super granular. Keep in mind the role of marketing content in the first place, which is not to take a deal to the finish line, but to encourage the next step of interaction to enable that sales conversation," says Lee.
4. The right content must be delivered at the right time, right channels - Once you have great content, marketers are faced with this omni-channel challenge. The number of different areas you want to introduce yourself to potential customers is larger than ever. The signal-to-noise ratio is a challenge and marketers need to consider when it may be the most interesting time for that person to look at and engage with what you have to offer.
5. Relevance is a function of business outcomes - There is so much pressure today to be business relevant. In the past five years there has been an increase in pressure for CMOs to provide some quantitative proof they are adding value to the business, and it is increasing all the time. "Having this data gives you credibility and a seat at the table to be able to speak to the business context and helps connect to business related issues, such as how do we grow the business and keep and retain happy customers. The numbers provide the proof that you are actually doing it and without this proof, marketing quickly becomes expendable," says Lee.
6. Partner with line-of-business to establish alignment and common goals - Lee stresses the importance of having marketing goals align with sales goals. "Critical to marketing today is integration across functional departments, such as sales, marketing and customer service, and also across marketing mediums," said Lee. Lee believes that digital marketers must be able to connect the multi-channel marketing dots. In the past, he has even gone as far as having marketing be commissioned just as sales people to bring about an understand that a certain amount of marketing leads will help sales produce a certain percent of contribution to revenue, encouraging marketing to have the same level of accountability and discipline as sales.
Lee and his team consistently partner with the sales organization in order to establish common program goals and common definition of desired business outcomes. Through upfront collaboration and mutual understanding of strategy, roles, responsibilities and desired business outcomes, the marketing and sales organization are able to improve execution velocity and develop better relationships with internal and external stakeholders. Lee believes that team collaboration leads to a very positive relationship between marketing and sales and also influences the partnering between marketing and other lines-of-business including IT and operations. There are major benefits of marketing and IT collaboration that all digital marketers understand and value. "It's about alignment. You have to remember that regardless of department, we all have the same goal and we play a role together to help more that forward. It's that journey you go through as a group that helps you to be more efficient and effective for what the end goal is," says Lee.
You can watch the full interview with Tobias Lee here. Please join me and Michael Krigsman every Friday at 3PM EST as we host CXOTalk - connecting with thought leaders and innovative executives who are pushing the boundaries within their companies and their fields.
Related
Popular in the Community