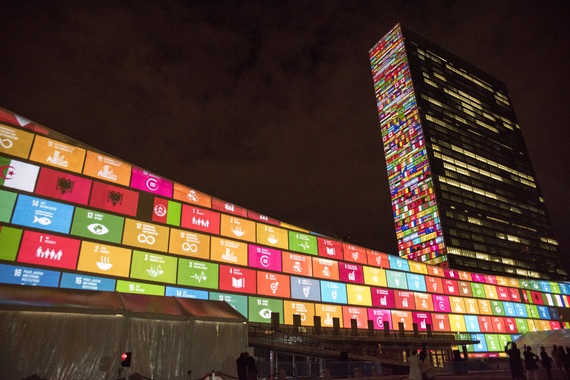 A film introducing the Sustainable Development Goals is projected onto United Nations Headquarters in September 2015. UN Photo/Cia Pak
Late at night in Stockholm, Sweden, researchers at the The Royal Institute of Technology are in a video-conference with United Nations economists and data scientists at their New York headquarters. They are putting the final touches on a data visualization showing 25-year forecasts of the effect of political decisions on climate change, poverty, and water and food security. This big data-driven work offers the potential to create important new insights that could improve lives across the developing world.
Such collaborative efforts reflect a commitment by the United Nations to adopt a model prevalent in the private sector where innovative companies make open calls for the brightest technical minds to propose ways to improve their algorithms, with the reward often being cash prizes. Instead of financial rewards, the United Nations is offering no less than the opportunity to help build a better world. And it is inviting partners to the table through dialogue, public-private partnerships, and innovation challenges.
At the World Economic Forum in Davos, Switzerland, Secretary-General Ban Ki-moon spoke of the need to forge stronger partnerships that have a real impact on people's lives. He asked companies to "provide essential solutions and resources that put our world on a more sustainable path" and recognized that "responsible businesses have enormous power to create decent jobs, open access to education and basic services, unlock energy and end discrimination."
Academics, civil society, and the public have roles to play as catalysts for innovation too, by contributing their ideas through such platforms as Unite Ideas.
The Unite Ideas crowdsourcing platform invites the global community of data scientists to partner with the United Nations to harness the power of data analytics and visualization to accelerate discovery and uncover new knowledge. To date, academia, the general public, and private companies have responded to our challenges with dozens of open source solutions, many of which will be used by the United Nations or shared with Member States. I believe the response shows that the concept works, that many people are keen to volunteer to help us solve challenges in this way, and that the results obtained are in fact useful.
"Is the world a better place today?" This is not just an existential question, but the name of a data visualization application that seeks to produce new insights into the United Nations Millennium Development Goals (MDGs). Another application, "WHS Explorer," mines data from the United Nations World Humanitarian Summit to provide a richer, multidimensional view of humanitarian issues and how they differ across the world.
These winning solutions, developed by teams of volunteers during Unite Ideas global innovation challenges, are just the beginning when it comes to the potential big data offers to advance the public good. We know data science can help us better understand what is happening and why, predict what may come next, and significantly shape how we respond to the global challenges of our time. And we recognize that some of the best ideas for applying real-time data to development challenges percolate from university classrooms, private sector research labs, local governments, and civil society.
But Unite Ideas is just one of the ways we're using technology to invite the world to help us solve the many complex global issues we face. The commitment of the United Nations to leveraging real-time data is embodied in the Secretary-General's Global Pulse initiative. This collaborative effort brings together experts from the United Nations, governments, academia, and the private sector through a network of Pulse Labs to pioneer new methods and frameworks for using big data to support development goals.
Pulse Labs tap into local knowledge and innovation, establish key partnerships, test and pilot real-time monitoring approaches at the country level, and support the adoption of proven approaches. Recent initiatives have included the study of mobile phone data to estimate food security, and the development of interactive data visualization tools to support early response to the typhoid epidemic in Uganda.
As Chief Information Technology Officer, one of my primary roles is leading efforts to implement technologies that support the critical work of the United Nations. We are committed to fostering collaborative data analysis, and leveraging visualization, social networking, and other innovative uses of technology.
The United Nations is the guardian of an unparalleled database of the world's socio-economic and political history. Opening this data to the public and collaborating with partners will help us make better decisions that support the work of the United Nations in international peace and security, human rights, international law, humanitarian aid, and sustainable development. I believe innovation focused on understanding and developing actionable insights from data will play a critical role in the 17 Sustainable Development Goals and 169 targets that the world has set to build on the accomplishments of the MDGs.
Effective use of data can help us expand our knowledge of fundamental issues, such as social and political instability, natural disasters, and climate change to improve decision-making and enhance our ability to predict, and even pre-empt, the next crisis. However, data alone is not enough. Such complex issues require collaborative approaches. I am proud of the role the United Nations is taking in the global data revolution and am excited to see what we can accomplish when we bring our partners to the table, wherever they may be in the world.
*Atefeh Riazi is the Chief Information Technology Officer of the United Nations.
Calling all HuffPost superfans!
Sign up for membership to become a founding member and help shape HuffPost's next chapter