"Just over 31 percent of high school freshmen declare interest in a STEM-related field -- around 1,000,000 students each year," states the ShapingOurFuture new web-portal.
"Of those students, nearly half will lose interest in STEM by the time they graduate from high school."
In 2013, according to My College Options, one of our key research partners with Million Women Mentors, under 7 percent of boys and 4 percent girls interested in STEM report having a mentor encouraging them.
This is the 'leaky' pipeline of STEM (Science, Technology, Engineering, Math). Most jobs will require STEM skills (over 71 percent).
Going deeper into the data as part of a tool created through a joint effort between myCollegeOptions® and STEMconnector®, we wanted to better understand career interests of both boys and girls at the high school level...
Here is what we found nationally utilizing data where we were able to source nationally, but also by county, city, state...
This slide is overall interest. 42.4 percent boys express interest in 2015 and 15.6 percent of all girls.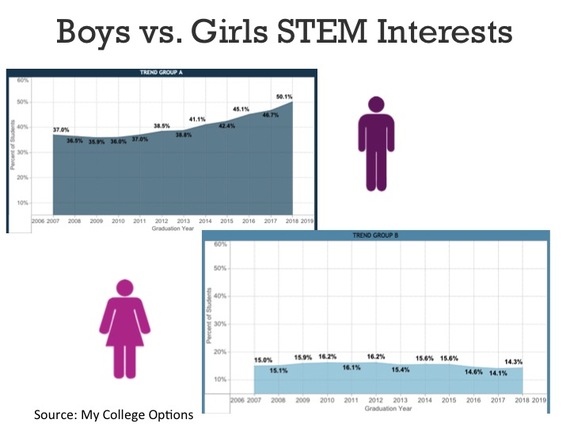 We then broke it down by gender and ethnicity.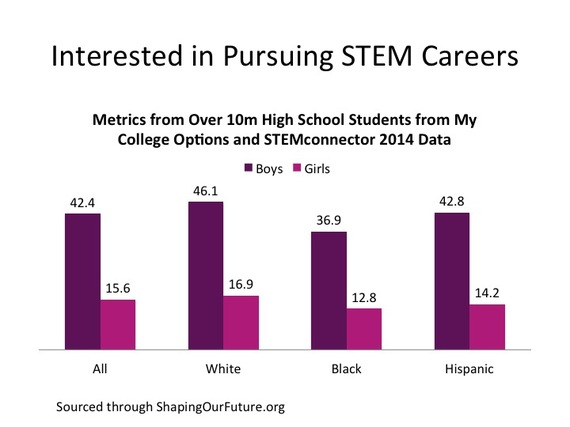 Amazing the stark difference between male and female career aspirations. Boys select the "T & E", Girls selecting the "S" in particular.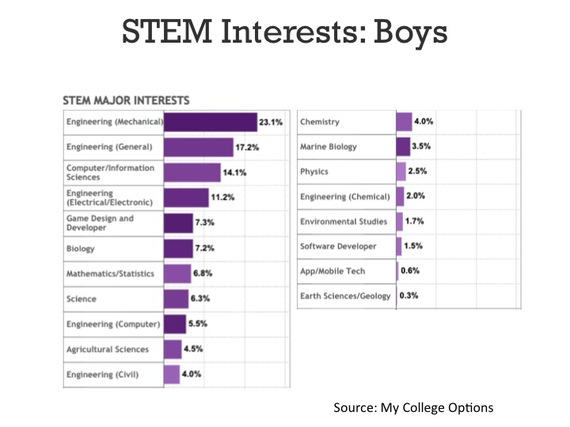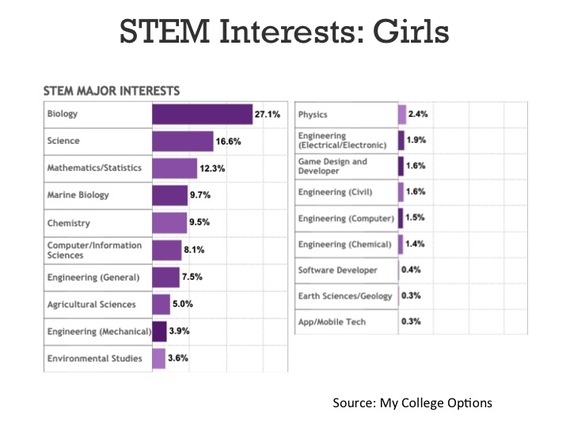 Our Data Source and Research Methodology:
The data represented in the STEM Interest Trends and Current Student Snapshots were gathered over the previous 13 years through annual registration and research efforts conducted for the myCollegeOptions program. Primarily, that data is collected through educator proctored, paper instruments administered in U.S. high schools.
The STEM Interest Attrition tool utilizes a cohort of nearly 100,000 students selected from the myCollegeOptions program. Each student in the cohort participated in the myCollegeOptions program during both their freshman and senior years. The freshman major and senior major selections were analyzed for persistence and migration pattern information.
The High School Landscape tool uses three years of student and educator data collected through the myCollegeOptions/STEMconnector cooperative research program collected through educator proctored, paper instruments administered in U.S. high schools.
Julie Kantor is the Chief Partnership Officer of STEMconnector and Million Women Mentors
Calling all HuffPost superfans!
Sign up for membership to become a founding member and help shape HuffPost's next chapter