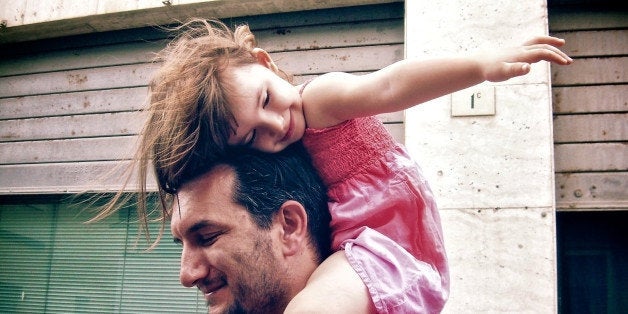 If you're currently looking for love and not including single dads in your search, you're doing it wrong.
You're not likely to stumble upon a more selfless or loving guy than one who has raised his kiddos on his own (or mostly on his own).
But hey, don't take it from us, take it from the guys themselves. We recently asked a handful of single dads to give us their best elevator pitch for dating one of their brethren. See what they had to say below.
1. He's going to take things slow.
You know that guy you got coffee with once who subsequently badgered you with requests to hang out for weeks on end? Most single dads are not that guy. Single dads don't have time to be that guy.
"Single dads have a lot on their plate," says writer Serge Bielanko. "They're most likely not sitting around in their boxers, flicking through strangers' faces on Tinder like some kind of bored sack of boiling testosterone, you know? In fact, if they're doing it right (and many are), there's no question in this world about who the most important person or persons in the galaxy are. It's their kids."
That means you may have to take things slow with any guy you date who has kids -- but that's a good thing.
"You can be sure that he isn't going to be way up in your world too soon," Bielanko says. "He's freakin' busy, man. Single dads know what love is (he's got kids) and yet that very fact alone forces him to move slowly into dating and relationships, which is a very good thing, I think. That desperation of rushing into things is basically weeded out of the equation."
2. He no longer believes he's the center of the universe.


Any parent will tell you: Kids have a wonderful way of putting your world into perspective. You can be sure that your date's selfishness levels began to fall the day he welcomed his firstborn (and they've been steadily plummeting ever since).
"At least when you do it right, being a single dad is a vivid reminder that life isn't about us," says writer Craig Tomashoff. "It's about the little ones we have sworn to protect. I'd like to think that women would appreciate a man who has learned to be selfless to a fault."
3. He won't shirk responsibility.
While other men might begrudge your requests to take the minivan in for a tune-up or head to the hospital with you to visit a sick friend, a good single dad steps up to the plate. He's changed enough stinky diapers to get the meaning of responsibility.
"Of course there are single dads out there that aren't worth dating,"says Kyle Bradford, a divorced dad of two who blogs at Chopper Papa. "But a single dad that's fully plugged into his kids' lives, one who accepts his financial obligations, doesn't bad-mouth his children's mother, and owns up for his part in that failed relationship? That guy will probably be the best guy you'll ever meet."
His endorsement doesn't end there: "More rare than a unicorn, should you stumble upon one of these men you better close that deal because you may never find another."
4. He's not afraid to show his sensitive side.
If he has little girls, you better believe he's spent an afternoon or two getting his nails done. Raising kids has taught him that it takes a lot of strength to be soft and that there's nothing wrong with showing your love. Plus, if you're the hand-holding type, you're definitely in luck, says Jon Vaughn, a father of two girls who blogs at Full-Time Daddy.
"We got used to it while walking across Target parking lots. Now it has become a conditioned response," he jokes. "And like holding hands, we're more comfortable with physical touch. We get hugs, kisses, cuddles and we get farted on. This happens quite often. We're OK with all of it."
5. His listening skills are top-notch.


A single dad won't shy away from having important conversations ("Are we truly ready to move in together?" "Do you want more kids?") or small ones ("What dinosaur shirt are we wearing today: T-Rex or T-Rex rocking a tie?") They listen, they talk and they solve problems on a daily basis.
"As the only parent, we have developed super sensitive listening skills," says Joe Seldner, a journalist and single dad of two. "In a dating world where many women have been in relationships where being listened to was a rare event, listening skills come in handy."
Fellow single dad Tomashoff agrees: "We spend so much time talking about such weighty topics as why Donald Duck doesn't wear pants and why the number five is afraid of the number six (spoiler alert: because seven ate nine), we are so ready to have brilliant adult conversations."
6. He's giving you the opportunity to play a part in his kids' lives, and that's huge.
A single dad keeps his guard up. If he's introducing you to his kiddos at some point, he wants you to play a part in their lives -- and there's no greater endorsement (or honor) than that.
"In my case, that means you'll have the chance to positively influence the life of a little girl," says Vaughn. "And when she asks you to do her nails, or wants her hair done fancy, or wants to go with you instead of dad, then you'll know you're doing it right."
7. He's playing for keeps.


The last thing any single parent wants to do is introduce an S.O. to their kids, only to have that person disappear from their lives somewhere down the road. If you're dating a single dad, you're more than likely dating someone who isn't just looking to hook up. He's likely in it for the long haul, Bielanko says.
"If you end up dating a single dad steady, well, my guess is that you're probably dating a fellow who is really into you for some very good reasons, a man who truly appreciates the fact that somehow, in the middle of so much chaos and uncertainty, you've both managed to find each other in this world," says Bielanko. "And when you think about it, that's about as good as dating ever gets."
Related
Before You Go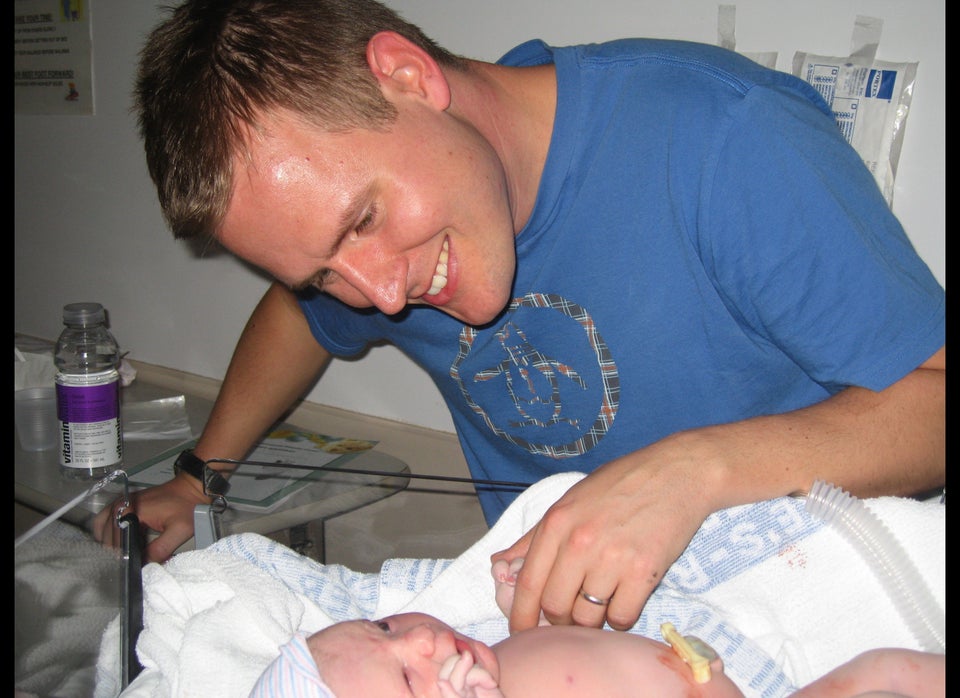 First Photos Of Dads And Babies