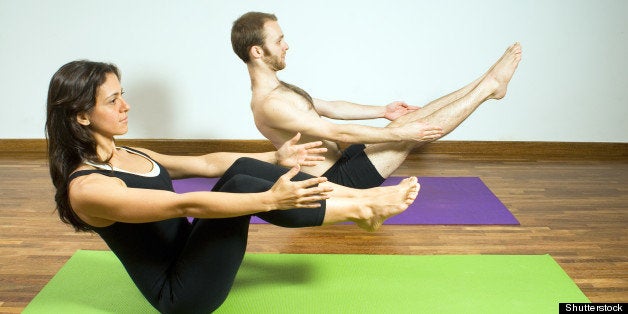 There's no better time to take advantage of all this long-awaited sunshine than to take a moment for a date with your partner. Maybe you're currently in the throes of wedding planning and need to blow off some steam. Maybe you've just returned from a blissful honeymoon and are looking for some initial activities as husband and wife. No matter what excuse you need, here's a list of some fun date ideas to get your collective adrenaline pumping.
You don't have to be an athlete to enjoy the great American pastime. Hitting a few balls at the cages is a great way to relieve stress, and have a great time doing it. Plus it's a great chance to let him help you master the perfect swing.
The quintessential "first date" idea, miniature golf is the perfect setting for a romantic and maybe even nostalgic date. In an ambiance filled with windmills, waterfalls, astroturf and ponds, it's hard not to let loose and simply enjoy the goofiness (and perhaps add a little competition to keep it interesting).
If you're a more experienced outdoorsperson, consider planning a half-day, or even daylong hike. It'll get your adrenaline going, plus you'll work up a sweat together. When you take a break to hydrate and take in the scenery, you'll have the perfect setting to reminisce about that perfect honeymoon, or discuss how happy you are to be spending your lives together.
While it may sound simple, good kite-flying takes work, dedication, and cooperation. Choose an open area, like a beach or a park, and just have fun with it. If you can fly a kite together, you can do anything together. Note: Do not attempt to fly a kite in a thunderstorm.
Uncomfortable positions and a lot of sweating? Sounds like a great date at a yoga studio. Yoga could even become a valuable part of your ongoing routine, as it provides a great way to release the stresses of everyday life and get back to a peaceful place (which you'll need when he or she forgets to empty the dishwasher yet again). It's our #1 pick for a date to really bring you two together in ways you haven't experienced before.
Running around your city taking pictures of yourselves in front of random places might sound like a regular Friday night out, but throw in a few other couples, and you've got yourself a great competition! These work best with a larger group (there may be organized scavenger hunts in your area). You'll never have a dull moment, and we guarantee plenty of great stories to tell afterwards.
If you think of Forrest Gump's insane paddle skills whenever you hear the term 'ping pong', welcome to the club. Luckily, no one expects you to be that good. A great game of ping pong gets you up and moving while still allowing you to enjoy each other's conversation. Add some alcohol per point and voila! A new drinking game.
Every romantic comedy comes with the essential scene -- the dance. From "Dirty Dancing" to "My Best Friend's Wedding," dancing is the one thing that reconnects two bodies in a way that other activities don't. Knowing how to dance is one of those skills that brightens everyone's life, so perhaps it's time you learned. And learning something new together is one of those tried-and-true tips for bonding as a couple.
Give new meaning to the phrase "going the distance" together. Grab your helmets (safety first!) and head out on a scenic bike ride, escaping the hustle and bustle of the busy streets. Bonus points for perfectly timing the date so you can ride off into the sunset together.
Pushing yourself to new heights is what a new marriage is all about! Much like the rest of married life, rock climbing requires taking a series of steady chances and supporting each other along the way, so you'll both reach your destination safely.
Want more great date ideas? Sign up for HowAboutWe for Couples, a new site that makes it easy for you and your partner to share one-of-a-kind experiences together. Still looking for that special someone? Check out HowAboutWe Dating, the offline dating site.
Popular in the Community