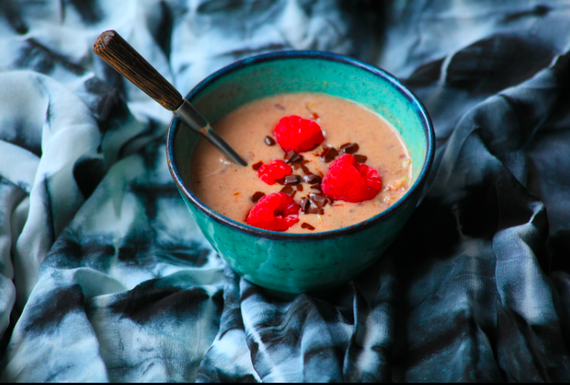 I didn't quite realize how hard it was to name dishes. I had set out to make this a cardamom kheer sweetened with dates, but the nibs of chopped dark chocolate sprinkled on top, albeit a small amount, overpowered the other flavors - a pleasant and welcome surprise. The touch of cardamom remained just that, a touch. And I quite like the light combination of cardamom and dark chocolate.
Traditionally, kheer, or rice pudding, is made of white rice soaked in milk, with a bit of saffron and cardamom, and of course sugar. Wild rice takes much longer to cook than white rice, but it is higher in protein, containing all of the essential amino acids, low in fat and a little more chewy, which I love. I've never used coconut cream, but saw it in the fridge and added a small amount. It added a delicious richness, especially if serving as a hot dessert, and the dark chocolate finished it off with a hint of indulgence.
This is great for a filling weekend breakfast or to serve as a hot dessert. Drop a few raspberries before serving, add chopped dark chocolate, and as an afterthought, some toasted coconut flakes.
70g wild rice
1 liter water
500ml almond milk
50g dates, finely chopped
½ teaspoon cardamom
2 tablespoons coconut cream
20g dark chocolate
8-10 raspberries
Cook the wild rice in water on low heat. This should take around 45-60 minutes. Once cooked, pour in the almond milk, cardamom, coconut cream and dates. Continue to cook and stir for around 15 minutes. Serve with chopped dark chocolate and few raspberries.