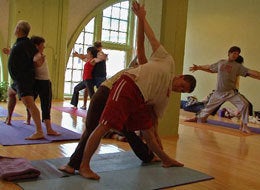 Sure, you could see a movie or enjoy a mojito at a rooftop hot spot. You could catch a free concert or stroll along one of our lovely lakes.
Or you could do what Cheryl and Jerry Rogers of New Richmond, Wis., did on a date a few Fridays back, after entrusting their two young daughters to Grandma.
They locked arms back-to-back to feel one another's breathing. They bent and twisted, curled into balls and crawled on top of one another. They played an adult version of airplane.
But, Grandma, it's OK. Really. They were attending Yoga Date Night at the Yoga Center of Minneapolis and we have video to prove it.
The two-hour couples workshop is one of several offered throughout the year at the center's two Minneapolis locations. Yoga instructor Tanya Boigenzahn Sowards created the concept as a way to get longtime marrieds out of their ruts, as well as to offer a fun and fresh alternative for daters, parents and children, or yoga buddies.
"The biggest question people ask me is, 'Do we have to have yoga experience?'" said Sowards, 35. "It is absolutely not necessary to have any experience."