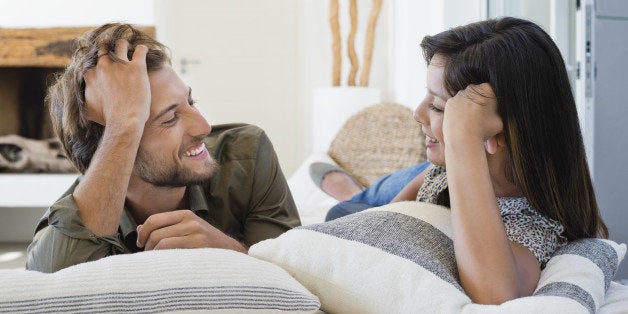 A recent study, conducted by Match.com, polled over one thousand married couples from a representative group and what they found will put a smile on the faces of those who have tied the knot. Married people are happy! The reason for this is that they are in love. 81 percent of those surveyed would remarry their spouse. When asked, "Are you still in love?" 75 percent said "Very much in love."
In a world where the high divorce rate seems to loom heavy, it is a welcome relief to know that so many couples are happy in their union. In order to keep this positivity going, let's put the spotlight on what you did right over the years. A successful relationship goes back to the roots of the courtship. Once you say "I do," the key is to keep dating your spouse. Remember all of the things that you did to make each other feel special day by day and keep on doing this year by year, decade by decade.
•Kiss: When you say good bye in the morning and reunite in the evening give each other a peck on the cheek. This gesture, though small, provides an important physical connection. If you have children think of the wonderful example you are setting as to the benefits that a happy marriage can yield.
•Send flirty texts during the day. This is especially important for the forty and up group who did not have the benefit of 21st century technology when they were courting. A quick text relaying "I can't wait to see you tonight!" is sure to put a smile on your loved one's face. It will certainly keep the dialog going and make that boring board meeting go much faster.
•Schedule a regular Date Night. Taking in the newest summer block buster or dining for two is not over once there is a gold band on your finger. Holding hands while eating popcorn in the dark of the theater never gets old. Going out with couples is fun, but the intimacy of just the two of you can't be beat.
•Lock your bedroom door. Kids have a habit of barging into their parents' room at all hours of the day or night with comedic precision. The privacy of the master is paramount. It will maintain boundaries that are needed.
•To this end, continue having sex. When you were dating it went without saying that it was a regular activity. Once you are married, and especially if kids are in the picture, don't let sex fall on to the back burner, by putting your energy into everything and everybody but your spouse. There are many parts of the puzzle to a successful marriage, physical closeness being one of the most important.
•Don't go to bed angry. When you go to sleep still fighting you wake up in the same bad mood. Make a pact to clear the air before the lights go out and start fresh in the morning.
•Say "I love you." Never take for granted that you married your best friend, soul mate and lover so tell them this as often as you can. "I love you" are the three most important words that a husband and wife can communicate to each other.
Support HuffPost
A No-B.S. Guide To Life
Related
Popular in the Community