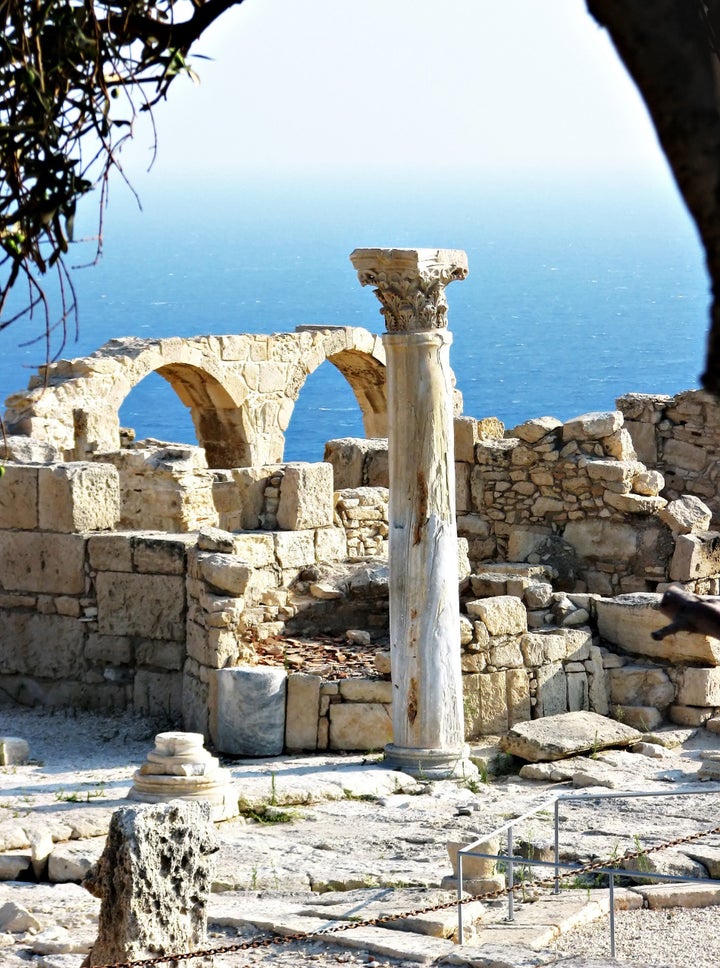 Yahsas! Welcome to Cyprus, the island known as the playground of the gods!
Frankly, I couldn't decide between Turkey and Greece this year for the event -- so here we are in Cyprus! Half of each...
This has been a wild day, like many days on The Global Scavenger Hunt come to think of it. Today I technically visited four countries: we woke up in Oman then flew to Bahrain for late breakfast, then flew and landed here in Cyprus for an early evening dinner -- and then some of us simply walked across the UN-controlled Green Line into the Turkish Republic of Northern Cyprus (Yes, they stamped our passports!) and had an Efes beer! One, two, three, four...
2012 Travel Adventure Competition Update:
All the teams checked in at our sheesh cabana at our Omani hotel on time, but a little worn and tattered.
The Omani leg proved to be an extremely competitive one, with the top three teams equal to all assigned scavenges. It was truly amazing after all the scores were finally tallied, with a few penalty deductions sorted out, that the top three teams had exactly the same point total: 1,690 points! But, earlier I had thrown in a wild card caveat before the leg started: I allowed teams to rent cars for the first time ever in this eight year event, to do some desert and highland scavenges on their own. Fair enough, but I also wanted to test their travel savvy skill sets in doing so, and added a Bonus for whichever team got the cheapest rental! That was the difference between the top three teams and the deciding factor.
So without further ado: Lawyers without Borders won the leg by 100 points because they rented the cheapest car, whereas the Sydney Sisters and Your Not in Guatemala Now tied for second because their rental cars were the most expensive! Isn't this great? Seems the defending champs had a little trick up their sleeves!
The new 2012 Leader Board now accurately reflects the new scores and positions of the teams.
It was a great leg and I am proud of everyone: Good job folks. Just one week until our Washington, D.C. finish line and the crowning of The World's Greatest Travelers for 2012!
But ... we have three legs left: the Cyprus leg, a par 2, an unnamed and still secret big and bad par 5, and then a par 1 back in the USA. It should be interesting -- and it would not be the first time that this event was actually won or lost on the last day if this competitive field continues as I think they will!
About Cyprus:
Walking Ledra pedestrian street that takes you from Cyprus proper to Northern Cyprus is a bit surreal ... like a relic of sorts. For those of you that don't know the sorted history of the island: Cyprus gained its independence from the Brits in 1960 (wrong hand drive here!). Despite a constitution which guaranteed a degree of power-sharing between the Greek Cypriot majority and the Turkish Cypriot minority, the two populations with the backing from the governments of Greece and Turkey, respectively, clashed vehemently in 1974, with the end result being the occupation of the northern and eastern 40% of the island by Turkey. (The Turk and Greek rivalry goes too far back to even begin to discuss. Let's just say they are a tad emotional about the subject!)
So, the Cypriot capital, Nicosia where we are today, is split physically (now that the walls are down in Berlin and Belfast ... although some would argue that Jerusalem is somewhat still divided?!) and ethnically into two very distinct communities by the militarized Green Line no-man's land (aka the dead zone). And yes, obviously, a lot of bad blood has been spilled here. It is the world's last divided capital.
The barbed wire and guard towers of the Green Line cuts the town in two, with the northern side being the capital of the self-proclaimed Turkish Northern Cyprus and the southern half being the capital of the Republic of Cyprus. When you walk Ledra, you can still see the scars of conflict: sandbags, razor-wire, concrete blocks, warning signs and manned sentry posts on both sides playing a game. But the whole scene, walking across, presenting your passport, changing money? It's just wild.
Simply put...churches on one side and mosques on the other!
Travel Thoughts Under Development:
Dropped into a Latin full service Saturday evening mass at a rather old Greek Orthodox church here in Nicosia, called Our Lady of Lefkosia (1571 and updated in 1872). Only eight members in this congregation were in attendance!
A lot more Asians here in Cyprus than I would have ever imagined ... or maybe I am just more aware having just spent two weeks in Asia?
Witnessed an argument, err, friendly discussion, that quickly ensued in the marketplace; arms flayed, faces got red...I didn't know if they were speaking Spanish, Sanskrit or Swahili? It was indeed all Greek to me!
Church bells ringing and the call to prayer at mosques can be heard here...
I was told that one shot of ouzo brings appetite, the second health, the third brings joy, the fourth happiness, the fifth heart-felt conversation, the sixth arguments, the seventh fighting and the eighth the police! True enough...
Seems that women like to dye their hair unnatural colors here in Cyprus. I saw a lot of scary do's: red, blue, yellow, purple, white!
Speaking of colors, the trees are all blossoming here but natural colors: purple, white and pinks everywhere! The lemon and orange trees are bearing fruit, and the sweet smell of hysteria fills the air.

Bet you did not know that Communist-rooted Dimitris Christofias won Cyprus' presidential election recently. Wonder how the right wing in America would think about that heads would explode!
Cyprus enjoys 300 days of sunshine a year and in the summer months you probably won't see a single cloud. It's a place where you can still see emerald blue seas, browned landscapes, olive groves and hills roamed by wild donkeys! Sounds idyllic doesn't it? Right out of a romance novel ... or Greek mythology! (In fact, Aphrodite, the Greek God of love and beauty of ancient Greek myths was born here on the island as she sprung fully formed.)
When you stroll the old city quarter, you notice lots of skinny cats, old mustachioed Greek-Cypriots frequently wearing traditional kafenios, playing backgammon and sipping strong coffees, old women carrying bags of goods wearing black mourning clothes, kids playing soccer -- always soccer!
The English crusader king, King Richard the Lionheart, wed Queen Joanna on the island at Limassol Castle on May 12, 1191. And Shakespeare's fabulous play Othello was set here in Cyprus. And there's more: George Michael (the retired pop singer) was born here, and each fall, millions of flamengos migrate here from Africa -- now that must be an amazing sight. (Note to self, visit Cyprus again during that time!)
Back to event...One Week to Go!
Next week at this time we will be in Washington, D.C. finishing up the last leg. Wow, this went fast!
And this event has evolved and is getting rather competitive and the juices are really flowing. It is serious for some, and as I have mentioned before, competition does strange things to people. Teams have begun the process of aggressively lobbying me for position, pettily negotiating points and bringing up flaws in other teams planning and executing. (All in good nature of course!)
We know that it is all just a game, but like any game, these folks are playing hard and within the rules and spirit of the event to do whatever they can to win that title and be crowned The World's Greatest Travelers for 2012. Happens every year -- just some years the competition is over sooner -- but some have ended on the last day too!
For others it has been an awakening of sorts they aren't as good as they thought they would be and someone must be at fault -- me of course, the Event Director! (I am just holding the mirror...) And that's okay, I can take it, my ego is in check, I don't take it personally, and I am comfortable in my skin and role here. Frankly, nothing surprises me with humans anymore and I have seen these storms come and go over the eight successful events we have conducted.
There is an ebb and flow to our traveler's feelings and emotions. I understand that: We are in a tense phase two weeks into the event with one week to go. They have to explain to family and friends who are paying attention what happened to them. Egos are attached. Pride...
And that is okay: it is part of the drama of this annual bit of performance art we call The Global Scavenger Hunt! Without fear and without favor, we do our job.
So teams here have a few rule changes to deal with. Since the event is so close, I have prohibited any teaming up on this short and sweet par 2 leg. Let's see who's really good and maybe who are just the followers? I have also limited the number of Bonus scavenges during this 27-hour island leg to just one to see who can pay attention to the details and smaller aspects of traveling. Finally, everyone was re-told a few of the rules and spirit of the event credo again: No photos = no points, visiting means entry and no entry = no points, keep their timelines in order and pay attention to the no taxi between cities rule as well as the curfew rules.
We have a week to go and we want to keep everyone on the straight and narrow to finish this event well...
Please catch us later and stay tuned to the event's comings and goings in our next installment of life on the road with The Global Scavenger Hunt the 2012 travel adventure competition.
Cheers and happy travels all.
-- The Ringmaster
Related