Mingalar ba. from Yangon, Myanmar (aka Burma) on Day 7 of the around the world travel adventure competition The Global Scavenger Hunt.
If it were not for U.S. Secretary of State Hilary Clinton's visit to this hermit-like nation-state just a few short months ago, this event would not be here today enjoying the spectacular sights, sounds and smells of a truly one-of-a-kind mesmerizing, mysterious and beguiling travel destination.
For over two decades Myanmar, formerly Burma, has remained a recluse with a giant "Do Not Disturb" sign hanging on it. Human rights violations, censorship, corruption and repression, all held sway to keep wanting travelers in the know away in hordes. The imprisonment and house arrest for most of the last 22 years of that nation's rightful political leader (and Nobel Peace Prize recipient) Aung San Suu Kyi -- simply known here enduringly as The Lady -- did not help matters.
So when Hilary Clinton, obviously sensing a potential thaw in relations and maybe a change of heart within the upper ranks of the military junta, came to town and met with not only the nation's reform-leaning leader, as well as The Lady herself, the limbo state for travelers that Myanmar had been imprisoned in for quarter of a century began to brighten.
And here we are, putting our 10 international teams competing for the 2012 edition of The World's Greatest Travelers title, in, what without a hint of hyperbole, is truly one of the most perplexing, confusing, frustrating and absolutely exhilarating travel destinations in the world today!
Our teams are here as part of our own informal diplomatic delegation, their own fact-finding mission as it were: to go out and meet as many friendly, hospitable, generous and eager to chat locals as possible. To witness first hand what's going on here and to hopefully ask a lot of questions while listening carefully as they trust strangers in strange lands. And finally, to take away from this round of personal diplomacy, a more enlightened and true idea of the state of affairs in Myanmar and its people that are emerging from decades in isolation.
The State of the Event:
To quickly recap the 23-day event to date: We started in San Francisco on April 13 and then traveled to Taiwan for two hectic and fun-filled days and finally arrived here in the former nation's capital city of Yangon yesterday afternoon. We are already sweltering in the 100+ degree humid heat!
The winners of the second leg of this nine-leg around-the-world international travel adventure competition was a hard working and creative team from New Zealand calling themselves "You're not in Guatemala now Dr. Ropata" (an obscure reference to a 1990's Kiwi soap-opera called Shorthand Street), aka Saskia and Andrew. They're quickly followed in second place by the 2011 event champions and truly phenomenal travelers in their own rights, Zoe and Rainey from the USA (aka Team Lawyers without Borders), with the rather happy-go-lucky Sydney Sisters (aka Katrina and Fiona) hailing from Down Under in Australia nipping at the heels of the two leaders in third place. The 2012 event is certainly turning into a real international competition with three teams from three different nations leading the pack!
Teams were then handed their Myanmar scavenger hunt booklets for this rather arduous and long four-day leg that will have them visiting some of this country's natural, spiritual, historical, and just plain spectacular highlights. And there are many for them to experience. From Inle Lake to Mandalay town and the sacred plains of Bagan (in my mind one of the forgotten wonders of the world). Of course there is the stunning majesty of the ever-present Shwe Dagon pagoda here in Rangoon (sorry, Yangon!) of Kipling lore, one of the most mystical and spiritual places on any map.
The last time I visited here was in 1999, a different time and era, and things seem ready to explode in the coming months and years as global travelers begin coming in earnest to this off-the-map destination. (Just over 500,000 visitors entered the country in 2010!) One hopes that the positive and negative impacts of the so-called "Loving it to Death Syndrome" tread lightly on these rather quiet, noble and serene peoples. But make no mistake: The tourists are coming, the tourists are coming, as every respectable travel industry publication trumpets the new open-for-business destination.
And so, the teams competing in The Global Scavenger Hunt are in what has been set up as a classic travel triangle, having to logistically get from Point A to B to C then back to A with no backtracking intended. But which points of the triangle route will they strategically choose to take -- and in which order -- is the $64,000 question. Aside from performing a series of challenging scavenges in several remote destinations, they have some daunting external obstacles to overcome as well: It is really hot here at 40+ Celsius (100+ degrees), and, this a is really big, Myanmar is in the midst of their annual, extended Golden Week of celebrations and most of the people of Myanmar are out celebrating or home with their families -- and decidedly not working as is evident in this ghost town! So our competitors' logistical choices will be interesting to say the least. Especially since traveling here is difficult under normal circumstances, let alone during a national holiday!
Frankly they have entered a type of time-warp in Myanmar, as this nation is still not only a traditional culture but a traditional economy too. It is a compete cash economy here, as credit cards are simply not used nor is there an ATM in the country. Cell phones? Hah! They don't work here. Even the Internet is rather sketchy. Indeed, in some respects we are off the grid.
Space doesn't allow me to go on here about the particulars of Myanmar, so please check in with our more detailed daily event blog postings, photos and videos at PostCards on GlobalScavengerHunt.com.
Here's a brief slide show about the event: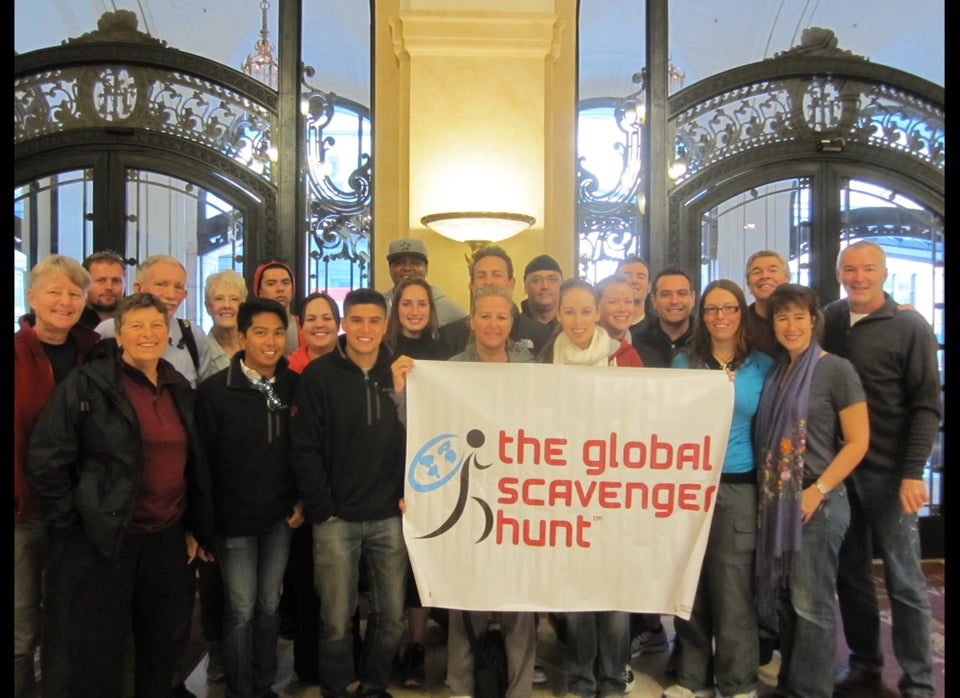 Scenes from The Global Scavenger Hunt (2012 edition)
Please stay tuned for my next global dispatch from our next still secret country number three in the coming days.
Cheers from the Ringmaster reporting from Myanmar!
Related