"Life is not measured by the number of breaths we take but by the places and moments that take our breath away." -- Anonymous
Vítejte from the Czech Republic city of Prague today!
We left Nicosia and fled to Rome, Italy to begin the challenging eighth par 5 leg of the 8th annual around the world travel adventure competition. And the event was -- and remains -- a tight competition.
In first place after the par 2 Cyprus leg is Team You're not in Guatemala now Dr. Ropata (aka Saskia & Andrew from New Zealand) -- their third winning leg! -- with 1,148 points. In second place was the team that seems always be the bridesmaid sadly (because I know how hard they work!), and have placed second on all the legs but Taiwan, the Sydney Sisters (Fiona and Katrina) who landed just three points behind with 1,145! (Those 50 points awarded to any team that e-mailed the Ringmaster a picture with them on a four-legged beastie sure would have come in handy around now!)
Indeed, that is as close as any leg can get -- but on this event we have had a few tie legs too! It's has been a back and forth see-saw battle since the first leg way back in Taiwan (seemingly months ago now!). In third place was the Mad Dog team (Kit and Joanne from Canada) with 865 points -- they have been a picture of consistency the whole event.
Great leg and hard work by all. Everyone had a ton of fun in Cyprus too, zipping back and forth between the Turkish side and Greek side.
So, now with that leg completed, we again have a shake-up atop the 2012 Leader Board: Team You're not in Guatemala now Dr. Ropata are now back in first place with 37 total points with the Sydney Sisters just two points behind with 39 total points. But wait, in third place and looming large, are the defending 2011 champions Lawyers without Borders (aka Zoe and Rainey from the USA) at 40 total points.
What does this all mean? It means that the winner of this difficult across Middle Europe par 5 leg from Rome to Prague scramble -- with a few side trips and greed scavenge bombs planted along the way -- will be the ultimate winner of our 2012 event and be crowned The World's Greatest Travelers in Washington, D.C. -- no if's, and's or but's about it. That's all it means! It will be decided here in Europe over the next four days -- winner take all!
I know that all the teams are motivated and ready for the challenge. This is a fun leg and we have a really great trio of teams -- maybe the best we have ever seen over eight events -- and we know that they will all do their best and rise to all the challenges before them! May the best team win ... and they will!
Roma to Praha:
As reported on the official daily event Postcards Blog, the time spent it Italy was molto buono, with teams given the option of doing a lot of scavenges in Rome, getting out early and heading to Bologna and Venice -- with a few side trips to Pisa and San Marino too! They did have the additional challenge of dealing with logistics and their sight-doing scavenges in the midst of a long weekend May Day celebration. Holidays are a part of travel, and it just adds another element for them to fully exhibit their travel savvy and utilize their travel IQ.
Teams have four required scavenges to perform in this leg, one each in Italy, Slovenia, Austria and the Czech Republic where the legs check-in will take place on Thursday evening in Prague. Four days on the road getting from Point A (Rome) to Point B (Prague) ... but being very creative and very busy along the way!
A Quick Event Re-cap:
The Global Scavenger Hunt's 8th around the world travel adventure competition started in San Francisco (way back) on April 13. Teams then headed out to begin their Blind Date with the World and their first international destination in Taipei, Taiwan. Now they are nearing our May 5 Washington, D.C. finish line after circumnavigating the globe while conducting various cultural sight-doing scavenges in: Myanmar (Burma), Thailand (and the now infamous Six Hour Layover Challenge), Sri Lanka, Oman, Cyprus, Italy, Slovenia, Austria and the Czech Republic along the way.
It has been a topsy-turvy competition this year with three teams neck and neck throughout and surviving the heat and exotic unconnected reality that is Myanmar, hyper-efficient but culturally strange Taiwan, the bedlam of Bangkok, the beauty and tropical storms of Sri Lanka, the searing heat of the desert in Oman (not to mention horrendous Bedouin drivers!), the political issues of Cyprus, the May Day weekend havoc in Italy and the logistics of train travel through four countries in Europe. They have been tested, challenged and are all standing proud and confident and wide-eyed from their experience.
But who will win the legs last rally and be crowned The World's Greatest Travelers -- and win the right to defend their title against all comers for free next year! I wish I had more news on that, but you will have to wait until our final dispatch from familiar ground: the USA on Sunday morning!
Here is a quick photo montage from each country...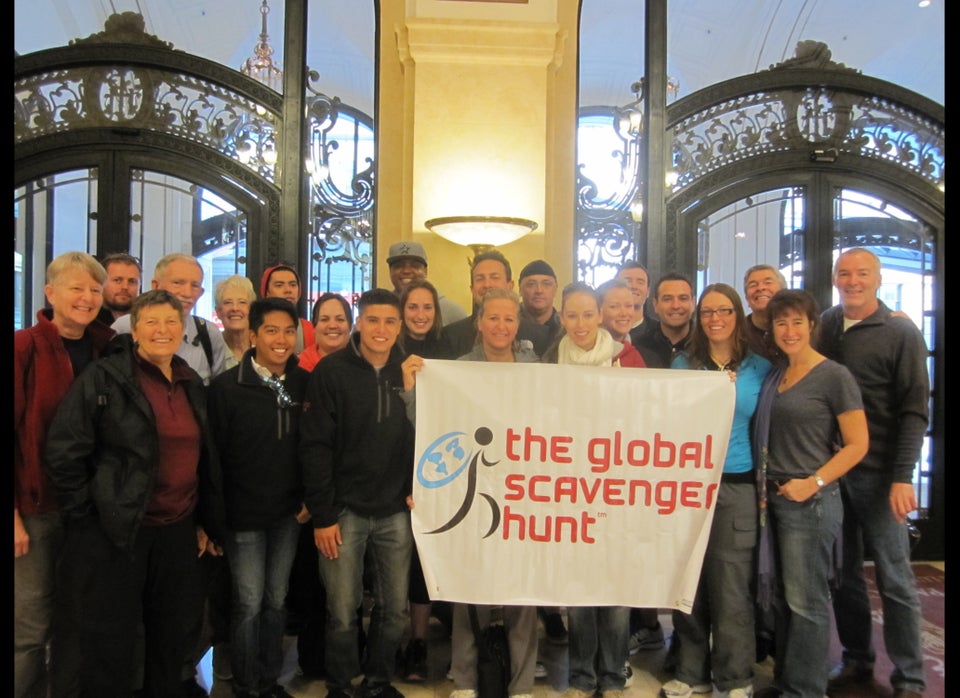 The 2012 Global Scavenger Hunt in Pictures...so far!
Please catch us later, and stay tuned to the event's comings and goings in our next installment of life on the road with The Global Scavenger Hunt the 2012 travel adventure competition.
Cheers and happy travels all,
The Ringmaster
Related