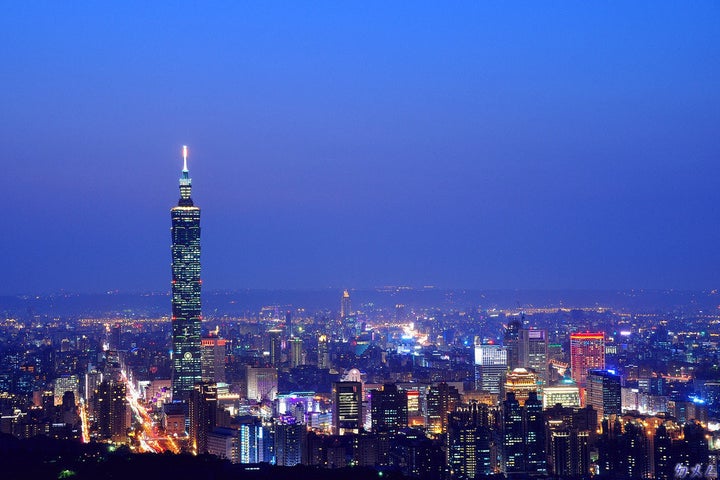 Checking in now from Taipei, Taiwan, with the majestic 101 Taipei building -- formerly the world's tallest -- looming in the distance and seemingly radiating as a tropical lightening storm illuminates the early evening sky.
Welcome back to the second of our 10 on-the-road installments from The Global Scavenger Hunt travel adventure.
To quickly recap: the 10 teams from four countries vying for the coveted 2012 title of The World's Greatest Travelers met in San Francisco on Friday afternoon for the first time. Teams sized up their fellow competitors at a rules meeting and engaged in a few rounds of adult beverages later at a rather boisterous Bon Voyage Party before conducting an all day urban-setting orientation scavenger hunt in Baghdad by the Bay -- a.k.a. San Francisco.
All the teams successfully completed the rather tame getting-to-know-you-like short rally (and attempt to gain some slight insight into the Ringmasters warped mind) by having to complete just 10 of the 48 Bay Area scavenges in the allotted time.
The teams were somewhat surprised, and more than a few thunderstruck (especially the Kiwi and Down Under teams), when checking in from their all-day rally, when they were given a four-hour notice to get themselves ready and head to San Francisco International (SFO) for parts unknown.
That's one of the numerous exciting elements about this extraordinary event -- to keep a level playing field and so teams can't buy guidebooks or do any online research -- none of the competitors ever know just what countries they are going to be visiting until they arrive at the airport and are handed boarding passes! It is indeed A Blind Date with the World.
The 2012 event's first international stop is, as you might have already guessed, Taipei, Taiwan. A unique travel destination just a tad off the usual Asian places to visit radar -- but mistakenly so, as this is a exciting, captivating and surprising travel destination!
After landing and making their way to their hotel, teams quickly reconvened and were given a new set of scavenges to complete in this increasingly harder event rally point. On our degree of difficulty scale, Taiwan is a par 3 -- whereas San Francisco was an easy par 1. (The event is broken down into nine such rally segments ranging from easy par 1's, to extremely challenging par 5's, spread across the globe that will have participants competing a series of highly interactive and hands-on participatory scavenges. We refer to them as sight-doing scavenges -- in 10 countries in all.)
People often ask: What makes this a travel adventure a true competition? What does it really test?
It's a great question too, because all of our travelers were vetted when they applied and have had to demonstrate their travel bon fides by having exhibited to the event officials a rather illusive set of travel-related skills that would allow them to successfully compete. This event is after all the world's only open travel adventure competition -- but we would not want to commit travel malpractice by dropping a travel neophyte in Delhi for four days to "figure it out" on their. We may never see them again as the meld with the humanity that is exigent India!
Because not only will our teams of competitors be unplugged and traveling without the benefit of a safety net, nor the security blanket of a tour-like structure -- let alone being able to employ a set of guidebooks in hand and having completed
de rigueur
prior online research that normally precedes any trip -- but they have to overcome:
Cultural differences (Who among us knows the nuances and taboos of every tribe of people on earth?)
Utterly perplexing language challenges (There will be a lot of gesturing, smiling and charades to be sure.)
The inevitable logistic snafus (Frustration coming from the lack of efficiency as well as uncertainty with which some countries infrastructure systems operate in!)
The rigors of extreme and prolonged jet lag (They are traveling around the world in just 23 days after all!)
Climate and environmental obstacles (Extreme heat, humidity, sand storms, mountainous conditions and whatever else Mother Nature's wrath in the age of Global Weirding has in store for them?!)
And, of course, it's a 23-day travel marathon that clearly taxes their physical endurance.
Probably most challenging, though, there is the human dimension: having to regulate your fight/flight situational awareness antennaes working overtime 24/7 and being functionally dialed in like a laser beam for 23 straight days adrift in the world and constantly out of your default "daily assumptions comfort zone!"
Of course there are the teammate dynamics to contend with too, and last but certainly not least, the heat of the competition itself and the playing a global game against other type-A travelers also wanting to win The World's Greatest Travelers title. The Global Scavenger Hunt is designed to test their composure, fluid travel IQ and mental toughness, and of course team dynamics will, as they always have been in previous events, become a huge factor and come into play: How is their working relationship doing?
Oh yeah, a few other travel realities to contemplate also include:
The always humbling bouts of traveler's diarrhea.
Debilitating electrolyte imbalance issues.
Falling off everything from bicycles and river boats to camels and elephants.
Succumbing to ethnic costume dementia.
Feeling the inner pangs of workplace and Internet detoxification withdrawal symptoms.
Having your shoes go mysteriously missing suddenly at a rather inopportune times.
Yes, these are all the joys of travel and the trials of travel that this event forces on each and every traveling competitor ... hence a travel adventure competition like no other!
Okay, so what about Taiwan you say? Right, well, we just arrived, but here are a few down and dirty knee-jerk observations from our first few hours in Taipei: As you know, Taiwan is not part of China! I know this because unlike China, Taiwan has a functioning democracy -- and it shows with their president only having an 18% approval rating. (No his name is not Bush, it is Ma, President Ma!)
Taiwan must have the highest density of convenience stores in the world -- snacks and beverages on the go-go for everyone. Taiwan has the lowest birthrate in the world; you don't see a lot of babies here, but you do see a lot of 20-somethings, so you never know. Taiwan is not a member of the United Nations because of mainland China's one-China policy it imposes on everyone. Taiwan has one of the highest recycling rates in the world -- there is no trash anywhere here and always in eyesight are places to discard stuff. Coincidence? I think not...
Taiwan must have one of the lowest poverty rates in the world. No street people so far!? Folks here wear surgical masks not out of fear of catching some other persons infectious disease -- but as a courtesy to others because they feel sick and don't want to spread their germs! What a concept. The subways work well and are easy to navigate -- they are cheap and clean too -- and don't even think about drinking, smoking, eating or chewing gum on them either.
Three things to watch during the Taiwan leg:
Will the defending champions Zoe and Rainey (Team Lawyers without Borders) be up to the challenge again. It is hard to repeat in any sport -- ask the Boston Celtics since the 1960's -- and they may not have what it takes to do it again? I don't subscribe to that point of view because they are always game and ready, unlike some previous champions.
Will the international teams be up for the rigors of the competition? Sure enough, Kiwis and Aussies make for great good-time travelers. They are liked by everyone and you run into them in the remotest of remote travel destinations. But, is it in their national character to really compete at something like this? We will see...
Will the weather (it is rainy here today) and extreme jet lag affect everyone equally or will some teams rise above it?
One last tidbit as we are still in the early stages of getting to know our participants -- and we don't see them all the time because they are independently doing their optional scavenges. Teams were given a cautionary head's up 48-hour notice to begin taking their anti-malaria regimes -- and that the next country we will be visiting is a tad off the grid... No ATM's or credit cards will be useable!
Intrigued? Please stay tuned and visit the official event daily blog at GlobalScavengerHunt.com, or follow us on Facebook. Enjoy the journey! Cheers.
Related