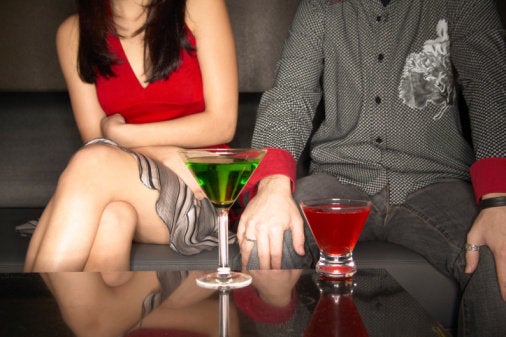 Online dating has become increasingly de-stigmatized, but there are many who still aren't comfortable having their photo online and publicly admitting they need help finding a mate: the powerful, the wealthy, and the well-known to name a few. And though you'd think they would have fewer problems than us mere mortals in finding a significant other, apparently they suffer the same slings, arrows and bad dates as the rest of us. Their solution: professional, pricey, discreet matchmakers. They are not the kind of guys who go on on "Millionaire Matchmaker."
By "they," I mean men. Men make up the majority of a high end matchmaker's clients. Women are generally not the clients but potential matches for the men; and in most cases, they simply pay an application or interview fee. I don't think this is any sexist plot by the modern day Dolly Levi's, only a reflection of a dating dynamic that is still alive and well -- at least where well-to-do men are concerned.
I spoke recently with three matchmakers, Richard Easton, Janis Spindel and Samantha Daniels. Though New York based, all work with clients across the country (and internationally), and Daniels keeps an LA office as well. All offer a unique perspective and approach to their services, and all have toe-curling prices.
How much will this set a guy back? From $25,000-$100,000, depending on the matchmaker and your deal. This will give you a year to 18 months of matches. Matchmaker Richard Easton, new to the New York market and an anomaly among matchmakers -- most are women -- says he challenges the price resistance he sometimes encounters with a car analogy. "I'm working with guys who pay $150 grand for a car without the blink of an eye. So I ask them, 'What's 50K to find your life partner?'" Fair point. He does offer a $10K starter rate for young Wall St. and Silicon Alley/Valley types as well.
A personable former head of his own boutique M&A firm, Easton has parlayed his expertise in marrying companies into the more rewarding realm of marrying hearts and minds. He says he offers a different perspective on the art cum science. "Men feel more comfortable with me, they will say things to me that they won't say to a woman, about what they're looking for, what works and doesn't." Putting on my marketing hat, it does make sense that that his branding appeals to masculine sensibilities, with nary a heart or pink flower in sight.
Janis Spindel, the doyenne of New York matchmaking, might disagree. A smart, sassy tsunami of self-confidence, Spindel has the chutzpa and sixth sense needed to ferret out the perfect match for her clients . She'll approach anyone woman who fits the bill -- in gyms, Barneys, a parking garage, on the street. A former fashion sales director, she boasts an uncanny ability to know who is right for whom. With hundreds of marriages and countless relationships in her 17 year career, her combination of intuition, persuasion, and calculation -- a quick up and down glance can tell her a lot -- are her stock in trade. And she gets results.
"You get invited, you go." So said Samantha Daniel's grandmother when she was a girl, and she's been going ever since, attending events, fundraisers, dinners, reunions -- not to directly sell or recruit, but to network. She takes a soft sell approach to her metier. A former divorce attorney, Daniels traded acrimony for harmony, deciding she'd rather bring people together than break them apart. She launched her agency in New York 11 years ago, then set up an office in L.A. after going there to produce the TV show based on her life, "Miss Match." Very social in both cities, she takes on high profile women as paying clients as well -- studio heads, CEO's, and other successful women who need equally successful -- or incredibly well- adjusted -- men who will not be intimidated by their success. And Daniel's former career gives her great insight into what breaks couples up (number one: poor communication), so she can offer clear-headed advice as clients embark upon relationships or marriage.
With all the matchmakers I couldn't help but think that there are some real sad sacks on their books, but they all insist their clients are actually quite social, popular -- but just haven't found the right person.
And while the price of admission is high for men, money will get you in regardless of your age, height, or attractiveness (though I'm assured that the overly odious are turned down). And if you're not looking your best, you'll be sent off to an image consultant for a male makeover.
In order to get on the "roster," women must be very attractive, fit, be either book smart or street smart, and have a successful career of some sort. "Ivy league educated" gets thrown around a lot in describing both the men and women on the matchmakers' books. Most women are under 40, with some exceptions. (How old are the men? 27 to 78.) They don't accept many short women, though they do keep a small pool for very short men. They ask for "natural beauty", so presumably those botoxed into a state of forehead catatonia or sporting impossibly perky triple D's are less desirable.
I am curious about how they weed out the gold diggers -- why would a beautiful, Ivy League educated 25 year old woman need a dating service to find a man? Spindel assures me she can spot them a mile away, and they won't get on her roster. Perhaps it's just time management for these 25 year olds -- better to shoot gilded fish in a barrel than trawl through the charity, club or Hamptons circuit for five years.
Whether it was to butter me up to write a positive article, or there was some genuine interest, they all said they may have some guys for me. "How old will you go?" Janis inquired.
"Well, if they're youthful and in shape, 60. 65 in a pinch." She seemed surprised. I am way over 40, but I know from internet dating that 45 or 50 year old guys are generally not looking for women their age. You have to go older. And anyway, I've always liked older men. And younger, come to think of it.
Daniels asks if I would be willing to relocate? Hmm. L.A., London, Paris...? Sure. A zillion acre ranch in Montana? No.
I'm a little trepidatious. I've made a good living and have never targeted wealthy men as suitors. I've mostly gone for the starving artists. They suited my creative sensibilities, and I've also thought that if I were with someone wealthy I would give up some of my power. I've never understood how people can marry for money, not love. That would be torture for me -- a waste of good years of my life.
So we'll see if these matchmakers come up with the goods. I'll keep you posted. If you see me in a restaurant with a 78-year-old, you'll know it was a set-up.
Support HuffPost
A No-B.S. Guide To Life
Related
Popular in the Community