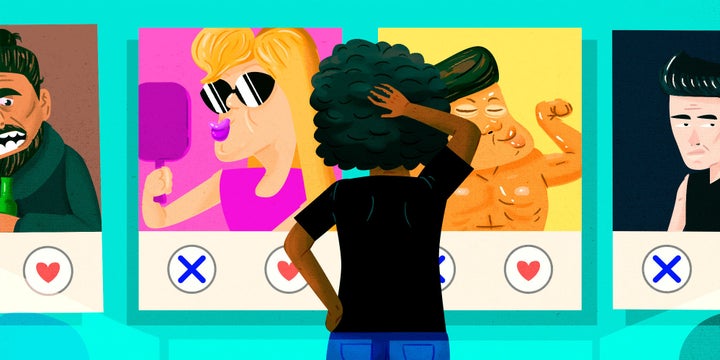 When it comes to online dating, those profile photos and bite-sized bios are everything.
If you're legitimately looking for a long-term relationship, dating experts recommend paying close attention to the first impressions that people choose to make. Below, they highlight seven types of profiles you should pass on.
1. The Debbie Downer
If a person is wasting valuable dating-profile space complaining about how "tired they are of people playing games online" or anything similar, stay clear, warned dating coach and image consultant Neely Steinberg.
"It's a sign that they are jaded or angry about dating and relationships in general," she said. "There's a good chance these people will exhibit this same negative energy on dates."
2. The Selfie Addict
Sprinkling a good selfie or two among your profile pics is understandable, but be wary of someone who only posts selfies, said Samantha Burns, a Boston-based relationship counselor and dating coach. (Even worse? A mix of Snapchat pics that distort their face. What do they really look like?)
"I think the biggest no-nos are bathroom and locker room gym selfies or bikini and duck face selfies," Burns said. "These come off as self-absorbed, overtly sexual, and don't leave enough up to the imagination."
The best profile, according to Burns, features three types of photos: a clear picture of the person's face, a full body shot from head to toe, and an activity photo where they're doing something they're passionate about.
3. The Player
As Maya Angelou once told Oprah, "When people show you who they are, believe them." Likewise, when someone says they're "not looking for something serious," do yourself a favor and believe them. All too often, singles, especially single women, disregard this line, Steinberg said.
"Don't trick yourself into thinking you can change someone's mind and get them to commit," she said. "If a person says this upfront, listen and trust them at their word. Don't waste your time or energy on these types."
4. The Braggart
To some extent, a good dating profile is an exercise in branding, with people advertising all their best angles and attributes. But if you encounter a profile that's filled with not-so-humble brags or reads more like a resume than a personal bio, a left swipe is probably in order, said Fay Goldman, founder of the New York City-based matchmaker group Meaningful Connections.
"Grandiosity or bragging should set off instant alarms and red flags," she said. "This could be a sign of a true narcissist, or you could be dealing with someone who's really insecure and socially awkward and tries to overcompensate with all of that bravado."
Another bad sign? A person who includes a laundry list of impossible-to-meet qualities they're looking for in a partner.
"In either case, you're better off moving on and not responding to this one. Save yourself the stress and probable disappointment," Goldman said.
5. The Party Girl Or Boy
In every photo you scroll through, you notice this person surrounded by a crowd, a drink firmly in hand. While there's nothing wrong with having a good time, give some thought to the message this person is sending with those photos, advised Sameera Sullivan, a professional relationship consultant and CEO of Lasting Connections.
"It might be on a subconscious level, but they're choosing all the photos of them partying because that's what they are looking for," Sullivan said. "A person looking for something serious reflects on the type of pictures they put on their profile because they want to attract like-minded relationship-oriented people."
6. The Wannabe Porn Star
Unless you're on a dating app known for being all about sex ― or you are just looking for sex ― stay clear of people who only post pics of their naughty bits, said Mariana Chrysiliou, a life coach and dating expert who works at Meaningful Connections in New York.
"You might be somewhat drawn in but unless you are looking for a casual encounter, don't get too attached to unraveling this mystery," she said.
7. The Blank Canvas
Lastly, if someone seriously skimps on the written portion of the profile or includes one measly photo to base your decision on, move along, Burns said.
"Swipe left like the plague," she advised. "I don't care how attractive the photo is, this person is not demonstrating they are a quality catch or serious about dating."
Ultimately, Burns said, the profile is "your one opportunity to make an impact, and leaving it blank shows that you're not invested in the process and probably won't invest in the effort to get to know someone, either."