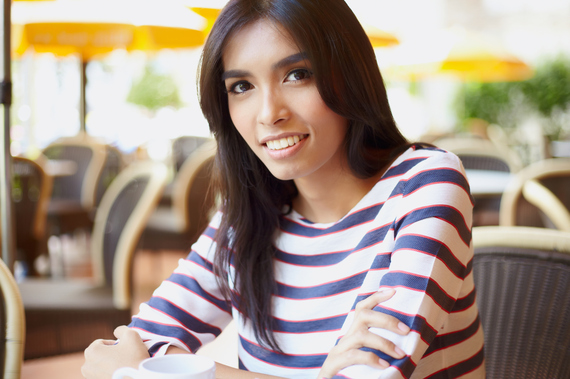 In addition to being a world-renowned comedian, talk show host, philanthropist, husband and father, Steve Harvey is the Chief Love Officer of online dating site Delightful. He draws on his personal experiences and the stories that millions of people have shared with him over the years to help more people find and keep the love they deserve.
I get it--dating after a bad breakup is not for the faint of heart. But you're strong and you're ready to find the real thing. You know that your past doesn't determine your future and that there is something amazing out there just ready to be discovered and enjoyed.
Now that you're ready for romance again, keep a few of my simple rules in mind and you'll find that dating after a bad breakup isn't just possible, it's wonderful.
1. Let go of the past. Begin your post breakup life with a fresh perspective and positive expectations. I've said it before and I'll say it again. You cannot drive forward if you're focused on what's happening in the rear view mirror. Getting back into the dating world will not be enjoyable if you're only expecting something a little bit better than what you had, either. Wipe the slate clean and get ready not for something decent--get ready for something phenomenal.
The sooner you let go of the hurt, the sooner you open yourself to the hope and the joy of a fulfilling relationship. How? Talk it out, cry it out, write it out and then let it go. Forgive and move on. This may take some time--everyone is different--but you'll know you're ready to date again when your inner thoughts are dominated by the here and now and not the there and then.
2. Form a clear picture of what you want. Don't go on a date with the attitude of, "We will see how it goes." With this kind of passive energy, your new dating life is already out of your control. It'll go how the guy wants it to go. If you don't have any standards or parameters set up right from the get-go, you end up not getting what you want. Expect chivalry and require it. You can convey your expectations with a light tone, just as long as you do so.
Say what you want. Say what you are looking for. If your new date isn't up to snuff, let him move along with no hard feelings on either side. Men are either playing with you or planning with you--there is no middle. If you want a man who is ready to plan, be clear about it. Men are attracted to confidence and to a woman who knows her worth.
3. Say yes to invitations. Often, a romantic relationship has become so pivotal that you've shaped yourself around it in ways that you don't even realize. Sometimes our unions form our very identities. It can be hard to feel comfortable meeting new people and relaxing in unfamiliar social worlds. That's okay. Give yourself some time to get your groove back by getting out there without committing to one-on-one dates right off the bat. Spend time with quality people. Go to parties. Say yes to social invitations. Even if they're just friends, it can be helpful to realize that there are other people in the world who have the same great traits as your ex - or, better yet, good traits that your ex completely lacked.
The world is full of excellent people to get to know, but sometimes when grieving the loss of a relationship, we forget this. Get to know new people to bring your focus away from the past and into your new, better present.
4. Relax. Ignore all the nonsense about how there's a shortage of good men or women available to date--it's just not true; people are meeting their soulmates every day and you will, too. Maintain calmness and confidence that when the timing is right, your true love will arrive on the scene.
In the meantime, take good care of yourself and don't get entangled in distracting situations with someone you know is just playing--you might be blocking your soulmate from your life! Stay patient and work on you. Learn something new, try a new activity, and cultivate a relaxed attitude about it all. Love isn't something to panic about or force.
It's free to join Delightful, a dating site I created with love in mind, and here you can meet people who are looking for serious relationships.
From messaging do's and don'ts to first date tips to keys to keeping it fresh, you'll get valuable advice from me every step of the way.
Because we want to help you find love and keep it.
REAL LIFE. REAL NEWS. REAL VOICES.
Help us tell more of the stories that matter from voices that too often remain unheard.