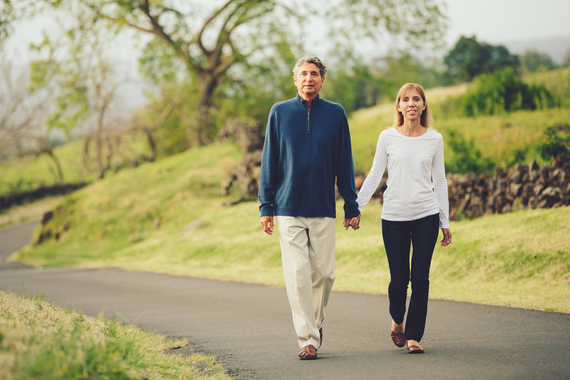 Divorced for six years, my best friend MaryBeth, a 61-year-old doctor, reluctantly made her third entry into Match.com.
"I found this guy," she said. "He says he's 58 and he looks like a cowboy. I'm meeting him at Peet's at five tonight for dinner."
She did, and the sexual magnetism was palpable. They played footsie under the table. He laid his hand on her upper thigh and whispered as the meal arrived, "I'm hungry." After dinner, she jumped into his red pickup, raced to her house, and could hardly get in the front door before the passion kicked in.
Afterwards, it reality hit her hard: She hardly knew this man. She had no idea who he'd slept with. She, of all people -- a doctor! -- didn't know if he had any sexually transmitted infections. And he hadn't worn a condom.
So, lying in bed, she turned to him and said, "That was really fun, but we forgot to use a condom. You're clean, aren't you?" He raised his head from the pillow, looked at her with surprise and said, "Yes, are you?"
The question was a shocker for her. Of course, she was clean! But the reality is, it works both ways, and MaryBeth's foray into the danger zone was more dangerous than even she realized.
STIs spreading in over-50 population
And people 55 and older accounted for almost 20 percent of the estimated 1.1 million people living with HIV infection in the U.S. in 2010. Last but not least, the cases of other STI's in the over-50 population has nearly doubled in the last decade.
I've talked in the past about how hard it is to ask for your sexual preferences in bed. But this is harder than just asking for your favorite position. Nonetheless, it's a non-negotiable necessity.
Especially during the holidays, when alcohol wipes out inhibition and belief in fantasy abounds: If you're over 50 and dating, you must find out if your new partner is clear of STIs.
Consider the consequences if you don't ask. At the least, you'll be incredibly embarrassed each time you have to explain your STI to a new partner.
At the worst, it could cost you your life.
You must know if your date is clean.
And a condom in non-negotiable.
First, get tested. To ask if your date is "clean," you have to be sure you are. And, yes, even if you were married to the same man for 27 years, get tested, anyway. Go to a blood center and just do it. It's no biggie -- just a little courage with the knowledge that it could save your life!
Ask your partner before your body heat rises with desire. On the phone or 'way before bed, say, "This is horribly awkward, but I have to ask. I've had my blood tests for HIV and STI's. I'm clean. How about you?" If they say no, or if they don't know, you have a choice: Resist your sexual urges or have sex with a condom -- although that's no guarantee you're 100 percent protected. Sex sans condom is not an option!
Ask your date to wear a condom. Say, "This is awkward for me, but let's use a condom. Here, I have one [always carry one!]. Let's put it on together." Men may complain that they lose sensation, or women may say it's not the same with a condom. If they do lose sensation, they won't lose much. It's like a seat belt. You don't need it until you really need it. Protect yourself. No one else is going to!
If you have an STI, you must tell your partner. Say: "Before we get intimate, I want you to wear a condom. I had a diagnosis of positive for _____. The condom will protect you. Have you been checked?" If you have an STI, know when you are contagious.
Don't put yourself in harm's way: Know the landscape in which you're giving your most intimate self.
Over the holidays, my friend MaryBeth plans to give the best gift she can give herself: the security of being safe in her erotic adventures! Let's join her.
If you have a tough talk coming up or if you need help concerning your own personal challenges in other arenas Contact me personally
Need upbeat energy first thing in the morning to go into the talk with confidence?
Get my morning inspirations to get you energized for whatever happens! Go here for my 30-day audio download of inspirational (and often funny) four-minute messages to Love your Life Now, no matter what!
Related
Popular in the Community