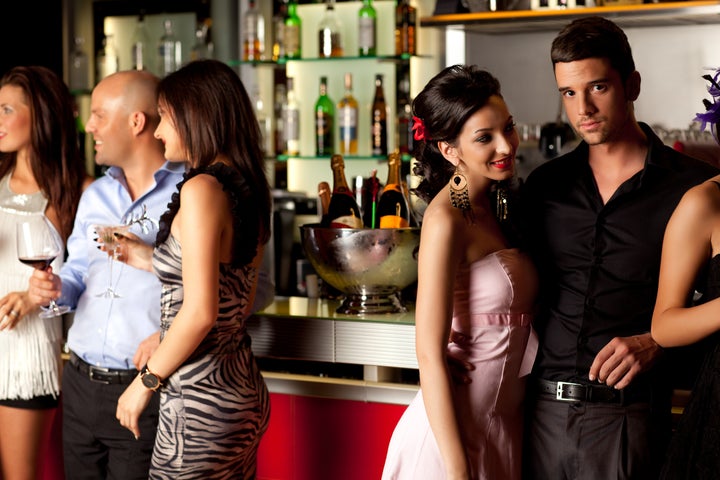 If you've recently reentered the dating scene after a little hiatus that we call "marriage," here's some battle gear to help you prepare to date 2012-style. In the last 10 years, the dating scene has changed tremendously. When I met my husband online in 2003, meeting a mate through the Internet was still considered deviant -- maybe even dorky -- but now it's how at least 20 percent of singles are connecting with their partners.
Fun fact: According to eHarmony, if you are over 50 your relationship has a better chance of success if you meet online ratjer than through other avenues.
Regardless of age, if you look around your social circle and see your friends coupling off -- making you feel like you're wearing a scarlet letter of divorce -- you're not alone. The good news is that meeting people is easier than it's ever been before and there are now tons of matchmaking outlets that weren't available before you tied the knot. But with all these options, it's important to note that dating customs, trends and mores have shifted along with the changing modes of communication. From gender roles to technology, now that you're back in the game, here's some information need to know before taking a plunge into the dating pool.
1. Online Dating: What started with weirdos lurking in the dark behind sticky computer screens has become one of the top three ways to meet a mate. The expansion of mobile features, which allows you to access your profile on your smartphone, has made dating on the web even more accessible. Plus, with the advent of sites like HowAboutWe, which enables you to introduce yourself based on a clever date idea rather than a cheesy photo and opening line, daters are challenged to be more inventive. One of my clients recently said that she was excited to have a "How About We" date with a man who invited her over to reupholster his old chair. It didn't strike me as particularly romantic, but it did catch her attention.
2. Social Networking: Feeling insecure about online dating? Wish you knew how many degrees away you were away from a blind date? There are plenty of sites and apps popping up that can help by tapping into your own social circle for dates, like Coffee Meets Bagel which gives you one match per day that is sourced from your friends-of-friends network on Facebook. There's also TheComplete.Me, which allows you to create a Pinterest-like profile using your Facebook, Linkedin and Twitter accounts to weave together a colorful tapestry of you. Or just go with an old-school personal recommendation on MySinglePeeps, where you can write and post a bio and photo of a friend for all the single world to see.
3. Meetups: These began as online communities for people to connect with individuals who shared the same interests. Now Meetups have become a major connector of singles. Some Meetup groups are specifically geared towards those looking for love, while other gatherings are for adventure-seeking pals with similar hobbies, who might just happen to be single. Either way, it's a great venue to expand your dating portfolio.
4. Speaking Dutch: Sure, I may be a tad old-fashioned, but I don't think it's so prehistoric for a guy to buy a drink on the first date. However, for many men, apparently it is. Recently a female client of mine told me that after being asked out on a coffee date, the fella made her split the bill. A single man I interviewed countered by saying, "With online dating, you're going out so much that you'll go broke if you pay for every date."
5. Non-Verbal Communication: As recently as five years ago, dates were invited and accepted over a much-anticipated phone call. Today, it's more likely that you'll be asked out via text or email. Some folks actually find a person-to-person call too forward now, while others believe picking up the phone wins the pursuer extra points. One of my clients shot down a guy because his first date invitation was an SMS. My advice is to ask your date how they like to communicate -- simply expressing your interest in a direct manner goes a long way.
6. The Race To The Altar Is Off: If you were married and it didn't end well, you might not be in such a hurry to tie the knot again. You're not alone. The number of married Americans has plummeted 20 percent since 1960. So while you might have felt pressure to get hitched before, choosing to be single or cohabitating with someone you do not intend to marry (or living the cougar/vulture lifestyle) are all acceptable in any circles now.
All in all, the news is positive: If you're divorced, there has never been a better time to be single. With new technology at your fingertips and social norms in a continual state of flux, you can write your own rules for the dating game and, armed with the weapon of knowledge, this time you'll hopefully make a better match.