In today's edition of men having outbursts on the internet, self-proclaimed feminist online dating app Bumble has issued an open letter to a user named Connor, who threw a veritable temper tantrum when a woman boldly asked him what he does for a living.
The Bumble messages, featured below, originally appeared on the blog of "The Millionaire Matchmaker" cast member David Cruz. The aptly named post, "How to FIGHT BACK to Digital Dicks!" shows how quickly a conversation shared by Cruz's friend Ashley between her and her Bumble match, Connor, went south. As Cruz writes, Connor "went from Prince Charming to Digital Dick in zero seconds."
In the string of messages, Connor accused Ashley of being an "entitled gold-digging whore," because she made the grave mistake of asking Connor what he does for a living.
"Pretty slow at work," Ashley wrote to him."What do you do?" The conversation went immediately downhill from there.
The innocent making of conversation hit on a sore spot for Connor, apparently, who accused Ashley of being a gold-digger and "prying" into his career. He also managed to accuse her of partaking in the supposed "neo-liberal, Beyonce, feminist cancer which plagues society."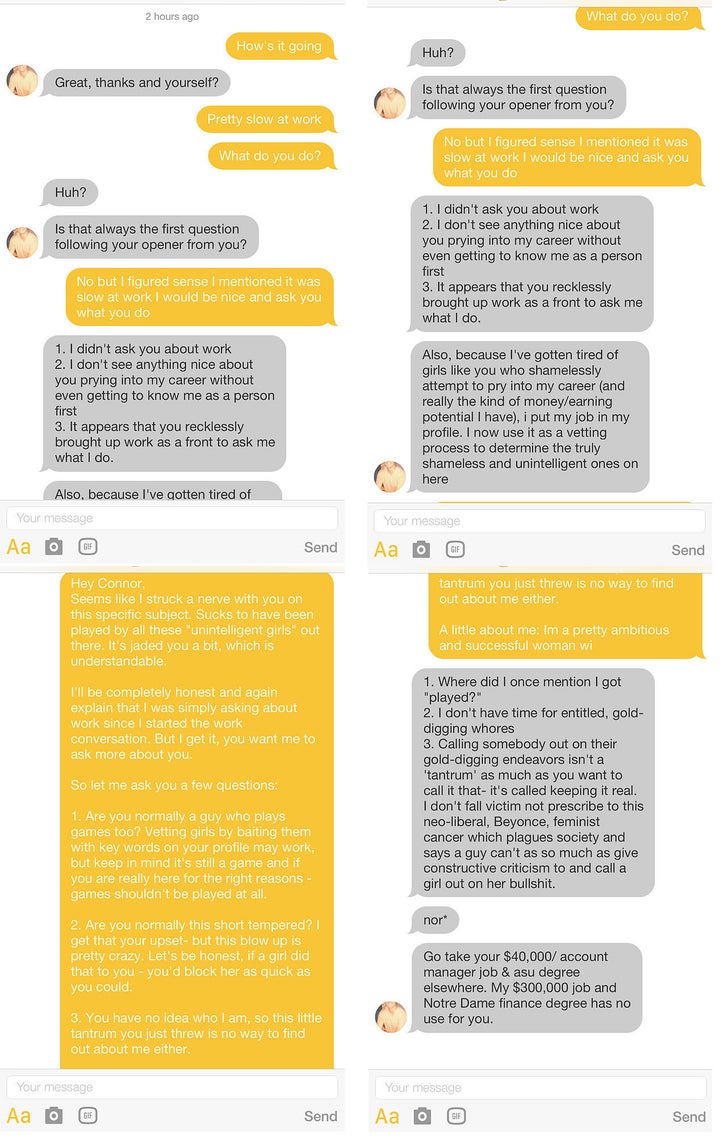 In response to the tantrum, Bumble administrators -- who were alerted to the exchange on Cruz's blog -- promptly blocked Connor from the app, and wrote a fantastic open letter on Bumble Blog condemning his sexist response.
"Knowing that Ashley simply mentioned work in the conversation," Bumble wrote, "we can gather that she wasn't hoping to figure out if your wallet was sizeable [sic] enough for her to move into your house and start cooking dinner for you after vacuuming your living room while you clock in a 9 to 5 work day. Instead, Ashley was (wait for it, Connor, because this is where things really get interesting), viewing herself as an equal."
Bumble Founder and CEO Whitney Wolfe told The Huffington Post that the entire Bumble team found the exchange upsetting. After all, what makes Bumble unique in the dating app landscape is that it puts women in the driver's seat of who they choose to communicate with so that, in theory, they can avoid the Connors of the online dating world.
"It upset all of us personally, and as a group," Wolfe said. "We're all so passionate about what we're doing. Nothing is more important than changing the way people treat each other."
The majority of the letter was written by Bumble's Director of Creative Marketing, Alex Williamson, who also runs Bumble's hilarious, lady-friendly Instagram account. Wolfe had initially wanted to write directly to Connor, but upon Williamson's recommendation, chose to publish a letter in an open format for Bumble's new blog.
Williamson spearheaded the open letter, and other members of staff pitched in their thoughts, too. "Everyone [at Bumble] was really involved," Wolfe told HuffPost. She said that her staff members were eager to respond, and were "personally charged up about the whole thing."
In a comment on Bumble's Facebook page, a Facebook user named Ashley Helmbreck thanked Bumble for the support with a perfect note:

The open letter serves as a unique show of solidarity and support: In the world of online dating, harassment or abuse in the form of unwanted sexual comments, body-shaming insults and general misogyny and transphobia run rampant without much accountability on behalf of the app administrators.
Bumble's letter is a much-needed nod to all of the people who have had to hit the "Block" button on an angry dude for lashing out. While, sadly, we all know there will undoubtedly be more Connors -- at least Bumble users can rest assured that the Connors of the world will not be tolerated.
Read Bumble's full letter below:
Dear Connor,


It has been brought to our attention that you lost your cool on one of our female users named Ashley. She made small talk, you felt personally attacked. She mentioned her work day and asked about yours; you assumed that she was prying into your financial status.

We are going to venture a guess into the state of mind of Ashley here, given that we are all working women ourselves. Take a seat, because this concept may blow your mind. Women nowadays work. It's happened over time, we know, but a vast majority of women from our generation have jobs.

With that in mind — and knowing that Ashley simply mentioned work in the conversation — we can gather that she wasn't hoping to figure out if your wallet was sizeable enough for her to move into your house and start cooking dinner for you after vacuuming your living room while you clock in a 9 to 5 work day. Instead, Ashley was (wait for it, Connor, because this is where things really get interesting), viewing herself as an equal. It might sound crazy, but people connect over the basic routines of life. You know… the weather, working out, grabbing a drink, eating, and working.

And while you may view this as "neo-liberal, Beyonce, feminist-cancer," and rant about the personal wounds you are trying to heal from classic "entitled gold digging whores," we are going to keep working. We are going to expand our reach and make sure that women everywhere receive the message that they are just as empowered in their personal lives as they are in the workplace. We are going to continue to build a world that makes small-minded, misogynist boys like you feel outdated.

We are going to hope that one day, you come around. We hope that the hate and resentment welling up inside of you will subside and you'll be able to engage in everyday conversations with women without being cowardice to their power. But until that day comes, Connor, consider yourself blocked from Bumble.

Never yours,

The Bumble Hive

#ImWithAshley

#LaterConnor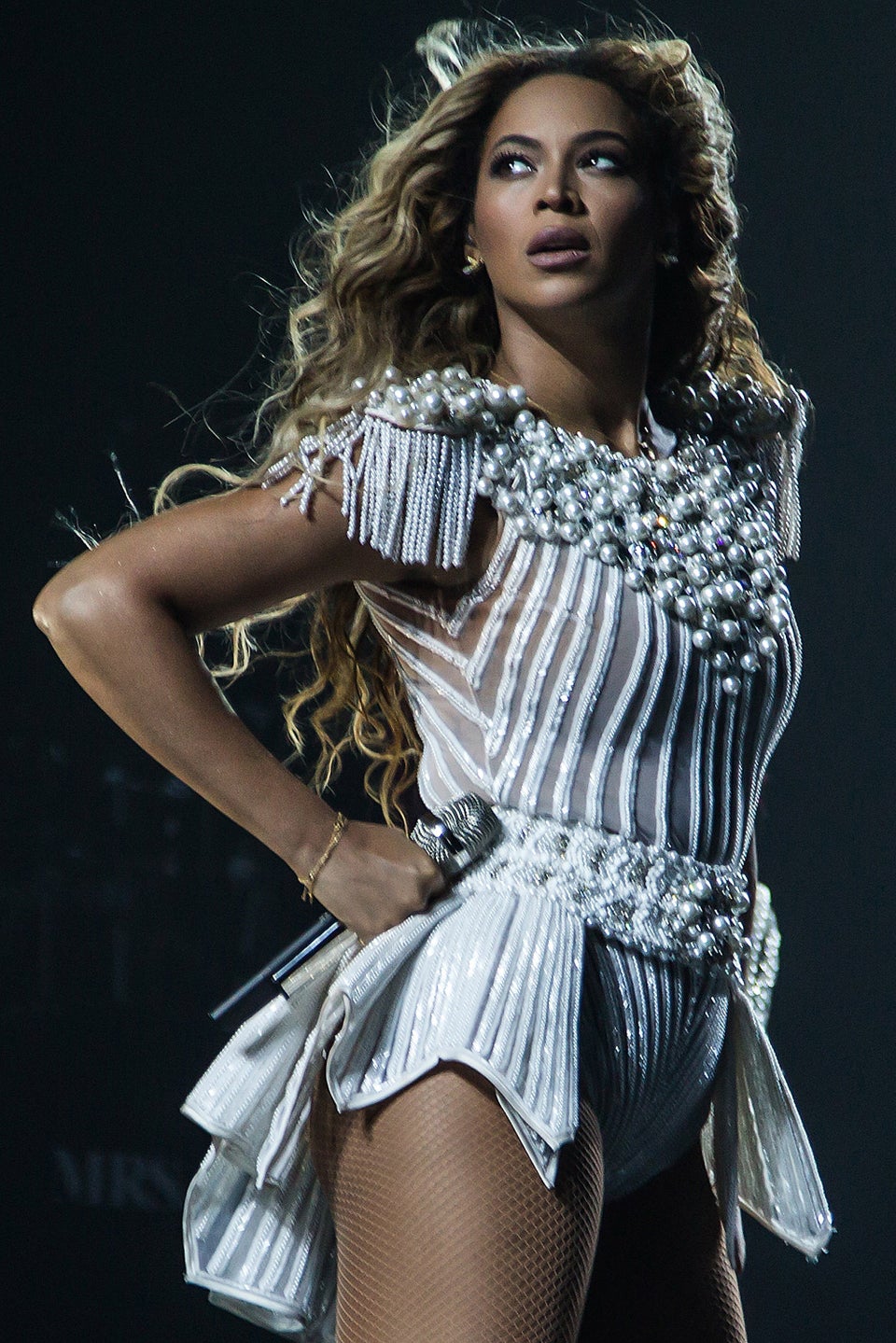 The Multiple Facets Of Modern Feminism