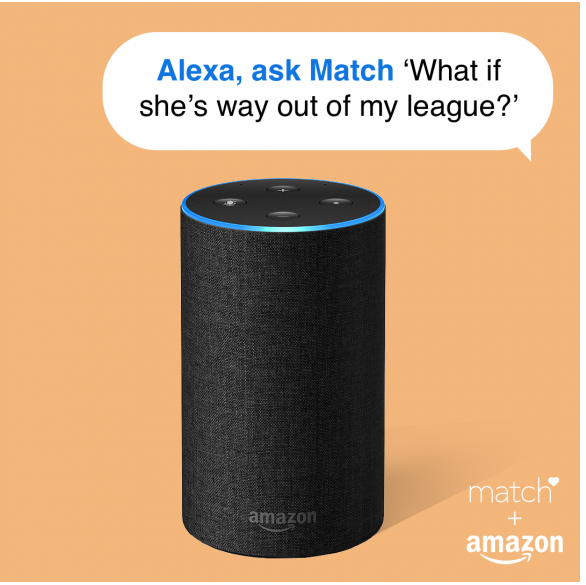 For the holidays, my significant other bought me an Amazon Echo Show as a present. Replacing my 20-year old alarm clock, and bringing out the inner DJ in me, Alexa sits proudly on my nightstand.
I've watched the movie "Love Actually," while nursing a cold, viewed video versions of CNBC Flash briefing news twice daily, and I now can go to sleep with soft meditation music.
Recently, I've explored the Alexa app Skills feature to include daily quotes and the "Question of the Day."
As a writer, with my days of editing at all hours, I no longer feel alone. As a dating expert who provides advice 24/7, today's announcement on the Match blog reports the dating site has launched an Amazon Alexa Skill, which is fun news for singles leading into Valentine's Day.
The Match "What if" dating advice is free and available to members and non-members.
According to Match, some of the 'what if' questions you can ask Alexa include:
Alexa, ask Match what if they don't look anything like their picture?
Alexa: Maybe they have a great personality.
What if they are a picky eater?
Alexa: 66% of singles consider picky eating a total turn-off, so don't feel back if their dressing on the side doesn't turn you on.
What if they want to split the bill?
Alexa: Going 'Dutch' is very 2017. YOu may be very 1950. Just go with the flow and see what happens.
What if they want to have sex?

Alexa: Only if you must, or if they're really hot.
I asked a second time, and Alexa's response was, "Simple. Remove clothing. In, out. repeat."
What if it's a group date?
What if he kisses me on the first date?
Should I go on a group date?
Alexa: Great. If your date doesn't work out, you've got the one right next to you.
What if I have Sweaty hands?
Alexa: Go in for the hug, unless your chest is sweaty too.
After trying their suggested questions, I came up with a few of my own, based on some of the questions I receive as a dating coach and the deal-breakers singles claim to have.
Alexa, ask Match what if my date smokes?
What if I need to ditch my date?
Alexa: They better be really hot. Like so hot.
What if my date asks me to be monogamous.
Alexa: Simple. Remove clothing. In, out, repeat.
What if my date drinks too much?
What if my date lies about their age?
What if my date voted for Trump?
What if my date supports Hillary Clinton?
Alexa: Go in for the hug, unless your chest is sweaty, too.
What if my date ghosts me?
At this point, the new service appears to be politically correct and non-bipartisan.
Last year, eHarmony also partnered with Amazon skills, by allowing premium members to access their matches on their echo device, and earlier this month, as reported on Verge, Matchmaking company Three Day Rule will be providing dating advice through Valentine's Day.
Hopefully the Match service will continue to add more "what if" questions and will give singles the confidence they need before going out on a date. In the meantime, feel free to text or tweet me your burning dating questions.
Julie Spira is America's Top Online Dating Expert and Digital Matchmaker. She was an early adopter of Internet dating and has been coaching singles on finding love online for almost 25 years.
FOLLOW @JulieSpira on Twitter, Instagram, and Facebook
SIGN UP for the FREE Weekly Flirt newsletter for dating advice delivered to your inbox.
Calling all HuffPost superfans!
Sign up for membership to become a founding member and help shape HuffPost's next chapter
This post was published on the now-closed HuffPost Contributor platform. Contributors control their own work and posted freely to our site. If you need to flag this entry as abusive,
send us an email
.