After centuries of failed attempts, technology has finally, with the invention of geolocated dating apps, led to the downfall of Western civilization -- or so you might believe if you read a new Vanity Fair article that presents an ugly image of how hookup culture in the age of the smartphone is changing the way young people think about sex and relationships. As you may have heard, dangerous online dating has been destroying and ruining dating, romance and commitment for years. Now that there are apps for that, too, it's time to despair.
Or, maybe not. Something has been lost in the kerfuffle over the Vanity Fair article: what the data says. Specifically, what data from or about Tinder, Match.com and other matchmaking apps or websites could tell us about who is using them, how they're using them, and how many people are actually hooking up or getting married as a result.
In the absence of good data from dating companies themselves, unfortunately, journalists and analysts often have to rely on surveys to form hypotheses instead.
The Pew Internet and Life Project conducted and published its most recent survey on online dating in May 2013, when it found that 11 percent of American adults have used online dating sites or mobile dating apps. Tinder, which is now one of the most popular apps and the central focus of the Vanity Fair piece, launched in 2012.
Pew found that public attitudes about online dating have become more favorable over time, even though most people have had bad experiences while using these sites and services. (It's worth noting, however, that bad dates certainly predate the Internet.) Seventy-nine percent of users agreed online dating was a good way to meet potential mates, and 70 percent agreed that people find a better romantic matches online than offline.
(There was a notable exception that speaks to the social impact these sites and apps have on relationships: About one-third of respondents agreed with the statement that "online dating keeps people from settling down.")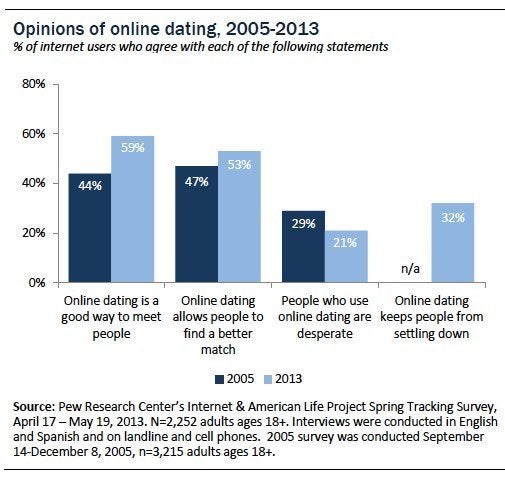 There's no doubt the number of people using these apps and services has only grown since this data came out -- upwards of 8 billion connections have been made on Tinder alone, according to the company. Digital dating services may be well on their way to becoming the primary means by which we find potential partners, but the extent to which using these platforms is causing changes to our behavior -- as opposed to simply enabling it -- is still uncertain.
Thanks to Pew and the U.S. Census Bureau, we know the number of Americans getting married has been declining for decades. In 2013, 51 percent of the public was married, down from 72 percent in 1960 -- and as of September 2012, a record number of Americans (20 percent) had never been married, according to Pew's analysis. The research center also tells us the majority of young Americans (61 percent) still want to get married: They're just waiting longer to tie the knot.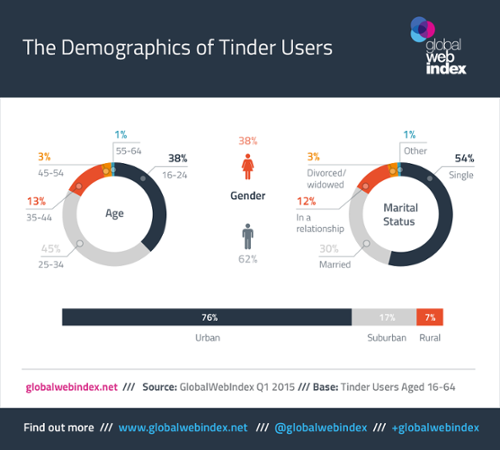 In a statement to Wired and in a tweet earlier this week, Tinder questioned the methodology behind the Global Web Index data. The company tweeted that it had surveyed 265,000 of its users itself and found that just 1.7 percent of them were married.
Unfortunately, Pew doesn't have data on what percentage of dating app users are married or how many sexual partners they have.
But there's another place we can find information about how Americans' sexual conduct is changing -- four decades of answers to the nationally representative General Social Survey. A team of researchers led by professor Jean Twenge of San Diego State University published a study in the Archives of Sexual Behavior earlier this year that analyzed the GSS to identify changes in the sexual behavior of American adults between 1972 and 2012.
As Jesse Singal wrote in a piece for New York Magazine, that conclusion effectively torpedoes the Vanity Fair's narrative about bed-hopping -- even though the author of that feature, Nancy Jo Sales, cited the exact same research.
The correspondence between Sales and Twenge also suggests the writer approached this feature with preconceived notions about today's dating scene, Singal reports. The quotes and perspectives shared from the academic experts and authors Sales interviewed for the piece line up with the writer's hypothesis: When mobile dating apps collide with hookup culture, nothing good can come of it.
Interview subjects who gave various colorful observations also supported this premise. While Sales talked to young people in Indiana and Delaware, most of the subjects quoted in her piece are from New York City -- and I don't think it's an accident that especially cringe-worthy quotes come from young men who referred to the concept of having millions of potential mates as a transactional market, an unending game of musical beds.
As some reactions to Vanity Fair's article -- which went as far as to use the term "dating apocalypse" -- suggest, some people will always see new communication technologies as inescapable black holes of moral turpitude that enable people to do or try things they might not otherwise be comfortable with.
But young people have always seized on new forms of communication to pursue relationships, and older generations have, since the Victorian era, viewed the new tech with great suspicion.
Once upon a time, gentlemen callers had to literally go to other homes and present a card. By the 1950s, phones were part of American culture, and people went on more traditional dates. The following decade, matchmaking services became an online dating prototype of sorts, as a recent video from FiveThirtyEight shows. The first dating websites cropped up in the 1990s, and naturally led to "guides to cyber dating."
Today, hundreds of millions of people use smartphones to start or end relationships. Texting, "sexting," social media and apps like Snapchat are all part of the mix. It's a safe bet that most of humanity will be using this sort of technology within the next 10 years.
Some people see this kind of article as an example of science fiction made real.
Some psychologists do have concerns about the risks that smartphones, dating apps and matchmaking websites pose to certain cohorts in the population, including their potential to create the shopping mentality Sales describes in Vanity Fair.
"What I'm seeing is people with vulnerabilities who are finding their ways to instant release," said Robert Weiss, an author and senior vice president of clinical development for Elements Behavioral Health, a company that runs a system of rehabilitation centers.
Weiss, who has been developing treatment programs and studying the Internet and relationships for over two decades, told The Huffington Post he has seen an increase in the number of people seeking help for technology-related intimacy issues. The more people have anonymous, immediate and free access to these kinds apps, the more he sees people who are vulnerable are struggling.
"If substance addictions were the addiction of the 20th century," he suggested, "behavioral addictions are those of the 21st century."
But the sad or ugly stories we see playing out upon these platforms reflect existing pathologies and addictive behaviors that were previously expressed in less visible forms or more clunky platforms. And many stories we read about the influence of hookup apps may simply reflect the embedded social changes precipitated by more access to birth control, education and women's economic power.
It's even possible that societal norms have already adjusted to combining romance and technology in healthier ways than alarmists suggest, despite the inevitable comparisons to imagined golden ages of socializing of eras past.
While there's no single source of current data that I could find, it's more than likely that a growing number of people have found life partners online.
Pew found in 2013 that 42 percent of Americans knew someone who used online dating -- and 29 percent of Americans knew someone who had met a spouse or long-term partner that way. That concept didn't get much play in Vanity Fair, and Pew's research was not cited in the article.
Will being able to quickly and easily "swipe left" or "swipe right" on pictures of potential mates result in societal changes in how we form or break relationships? Do dating apps exploit an evolutionary predilection for men to objectify women as sexual partners, instead of seeing them as people? Are geolocated mobile apps on smartphones having more of an effect on all of these counts than websites ever did, given widespread adoption?
The answer to any or all of these questions could very be well be "yes" -- but taking a firm position without good data is a risky proposition at best.
Related
Popular in the Community