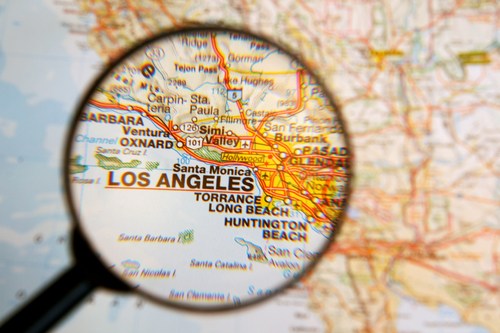 I did not set out to become a dating coach. Thirteen years ago, I was just another LA transplant with a dream. I envisioned that it could be possible to have a great career and meet a quality guy that I could build a life with. One of these dreams proved harder than the other to attain. I was going out all the time, from one industry party to the next and meeting guys left and right. However, I quickly discovered that most of the fellas in LA had a dream themselves and it usually involved their name in lights more than their shoulders in a baby carrier.
After spending years as a casting director teaching actors how to brand themselves so they would finally be the one to be picked out of a stack of headshots, it occurred to me that if I applied the same concepts to my dating career, I just might be able to beat the LA dating odds. I made it my mission, both online and off, to showcase myself differently and that's how I ended up meeting my husband -- a guy who is just as comfortable with his name in the big screen as he is changing a diaper. Now, when I have my Los Angeles dating coaching clients who come to me frustrated with the dating scene, I know what to tell them. Here's four reasons why dating in LA is so damn tough (and what you can do about it).
1)It's From Your Car to the Bar. Unlike many other major cities, LA is consumed by the car culture. Angelenos stick to their cars leaving the streets often deserted and making walking around by yourself a gamble for women in many areas. Empty streets and packed highways make it for tough random conversations. Instead of having the typical LA plan of off to one obscure bar and then back home with the same posse you left with, try your very own pub crawl in neighborhoods where A) there are people your own age (i.e. Sunset Strip for your 20s, Silverlake in your 30s, Pasadena if you're past that) and B) where you know they have a few places you can walk to easily in case the scene in one spot dries up quickly. And remember, if it's over two drinks -- take a cab or hop into a pink-mustachioed LYFT car.
2)Your Friends Are Scattered. Going from one Fourth of July party in the Valley to another one in Venice is a task damn near impossible to complete, which means you're also limiting the number of people you're meeting based on location. Instead of flipping a coin over which party you should attend, then kicking yourself because it's full of married couples tell your friends who are hosting in advance: You're single and ready to mingle. Being proactive in your dating career keeps you at the forefront of people's minds.
3)You Know Who You Know Already. LA is notorious for social circles that are sealed up like the Pentagon so Angelenos have to work a little harder to meet new people. There are a bazillion MeetUp groups to try out. While you don't have to join any outright singles groups to meet a possible connection, you must have a hobby or two. From co-ed book clubs to foodies to hikers and bikers -- there's something for everyone. And best of all, some of totally free! Maybe there's that perfect guy you'd like to meet but you're not ready to commit to online dating, starting your own MeetUp group that caters to that person is a great way to meet like-minded Californians with a possibility of a love match.
4)You Can't Tell Who Is Into You. LA is a mix of ethnicities, religions, races, creeds and colors. It also has a vibrant LBGT population, which can confuse dating in LA even further. Add this to the fact that many LA residents have a reputation for being opportunistic, it's nearly impossible to determine if someone likes you or if they are more into your money and connections. Bottom line is it's better to know where you stand. Most people are flattered to be approached and happy to have a friendly person to talk to in any situation so don't be afraid to let your intentions be known.
It takes a big person to take a big chance, which is essentially what dating is -- making things happen by taking chances. Your relationship status can't change if you don't, but in this magic city where dreams come true everyday, all you have to do is set your mind toward love, then go out and get it and you too can beat the odds dating in LA.
If you need some dating inspiration, join Damona Hoffman and the dating coaches from Dear Mrs D, Inc. on 9/28 in Hollywood, CA for a one-day dating bootcamp, The Love Olympics, to get in shape for love before the year is out. From online profiles to flirting techniques and dressing sexy for your body type, The Love Olympics will give you a fresh outlook on love this fall. DearMrsD.com/bootcamp

Popular in the Community