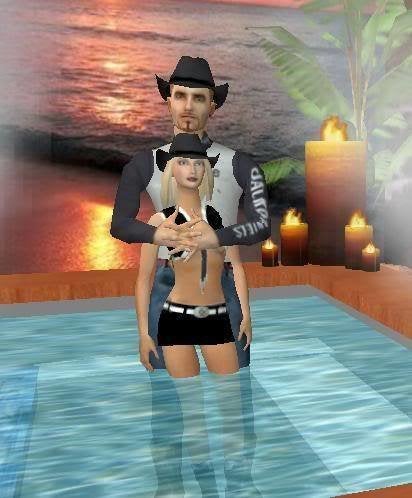 Sean and Meta Jo Riseling first met on the dance floor of a club in July 2009. Pushed together by mutual friends, the two instantly hit it off and a few dances (plus a couple rounds of body shots) later, they went home together. Even though Meta had intended to keep things casual -- she was in the midst of ending a 16-year marriage -- it soon became clear that this was not your average one-night stand. Over the next few weeks, they would go to amusement parks, take walks along the beach, tour architecturally-interesting houses and stay up through the night talking.
In September, they decided to take things to the next level and see each others' faces for the first time.
Sean and Meta, 37 and 38, respectively, met as avatars. They make up two of approximately seven million registered users of Utherverse, a 3D virtual world geared to an adult audience with a design that was inspired by Amsterdam's red light district. The Riselings also number among the many people who have found love through massively multiplayer online role-playing games (MMORPGs) such as Utherverse, World of Warcraft and Second Life.
But the Riselings and many other couples have found that their avatar attraction extended far beyond the computer screen.
"We turned on our cameras on Skype because our daughters wanted to meet each other," Meta told The Huffington Post. After Meta's daughter Kinzee, 14, and Sean's daughter Josie, 8, finished talking, "we pretty much knew, this was it," Meta said. They picked a date to meet in October in Oklahoma City, halfway between Meta's home in Ozark, Mo., and Sean's home in Walsh, Colo. The next month, Meta and Kinzee moved to Colorado with Sean and Josie.
"We are each other's missing puzzle piece," said Sean, who is currently pursuing an associate's degree in IT information systems in real life but is a DJ in Utherverse. The twice-divorced single father proposed on Christmas Eve, and the couple married after Meta, who now works at a local junior high school's lunchroom and coaches the cheer squad while maintaining her job as a wedding planner in Utherverse, had finalized her own divorce.
Sean and Meta now celebrate two wedding anniversaries. Decked out in matching jeans, cowboy hats and black boots, they had their real wedding in July 2010 in front of Sean's family and a justice of the peace in a small church in Colorado. Their avatar wedding occurred eight months earlier, however. While sitting together on the couch in their physical living room, they recited their vows in front of hundreds of cyberfriends in an extravagant Utherverse ceremony complete with a long dress, hired DJ and elaborate decorations.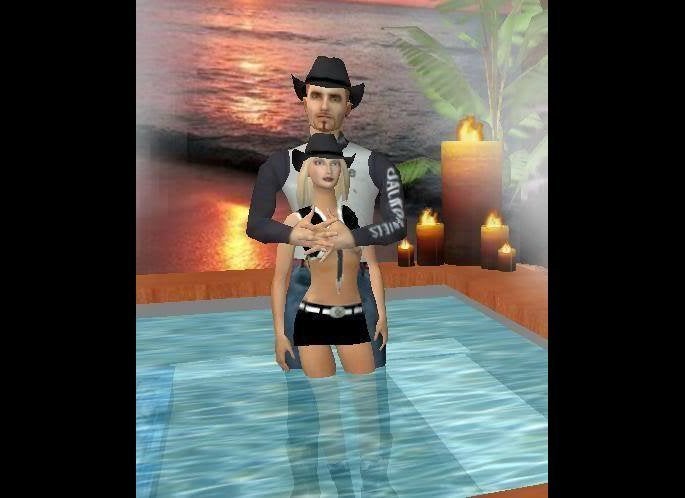 Virtual and Real Relationships
MMORPGs cater to the needs of a diverse range of users -- "I don't like to call them players," Utherverse co-founder Brian Shuster said.
Another selling point, however, is virtual sex. The French watchdog organization Familles de France filed an unsuccessful lawsuit against Linden Lab, the creator of the MMOPPG Second Life, opposing the adult content of the site. The plaintiffs stated accurately, "users can mimic sexual acts, going as far as rape scenes, bondage, zoophilia and scatophilia."
While Shuster and his late business partner, Ray Schwartz, actually created Utherverse in 2005 to put a new spin on adult sex sites by creating an MMORPG version, he found an almost immediate demand for weddings and opportunities to foster romance, not just virtual hookups.
"There are 100 [virtual] weddings a month right now, which is mind boggling," Shuster said, and they often lead to real long-term relationships. "People will send me pictures of their [real] kids. It would be hard to put a count on the number of couples who meet on our world."
Shuster, who uses Utherverse himself, and four MMORPG players interviewed said they believe dating in Utherverse is far more natural than dating through "flat page" dating sites like Match or OkCupid where avatars do not exist.
"They were inherently problematic," Shuster said. "I'd have notes from women, and if I wasn't interested I'd feel just horrible ... And some of those I did reach out to rejected me. Or if we met it was always awkward. Do you exchange numbers? Utherverse was always so much more normal. It's like real life -- you can meet in a club or a comedy show."
In 2007, however, Marc Mosel, 42, decided to combine elements of flat dating sites and online and virtual dating. Mosel created AvMatch, a dating profile site similar to Match.com or OkCupid for users' Second Life avatars.
The site currently has 20,000 members from 50 to 60 different countries. Its premium unlimited package, which allows members to reach out to as many avatars as they want, costs 1425 lindens (units of Second Life currency) a month, which translates to $5.25.
"A lot of the people on AvMatch are looking for online partners only in the site, and many are looking only for friends," Mosel told HuffPost. "Others are looking for real life partners."
While some members post only their avatars -- a perfected image of an often-idealized self -- others post pictures of their offline selves and make it clear that they see dating on Second Life as equivalent to dating in real life.
"That's kind of a big debate: some people view it as a game and other people don't, they see it as an extension of their lives," Mosel said. "Those who only see it as a game don't always see the human aspect of it. Things can get very real very quickly."
Separating Virtual Reality From Reality-Reality
According to Mosel, what would happen over the course of weeks in real life occurs in days, if not hours, online. But some bemoan the short-lived nature of some virtual relationships. One post on a Second Life forum complained: "My SL husband is cheating on me with a Bisexual Skunk Furry and is asking for a divorce. And we only got married half an hour ago!!"
While weddings on MMORPGs can be expensive, depending on their extravagance, it should be noted that divorces come cheap. Avatars do not have to split half their earnings and possessions in divorce settlements.
From users hiding their real-life marriages from their Second Life spouses (and their Second Life marriages from their real spouses) to people signing in as multiple avatars -- male and female -- to couples finding real love, Mosel has seen it all. "It's the wild west of online dating," he said.
Cliff Connors can attest to that. He has been in over 20 relationships via World of Warcraft, and many of them have evolved beyond the game into the physical world. He describes virtual dating as the ultimate way to meet women.
"Whether it be trading gifts, taking them to scenic views, or sending romantic 'whispers,' the ability to woo women via WoW is easy," Connors wrote in an email to HuffPost.
Given the long hours spent together on adventures, which can involve anything from a picnic on the floating rocks of Nagrand to slaying the two-headed, yellow-eyed, flaming-toothed Core Hound, he said, "[B]y the time you get them to hop off Vent" -- a plug-in that allows WoW players to talk to one another -- "they are already sold. This is not to say I haven't failed. I definitely have. But that is the best part of WoW. With so many users, there has been plenty of opportunity to meet women."
Different members have different ethical standards when it comes to virtual fidelity.
"We receive subpoenas where lawyers ask for stills of say, a husband's avatar with other women on Utherverse, because they consider it cheating," Utherverse founder Brian Schuster said. "We always say no."
When Daniel Blackburn signs onto Second Life as Cody Bolero, an Adonis-like 26-year-old avatar (Blackburn declined to disclose his real age), he sees his online relationships as totally separate from his real relationship.
"I have been with my partner for 19 years," the Dallas native told HuffPost. "He's on Second Life and has another partner, too."
Daniel/Cody and his virtual partner Billy Blacklock met in 2007 at a weekly online party that is now known as "Cody and Billy's Sunday Night Beach Party." Billy abandoned his hosting duties to take Cody on a jet ski ride and the two have been exclusive partners ever since. They have not married -- they don't think that it's necessary for their relationship -- but they have the option: Second Life and Utherverse have offered gay marriage since the inception of MMORPG matrimony.
Even though the two live only 90 miles away and have been together for four years, they have yet to meet in person.
"I've suggested it several times, but so far he isn't comfortable," Blackburn said of Billy, who is from a small Texan town and still in the closet. "But I do hope that changes."
Finding True Virtual Love
Real geographical distance does not separate some couples who connect in virtual worlds. Since MMORPGs cater to an international audience, people often find themselves connected with others who live across the country or even across the world.
That's what happened to Matthew Heick, 29.
Heick first joined Utherverse because he was intrigued by the opportunity to participate in a 3D adult community. He didn't take it seriously at first and took on multiple avatars. "I was the troll, [an avatar called] Have-Sex-Now, the suave lover, the annoying guy -- and then I was just [an avatar version of] me," Heick said. "And then along came Nancy."
Nancy Hime, 26, approached Heick outside of an Utherverse bar, and the two became fast friends and then business partners in a lucrative virtual clothing company. Ten months later, Heick bought an $870 roundtrip ticket from his hometown of Buffalo, N.Y., to Hong Kong to visit Hime, an Indonesian citizen, for 14 days. It was his second time on an airplane and first trip out of the US.
"At first we were friends and would sleep on opposite sides of the hotel bed," Heick said. "But the first week we fell in love, and the second week was bliss."
In the past 14 months, Heick has visited Hime four times, always in Hong Kong. As an Indonesian citizen, she cannot get a visa to visit the United States.
"We've been actively discussing living our lives in Canada," Heick said. "We can both be there for six months on our visas and really see where our relationship goes."
After couples get together in real life, they must re-examine how they want to approach their relationships online.
Heick and Hime noticed that after they got together in person, they stopped going on Utherverse apart from when they were working in their Utherverse business.
"Utherverse was the gateway that helped us to start communicating," Heick said. "But now we don't go on there that much anymore except for work -- because we have each other. I fell more in love with the person than I ever was with the avatar."
While Meta and Sean have decreased their time spent on Utherverse from between 8 and 10 hours a day to 20 hours a week, they still make a point to go online often to interact with friends there and continue their life as a couple in the game.
But even though they enjoy their time online, it is their real life that comes first.
"We weren't in the game for our real one year anniversary," said Meta. "We always go to clubs in the game, but this time we went dancing in real life."
Related
Popular in the Community