Gross messages are par for the course on dating apps. But when you're disabled, they're so much worse.
Just ask Lolo, a 31-year-old lifestyle influencer from Los Angeles. When she opens a dating app, it's not uncommon for her to see a message along the lines of: "I know what to do to make you walk again."
It's "as if their dick is the magical healer," Lolo, who has a form of muscular dystrophy and uses a wheelchair to get around, told HuffPost. "It makes me roll my eyes."
Unfortunately for Lolo and other disabled people on dating apps, inappropriate questions about their disability and sex life are routine. But there are some silver linings. Below, Lolo; Amin Lakhani, a 29-year-old dating coach from Seattle; and Erin Hawley, a 35-year-old writer from New Jersey, open up about what it's like to date with a disability.
In a nutshell, what is your dating life like?
Amin Lakhani: Less active than it used to be, because I have a better sense of who I am and what I'm looking for. I filter more. I'm dating a few people at the moment.
Lolo: As of now, I'm not looking. I'm just trusting God will allow me to attract whoever is meant to be with me. I'd say I date once every three to four months. I've been single the majority of the time, then there's some consistent dating, and I either get friend-zoned or get called "too intimidating" to date.
Erin Hawley: I've dated a bunch in the past and was in two serious relationships before finding my current partner of three years. Now, my dating life consists of my partner and I realizing we'd rather stay in and watch "Cutthroat Kitchen" than go out to eat.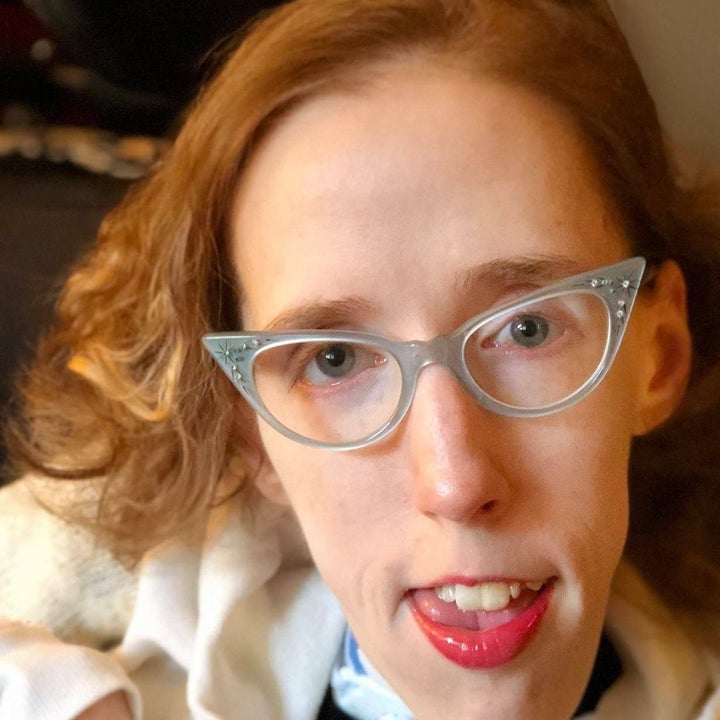 What's online dating like for you?
Erin: Oh God, online dating while disabled is a nightmare. I think, to some extent, everyone hates it. But for me, there were a lot of creepy messages by guys asking if I could have sex (before even saying hello!), asking if I knew how to love, asking all sorts of very personal, inappropriate questions. And then I learned about devotees — people who fetishize disabled people. It's dehumanizing.
Lolo: The most troubling encounter actually happened in person on the third date with someone. The date ended on a bad note because we had a bit of a disagreement and because of it, he left the restaurant without saying bye, didn't help me in my Uber and didn't text to see if I got home safe. Which was troubling because he was always the sweetest guy before and even if you're upset, at least have the decency to be helpful.
Amin: Online dating has been pretty tame for me, honestly. The worst part is just not getting a lot of matches, and then having a hard time believing that it's because of anything other than my disability.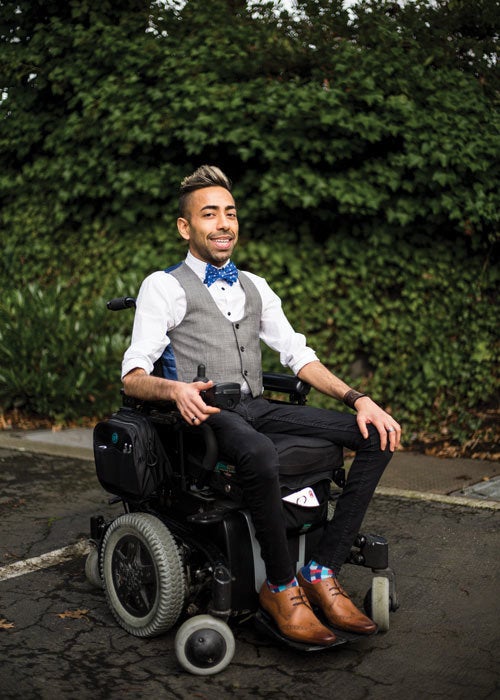 Do you talk about your disability in your online dating bio? Do you include pics that show you have a physical disability?
Amin: Yes, I'm very explicit about it. One time a girl didn't know I had a disability until I showed up on the date, and she was really quiet throughout the night. I finally asked her about it and she told me she was surprised — my profile had only hinted at it, so from then on I always made it explicit. Now it's in my main photo, and I talk about it, usually jokingly, but also seriously when there is room for it, like on OkCupid.
Erin: Yes, I always mentioned it and included a full-length photo of myself in my wheelchair. There was no point in hiding it because a partner would eventually know I was disabled. Showing myself right away also weeds out those who are close-minded; why would I want to date someone like that?
Lolo: I mention and encourage my followers on YouTube to do the same. I figure it's better to get it out the way so there are no awkward conversations later.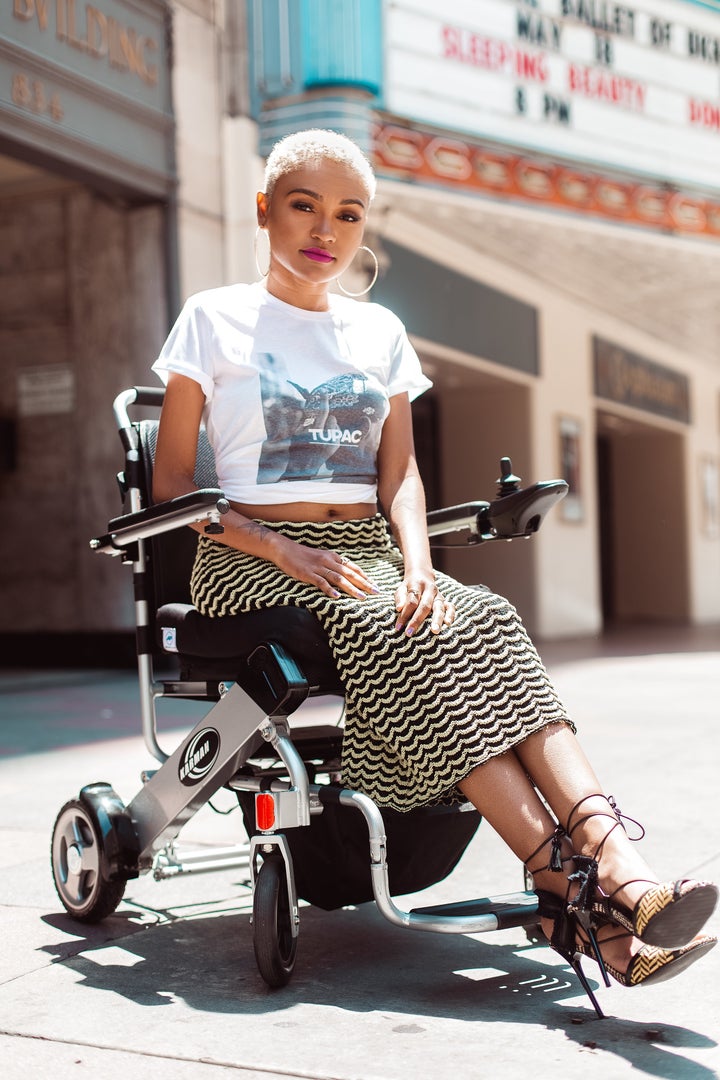 What's been the best response to your disability from a date?
Erin: The best response is always treating me as you would treat a non-disabled person, and understanding my autonomy. If you've never dated a disabled person, ask yourself why not? Examine your biases, examine your prejudices. Read or listen to the voices in the disability community. My boyfriend never dated a disabled person before me, but he was open to learning about my physical needs and instantly treated me as his equal.
Lolo: My best response on a date was with someone who simply treated me like a woman he was interested in. It never felt like my disability or wheelchair affected him. He was helpful without doing too much and my disability was not a topic of conversation the whole night. We genuinely had a good time talking and hanging out. My best advice for someone who's never dated a person with a disability would be to not let their disability overshadow who they are as a person. We're people first.
Amin: The best response is when someone gets in on the jokes with me. An ex-girlfriend once blurted out really loudly, "If you don't stop I'm going to push you down the stairs again!" in front of a bunch of people. They were all shocked and we were laughing about it for days. My best advice is to follow the person with the disability's lead — if they are super-open about it like I am, get in on the jokes ASAP. If not, get to know them a little bit more and share some of your own vulnerabilities before bringing it up. Instead of putting them on the spot about it, it can be helpful to say, "I'd really like to know more about this piece of you when you are ready to share."
What's sex like?
Amin: An ex-girlfriend said, "I wish you could throw me up against the wall," which was hard to hear, because I would of course want to do that too. She wasn't very open to trying different ways to "simulate" that experience, and I had to ultimately end the relationship because I knew she wasn't happy. I just wish she had been more clear about it instead of going back and forth, as that caused a lot of frustration with breaking up and getting back together over and over. But overall I really enjoyed dating her, and I feel like I got some of the "drama" of teenage relationships that I missed out on in my youth. Not something I want to repeat, but it was a good learning experience.
Lolo: They should approach sex first with an honest conversation of what's comfortable for them. Things get hot and heavy quickly, but take your time switching positions, be helpful and enjoy the moment without being annoying.
"Don't give up hope. It might take a while, but that's OK. Keep dating, keep putting yourself out there, and take breaks to refocus on yourself when needed."
What advice would you give to other disabled people who are apprehensive about using online dating apps or just dating in general?
Amin: Primarily, joke about your disability immediately. People will respond to it based on how you present it. Trying to hide it or ignore it will just make people uncomfortable, because humans are naturally curious about anything that is unique.
Erin: It's going to suck no matter what. You really must go into it with an armor of steel, because people are going to be cruel. Meet in person as soon as you can — someone might say they are OK with your disability, then change their mind when meeting in person. And, finally, don't give up hope. It might take a while, but that's OK. Keep dating, keep putting yourself out there, and take breaks to refocus on yourself when needed.
Lolo: My advice would be to just fearlessly try. Have fun first and don't get hung up on hoping to find "the one." That way, you'll have better experiences meeting people than disappointments when things don't work out. And everyone struggles to date these days. It's not always just because of your disability.
"It's Not You, It's Me" is a series that looks at dating in America from the perspective of different ethnicities, sexual identities, life experiences and circumstances. Do you have a unique perspective or experience with dating? E-mail us about it at ItsNotYou@huffpost.com.