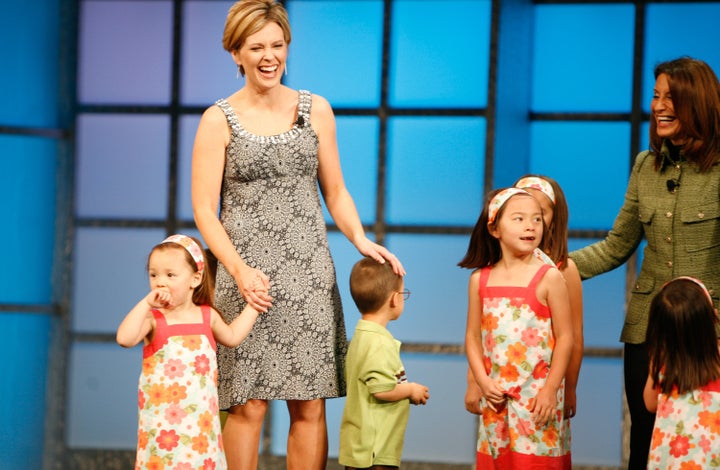 Single mom Kate Gosselin is, evidently, ready to date again. Who can fault her? The reality TV star's divorce from her former hubby, Jon, was finalized last year, and after about a year of trying to sort things out and come to some sense of normalcy post-divorce, most of us are ready to get back into the mating game.
By the time we hit age 36, as Kate did late last month, we're pretty hip to what dating's about -- unless somewhere along the line we procreated. Dating as a single person is one thing; dating as a divorced person with kids is quite another thing. True, Kate has eight kids, and to steal a title from an Allison Pearson novel, I don't know how she does it. Making time to date while also working full time, attending Little League games and school plays, and schlepping kids back and forth to orthodontists-pediatricians-tutors-play dates was really challenging for me, and I only have two kids.
When I divorced several years ago, I was relatively clueless about what dating with kids would be like. I couldn't quite shake the image of me as a carefree, wrinkle-free 20-something instead of a middle-aged divorcee with "baggage" that had names, ages, thoughts and feelings. Wit, charm and looks were obviously no longer enough to find a special someone; I would need to find a man who would not only be attracted to me, but who'd also accept if not necessarily embrace my boys and all their quirks. And, since most men my age are divorced, too, he'd most likely need me to do the same.
And that's the big post-divorce dating shocker: Looking for love when you have kids is a package deal, and it's often as tough as trying to open the PVC clamshell packaging just about everything comes in nowadays.
Not surprisingly, it isn't much easier for the kids.
Dating, shacking up and remarriage has a huge impact on children, according to psychologist Constance Ahrons, author of The Good Divorce and We're Still Family. The courtship phase isn't one kids generally see -- they wouldn't even be here if that hadn't happened sometime in their parents' past. All they've experienced is the trauma of the breakup. Most of the children Ahrons spoke to considered their divorced parents' dating lives pretty darn weird. Possessive when they're younger, resentful when they're older, kids aren't used to dealing with their parents' overt sexuality and they don't particularly want to deal with it -- especially in an era of FWBs, cougars and MILFs.
Kids question who they are and what's ahead once their parents divorce, in addition to secretly hoping that they'll get back together again, therapists say. Mostly they want to know what it means when Mom or Dad falls in love again, and many newly divorced moms and dads don't even have that figured out for themselves. I know I didn't.

When I threw myself back into the dating pool with all the enthusiasm of a pimply adolescent, the complications appeared immediately. Child-free men often don't "get" kids; divorced dads come with kids, some still in diapers, some in jail; and not every man I had "chemistry" with was going to click with my Axe-scented boys. Now what?
That didn't stop me from dating; I really did want to have love in my life again. But it did cause some stress and a lot of overthinking -- when do you introduce a new love, when can he sleep over, what if your kids don't like him, what if he doesn't like your kids, what if your kids love him and he dumps you, what if your kids love him and you dump him, what if his kids and your kids hate each other, what if everyone loves each other but your parenting styles clash -- the possibilities are endless. And exhausting.
Which causes many divorced parents to either freak out and give up on dating altogether or become careless about who and how they date. Neither scenario is OK.
And that's where Kate Gosselin was about a year ago. "I don't really have time" to date, she told Access Hollywood last April. "I don't believe there is someone out there who can handle my baggage that's too heavy to lift."
She may be right on that; it will take a very, very special someone who'll want to take on eight little kids and a reality TV star.
Still, single parents are entitled to a fulfilling personal life and we're looking for it, challenges be damned! In fact more single parents are dating than their kid-free peers, according to biological anthropologist Helen Fisher, author of Why Him?, Why Her? and a Chemistry.com advisor. And the ones who aren't don't blame their kids, either; most single parents say they just don't have the time to date, according to an eHarmony study.
Of course, they'd have a lot more time if they didn't have kids.