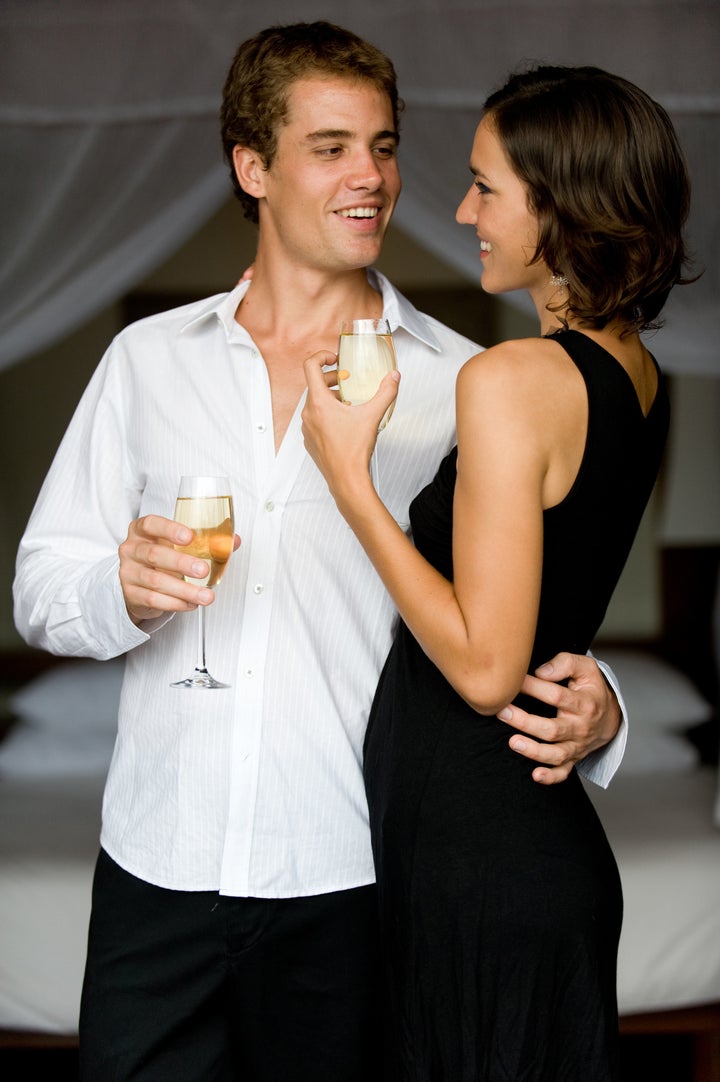 My phone gave a satisfying bing as a new message from OkCupid.com, the ubiquitous free online dating site, popped onto the screen: "LimeGreenRobot is checking you out!"
Apparently LimeGreenRobot liked what he saw, and sent me a message asking an important question to consider before even contemplating a first date: "Who is your favorite superhero? I like Captain Planet." He claimed to be college educated, appeared to be attractive, used correct grammar, and had acceptable taste in music -- everything I usually require from an online suitor before I respond. However, his profile said he stands at an elfish 5-foot-5, while I am an Amazonian 5-foot-10. What to do? Dare I dodge OKCupid's arrow and ignore a potential soul mate, just because of his height?
How do tall women and short men survive the dating world? A 2008 study of 382 undergraduates in the journal Personality and Individual Differences found that both sexes preferred relationships where the woman was shorter than the man. Curiously, the research also showed that women enforced the norm more strongly than men. Twenty-three percent of men but only four percent of women said they were open to a relationship in which the woman was taller.
"Women's cultural vision is being feminine, having a man big enough to make her feel protected. Many women hold this stereotype to a point where it excludes a lot of people they might be interested in otherwise," said Dr. Pepper Schwartz, a sociology professor at the University of Washington in Seattle, and the chief relationship expert for PerfectMatch.com.
Men may be less open to dating a tall woman than they think, she added. "For men, I think the cultural vision of a tall woman is a beautiful woman. While a lot of men don't want someone taller, they like the idea of a tall woman."
Joey Maestas, 23, a digital journalist at Sports Illustrated, is 6-foot-1. A former college football player and wrestler, Maestas said he dated three female athletes who were over six feet tall, including a volleyball player with five inches on him.
"I personally think dating taller girls is a lot of fun. I love the look people give you when you walk into the room with a really beautiful 6-foot-6 girl," Maestas said, though he admitted, "It gets a little awkward when it comes to kissing, especially when you're at a formal event and she is wearing heels."
Nearly half of men in the study indicated that their tallest acceptable date could be taller than them or their height (24 and 23 percent, respectively), while 53 percent required their date to be shorter than them. But a whopping 89 percent of women said the shortest person they would date would still have to be taller than them. Only seven percent would accept someone who was their height, and just four percent would allow for a shorter guy.
"Women view taller men as more likely to be physically dominant and potential protectors, which provides a feeling of safety," Dr. David Frederick, co-author of the study and visiting professor of psychology at the University of Hawaii at Manoa, wrote in an email. "For some women, being with a taller partner makes them feel smaller, and it is not surprising that some women prefer this given the pressure on women to be slender." Evolutionarily speaking, women may have developed a preference for taller men because of the advantages height provides in male on male competitions, he added.
Frederick's claim is in keeping with the experience of Allison Hughes, 25, a 5-foot-8 book publisher from Washington, D.C., who found that dating shorter guys made her feel less confident.
"When I'm with taller guys I feel more feminine and sexy, whereas when I have been with a guy that's shorter than me, I feel Amazon-like and beastly," Hughes said. "Which I know is absurd, but it's just the conditioning I've been accustomed to, and it's hard to break from the norm."
Back in 2002, ABC News conducted an unscientific experiment to explore how willing women were to date shorter men. They lined up several short men next to tall men, and asked women to choose a date. They gave the short men exceptional résumés, including those for a doctor and millionaire venture capitalist. Despite their glowing qualities, the women always chose the taller men. Some said they would only choose the shortest of the bunch if they learned the taller men were murders or child molesters.
Some relationship trends are showing a reversal of traditional gender roles, like the rise in breadwinning mothers and stay-at-home fathers, according to a study in the journal Women and Language. Yet dating in the U.S. has remained highly gender-typed in over the past 35 years, according to a 2011 study in the journal Sex Roles. Heterosexual dating followed traditional gender roles for beliefs and expectations, as well as interpersonal actions. Though there was some variation in terms of more women initiating dates, it was not widespread enough to challenge the dominant roles.
In the height study, there was not a significant relationship between endorsement of traditional gender roles and ideal height in a dating partner for men or women. Women with more traditional gender attitudes tended to be less willing to date short men (5-foot-6 or shorter), and men with similar attitudes reported they were less willing to date very tall women (those over 6 feet).
Gender differences in desire for a certain type of mate go beyond height and into other physical arenas. In a 2001 study in Sex Roles, researchers examined 547 personal ads, and classified them in terms of the writer's preference for a thin partner, a physically fit partner, or no weight preference. They then mailed a figure rating scale to the ad writers and asked them to specify both ideal body size and acceptable body sizes for partners. They found that, despite what preference they expressed, women preferred a physically fit partner, while most men indicated that a number of body sizes would be acceptable.
A few celebrity couples, like Tom Cruise and Katie Holmes and Mick Jagger and L'Wren Scott, defy traditional relationship height standards, though they often receive criticism from the press. Zoe Williams discussed one way that celebrities in female-taller relationships manage to dodge negative media attention in a 2007 article in the Guardian titled "What's wrong with tall women dating short men?"
"If the woman is tall and the man is incredibly beefy, so that their weight differential is stacked conventionally in his favor, that will raise very little remark. So, even though Nicole Kidman is substantially taller than Tom Cruise, she is so waif-like that society as a whole wasn't that bothered by their marriage; Katie Holmes, just by virtue of her broader frame, has suffered more 'look at your squitty husband' mockery," Williams wrote. "Weirdly, we still require men to be able to dominate their partner physically, even though there is no place for that in a modern relationship."
In terms of compatibility, height is far outweighed by personality and lifestyle variables, Schwartz said. That hasn't stopped the rise of niche online dating sites cashing in on height: TallFriends.com claims to be "The Number One Dating Site for Tall Singles and Tall Admirers!" Its competition includes TallWomenDating.net and FindTall.com. Traditional dating sites like Match.com also allow for people to choose their height preferences in searching for potential dates.
Cara Strobel, 22, a 5-foot-10-inch pre-med post-baccalaureate student from Rockland, Mass., said finding a taller man is non-negotiable.
"Technically I'm taller than the average American male, so there is an abundance of guys that are far too short," Strobel said. "It's a matching issue. I would feel strange being far taller than a significant other.
"There is definitely societal pressure to date someone taller. A taller woman with a shorter man can absolutely be seen as settling by some people," she added. "I could pass up on an amazing person because of something as silly as this, but it's something that's there and probably won't go away."
According to Frederick, women tend to be judged on their weight and body proportions, while men tend to be judged on their muscularity and height.
"But there is considerable diversity in what people find attractive, and the best match for each person doesn't always come wrapped in a certain height or body type," he wrote in an email.
And as for the potential benefits of a shorter-man-taller-woman pairing? Besides those you might get from any other relationship, like companionship and love, "She could probably reach higher than he could, and get things off the top shelf," Schwartz said with a laugh.
As much as I believe in defying traditional gender roles, I seem to be a member of the 96 percent of women who just aren't interested. Maybe I'll be missing out on something great by not replying to LimeGreenRobot. Or maybe there is a slightly taller man in my future.
Related
Popular in the Community