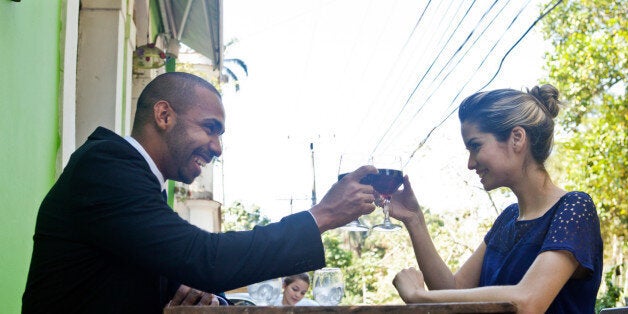 Dating again and unable to shake the feeling that you're doing the whole thing all wrong?
We don't blame you. Today's dating landscape is evolving so fast, it can feel nearly impossible to keep up. But before you give up and become one of those people who post "forever alone" memes on the Internet, we've got some pointers for you.
1. Don't wait for love to find you -- get out there and find it yourself.
Remember that guy you slipped your number to a few Fridays ago at that dive bar downtown? Forget about him. Finding love -- or something resembling it -- is all about taking matters into your own hands, says dating coach Jeffrey Platts.
"Singles today are realizing that cupid helps those who help themselves," Platts told the Huffington Post. "Take a risk and put up a profile on Tinder, Match.com, hire a dating coach, or try out a speed dating event. You have nothing to lose and possibly love to gain."
The best dating strategy, according to Platts, is simple: "Lead your day-to-day life in a way where you're enjoying yourself, surrounding yourself with and meeting the kinds of singles you want to meet so that you're not always 'on the hunt.' Then you won't have that desperate vibe of being at a venue only to meet your next date."
In the past, you may have had a very defined "type." But scratch that thought entirely -- it's time you put the idea of "types" to bed and start thinking outside the box, says Marina Sbrochi, the author of Stop Looking for a Husband: Find the Love of Your Life. Instead, focus on what really matters in a match: shared values, a strong bond as friends, and a crazy hot physical connection that rivals Rachel McAdams and Ryan Goslings' in "The Notebook." (What? A dater can dream.)
"It's time to start thinking of finding a partner that you can't live without because you love them to the core," Sbrochi says. "I'm talking about that fiery crazy chemical love that ebbs and flows through the years, but never dies."
3. Pick up the phone and text.
If you're old school and like to keep in touch through phone calls alone, you are the equivalent of a dating dinosaur. (Sorry, we have to call them like we see them.) Cry all you want for the loss of immediacy, but communicating via text between dates is par for the course these days, says Platt.
"Pick up the phone and actually make a phone call and you'll definitely stand out. Whether that's a good or bad thing depends on the person you're dating," he says. "A recipe for disaster is a guy who expects texts to be returned within an hour and the woman who prefers to reply in person on the next date."
But if you're feeling uneasy about your date's five-texts-a-day-and-no-calls regimen, say something.
"The solution I give clients and friends is to simply be transparent about what you both expect in terms of frequency and preferred methods of communication," Platts said.
We're not going to beat around the bush with this one. You're presumably on equal footing with whoever you're seeing, so make the effort to split the bill when the two of you are done with dinner.
Sbrochi puts it even more bluntly: "You're wise, you're 21st century and you don't need someone to buy you anything, so cut the alligator arm or clown pocket routine and offer to pay for a date sometime."
That said, if your date absolutely insists on paying, you know the drill: Gracefully thank him or her and make a mental note to pick up the tab the next time the two of you get drinks.
5. Ambiguity may plague your relationship at the beginning, but you can get clarity -- just ask.
If you're jumping back into the dating scene after years of being MIA, it's time to get acquainted with these two phrases: "Want to grab coffee?" and "Let's hang out some time."
While you're at it, be prepared to feel really, really confused about what either of those things means.
"Daters today can expect to think things like, 'Uh, what's going on between us and am I entitled to ask you what it means?' That's especially true if you're hooking up," says sociologist and sexologist Pepper Schwartz. "But don't be afraid to tell your partner, 'I would feel a whole lot better about this if were just honest with one another.'"
That might make for a slightly awkward conversation, but your time is precious and you'll both be better off if there's some transparency.
The headlines don't lie: More and more people are having casual sex these days. But if you're not keen on today's hookup culture, don't sweat it, says dating coach Marni Battista.
"So many women -- and men -- who haven't dated in a while believe that sex is required on the first three dates in order for someone to be into them, in part because of all the the requests for naked photos via chat, sexting and the over overall laissez-faire attitude about hooking up and friends with benefits."
The truth is, a person worth your time won't push the issue. "Anyone who tries to convince you otherwise is most likely not your Mr. or Mrs. Right," says Battista.
7. Know that you will get Googled.
It's not a question; it's basically a guarantee. Your date will scour every nook and cranny of the internet to conduct a scarily exhaustive background check on you before you meet for drinks. (And don't even pretend you didn't do the same thing.)
"Very few of my friends have the self-control to not Google someone they are going to go on a date with," Platts says. "For better or worse, the classic experience of mystery and getting to know someone slowly over time is now rare. Take a moment and Google yourself -- what you see in your search results is what they'll see."
In other words, if you don't want that Hot Or Not account you created a decade ago to be seen, it's time you start deleting and updating your privacy settings.
8. Explore all your options.
The first person you go on a date with isn't likely to be The One. Neither is the fifth person. That's why there's nothing wrong with pursuing all your options, says love coach Tracey Steinberg.
"First of all, you need quantity to find quality and you can't truly know if someone is right for you until you feel confident knowing when someone is wrong for you," she advises. "Sharing a coffee 100 percent does not mean you are now exclusive -- if you are expecting that after a cappuccino you are putting way too much pressure on a brand new relationship."
In the end, Steinberg says dating around ensures that you'll "bring your A-game when you do meet someone exciting."
And if you go on a few disaster dates in the process? Look at this way: You can one-up your friend's story about the guy who took her to McDonalds the next time you get together for drinks.
Related