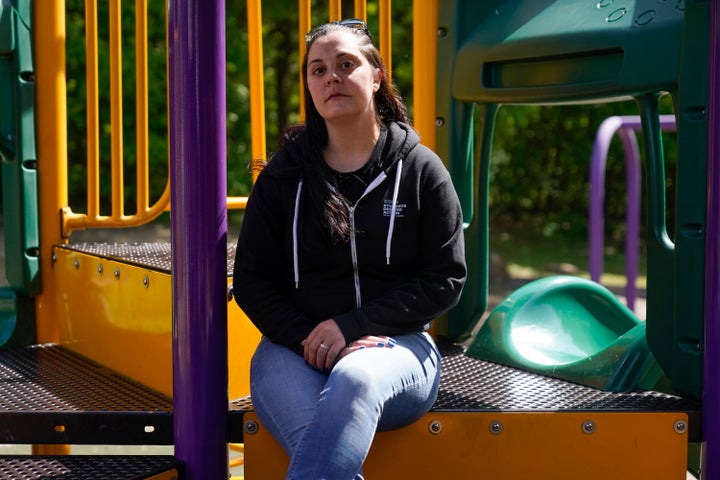 Erica Lafferty still remembers her mom as the fierce firecracker she was. Short and 110 pounds "soaking wet," Dawn Lafferty Hochsprung was the kind of educator who lit up the room when she walked in, her daughter said.
An unapologetic book nerd, Dawn always had the perfect author to fit any situation. When Lafferty was a teenager and complained about teenage issues, her mom didn't miss a beat.
"She'd respond to me 'Judy Blume!' smiling with her little dimples, then she'd spin around on her tippy toes and march out of the room," Lafferty told HuffPost.
This is how Lafferty chooses to remember her mom, who was the principal at Sandy Hook Elementary in 2012 when a gunman killed her along with 20 children and five other adults. But recently, Lafferty said she's been re-traumatized by well-meaning gun control advocates who have asked her about sharing autopsy photos and other graphic images of the Sandy Hook school shooting as a possible way to sway the public and lawmakers to action following last week's mass killing of 19 schoolchildren and two teachers in Uvalde, Texas.
"STOP ASKING ME FOR AUTOPSY PHOTOS," Lafferty tweeted on Tuesday. "The audacity of those who are asking and demanding Sandy Hook crime scene photos to be released is unfathomable. I envy those who don't and can't understand the weight of this ask."
A conversation about whether or not to share graphic photos of mass shootings in the U.S. has captivated those who feel there may be few options left to effectuate real change. A column in The Boston Globe just two days before the shooting in Uvalde contemplated the question of whether or not Americans should be more exposed to violent imagery.
"Perhaps what was needed after Sandy Hook was graphic evidence of America's murderous firearms folly," the column reads.
"Frustrated Americans ask whether the release of graphic photos of gun violence would lead to better policy. But which photos, and who decides?" the subhead reads.
Following renewed discussions about whether or not to share violent images, Lafferty said she was soon inundated with requests on Twitter and elsewhere for her own perspective, with others prodding her to advocate for the release of graphic crime scene images. But it was when journalists reached out directly to Lafferty with the suggestion that releasing violent images could create a positive impact that Lafferty resorted to Twitter to beg people to stop.
"I needed an outlet for my anger," Lafferty said. "And I needed journalists specifically to pay attention to what the hell I had to say. And I think that was the primary source of my anger, like we have trusted you and given you our tears and our stories, and our family members and their stories. And now, [reporters] have the audacity to ask for more from us, not from people who actually make a difference, but from people who are still grieving something that happened 10 years ago."
Lafferty isn't the only Sandy Hook survivor who has been approached about sharing graphic images. In an interview with Rolling Stone, Sandy Hook parent Nelba Márquez-Greene said she was shattered after getting similar requests following the Uvalde shooting.
"It's just an incredibly inappropriate thing, to ask those most wounded to do more," said Márquez-Greene, whose 6-year-old daughter, Ana, was killed in the shooting.
And in the recent Times article about the debate on whether or not to show graphic photos, Sandy Hook parent Lenny Pozner, whose 6-year-old son Noah was killed, said he doubts it would help, but would most certainly re-traumatize survivors.
"Everything would just get amplified," Pozner told the publication. "Hoaxers will have more things to deny, absolutists will have more things to say — and people who are traumatized by mass shootings will be more traumatized."
Lafferty has been putting in the work for years to advocate for gun violence prevention and to make children safer. She's a program manager for the gun violence prevention nonprofit Everytown for Gun Safety, and said the first priority for the survivors of Uvalde is to make sure they have support from their community.
"First and foremost, there is a giant number of us that are here for them," Lafferty said of Uvalde survivors. "I know that I would probably not have survived that initial year, maybe that first two, if I didn't have the support and the guidance of, in particular, one survivor from Columbine, one from Virginia Tech, one from the Aurora movie theater."
"Now it's Sandy Hook's turn, it is my turn to fight for these families," Lafferty added. "So that they don't have to. They need to take their time and to grieve and process in their own way and figure out what the rest of their lives are going to look like for them. Because it is never going to be the same."
Does it get hard sometimes? Of course, Lafferty said, but then she hears her mom's voice, Dawn, bright and bubbly in her head.
"Every time I feel like I'm ready to give up, I hear her say 'Kid, keep fighting,'" Lafferty said of her mom. "And it is one million percent being raised by a single mom and watching her drive and her dedication to her passion that keeps me going, keeps me driven and keeps me determined to follow my dreams and to commit over and over and over again to doing anything and everything I can to not have any more kids have to feel the way I feel."
Popular in the Community