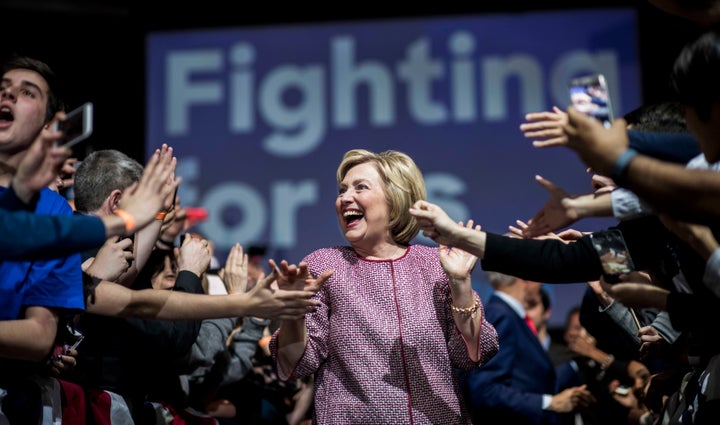 Erica Smegielski, the daughter of slain Sandy Hook Elementary School principal Dawn Hochsprung, will appear in a new ad for the Hillary Clinton campaign in the upcoming primary states of Connecticut and Rhode Island.
Smegielski, to whom Clinton devoted the final portion of her victory speech Tuesday night, argues in the ad, "My Mom," that Clinton is the presidential candidate best equipped to reform the country's gun laws.
The 60-second version of the ad begins with Smegielski describing how painful it was to lose her mother in the December 2012 mass shooting in Newtown, Connecticut. Hochsprung, one of 26 victims of the massacre, was killed while trying to protect her students.
"No more families should have to go through what we have," Smegielski says. "Hillary Clinton is the only candidate that has what it takes to take on the gun lobby."
Clinton's campaign website says she would strengthen gun background checks by closing loopholes and end legal immunity for gun makers and sellers whose products are used in violent acts, among other reforms.
"No one is fighting harder to reform our gun laws than Hillary," Smegielski continues, as footage of her hugging Clinton appears on screen. "She reminds me of my mother: she isn't scared of anything. And that's how I know she is the person who can actually make a difference."
Clinton had equally warm words for Smegielski in her Tuesday night speech.
"You know, like the mothers of Eric Garner and Trayvon Martin and so many others, Erica has turned her sorrow into a strategy and her mourning into a movement," Clinton said.
The Clinton campaign began airing a 60-second version of the ad Wednesday on network television in the Hartford, Connecticut, market, according to the campaign. A shorter, 30-second version of the ad will also be on network television in the entire state of Rhode Island, as well as the Hartford market. It will also air on cable TV in Fairfield County, Connecticut, a suburban enclave just outside New York City that includes Greenwich.
A Clinton campaign aide said the spot was "part of a six-figure ad buy."
Clinton's sizable win in her adopted home state of New York on Tuesday gives her significant momentum going into her next major face-off with Sen. Bernie Sanders (I-Vt.). Connecticut, Rhode Island, Pennsylvania, Maryland and Delaware will all hold their Democratic primaries next Tuesday.
Sanders' loss to Clinton in New York has further narrowed his path to the Democratic nomination, increasing the pressure on him to win by big margins in the upcoming contests if he is to have any shot.
Gun policy is one area where Clinton has had success portraying herself as more progressive than Sanders. Clinton has been particularly critical of Sanders' vote for a 2005 law that gave gun manufacturers and dealers broad immunity to civil lawsuits over use of their products. The efforts by family members of the victims of mass shootings to hold Sanders accountable for his vote have added credibility to the critique.
Sanders has said he would consider amending the law, but not repeal it, out of concern for its impact on small gun-sellers in Vermont.
There is evidence that Clinton's stance on gun safety may have helped her trounce Sanders in New York. Among the 60 percent of voters who thought Clinton would "better handle gun policy," 90 percent voted for her over Sanders, according to a CNN exit poll.
Popular in the Community